Acknowledgment
Most people who are at the Balcony Club on Sunday night are here every Sunday, unless they're sick or out of town. Something about the honesty of the music and intimacy of the room transforms jazz heads and bon vivants into loyal congregants.
The venue is nestled against the Lakewood Theater like a mother-in-law apartment. It has been a neighborhood haven for live music for almost 40 years. Back then, Dallas jazz legends like saxophonist Marchel Ivery and pianist Big Al Dupree held residences. The bar was big on character and, well, not big on amenities. "I started coming in the late 80s," one regular says. "It was so smoky you had to duck under a layer of cigarette smoke to find a seat."
"They used to regularly run out of booze," says another Balcony Club stalwart. "I like Hendricks and I would come in and want a Hendricks and tonic and they would just be out and say, 'Well we don't know when we'll get any more.'"
Despite, or because of, that history, the Balcony Club has the character every newly opened bar tries to manufacture. Nowadays the smoke is gone, the bar is stocked, and new owners Patrick Glennon, Scott Metcalfe, and Toni Scott have blunted some of the jagged edges. But the soul of the place still shines. Sitting at the J shaped bar, you can imagine those old jazz legends pulling up a stool beside you. And tonight, the Jonathan Fisher Quartet sets the venue's history on their shoulders.
Resolution
It's nearly showtime and Shelley Carrol is not going to make the gig.
Long before his Sunday night residence at the Balcony Club, he was a member of the Duke Ellington Orchestra. He has played with everyone from Sheryl Crow to Tony Bennett. Tonight, he's in Tokyo playing a festival with Kool and the Gang, so the band is down a man until Carrol's last-minute replacement arrives.
No problem. Jonathan Fisher, the bandleader and bassist, launches into a blues, settling into the backbeat provided by drummer Andrew Griffith. Soon, pianist Peter Rioux enters and uncorks a rampaging solo that sounds like the last thing you'd hear before losing all your money on a Mississippi River gambling boat. Then, Chris Milyo, the pinch-hitting sax player and Carrol's replacement for the evening, answers Rioux with his own solo. Each player tests the boundaries, exploring how this new personality changes the makeup of the group. It's just another Sunday night at the Balcony Club and it is like none before it.
There's no cover at the door on Sunday night, but at any jazz club in Manhattan you would pay $50 to see a group this talented. You would consider it a bargain. Fisher and Griffith have been playing together for the better part of 20 years and can now do the musical equivalent of finishing each other's sentences. "I'll hear him do this and now I know, okay, he's going to do that," says Fisher. Both are technical players who can captivate the audience individually, but the sixth sense they share provides other players with a freedom to go wherever the music leads them. "We've played together a lot in a lot of different circumstances. There's just a trust there," says Griffith. "And yet at the same time, we try to surprise ourselves and each other."
Rioux is the newest member of the crew, but you wouldn't know it by the way he plays. His tear-jerking is as effective as his trailblazing and since his arrival he's added a new fire to the group. "He's our secret weapon," says Carrol. "He has so much history in his playing." Griffith agrees. "He's the type of pianist that'll check out the entire tradition from like Jellyroll Morton and blues pianists all up to now. He's into it all. The fact that he's so informed by that tradition brings a greater depth to what he plays."
Still, this is not mathematical music for enthusiasts to twirl their mustaches to. When each player is locked in, the music breaks free of the mechanics of complex scales or the fingers that dance across the keys. This is raw and rude and alive.
On the nights he's not in Tokyo with Kool and the Gang, Carrol embodies that energy. When he's playing you find yourself forgetting what a saxophone is, what jazz is, and you're swept up in the cascading waterfalls, machine gun bursts of sound, and sultry screams coming from the stage. "His playing totally transcends style or genre," says Milyo. "You have some people who are really great technically and it sounds awesome, but somebody who doesn't know the music is not going to feel it like everybody feels it when Shelley plays."
"With Shelley, he brings so much energy," says Griffith. "You never know what he's going to do, even though we've played with him a jillion times, he still surprises us."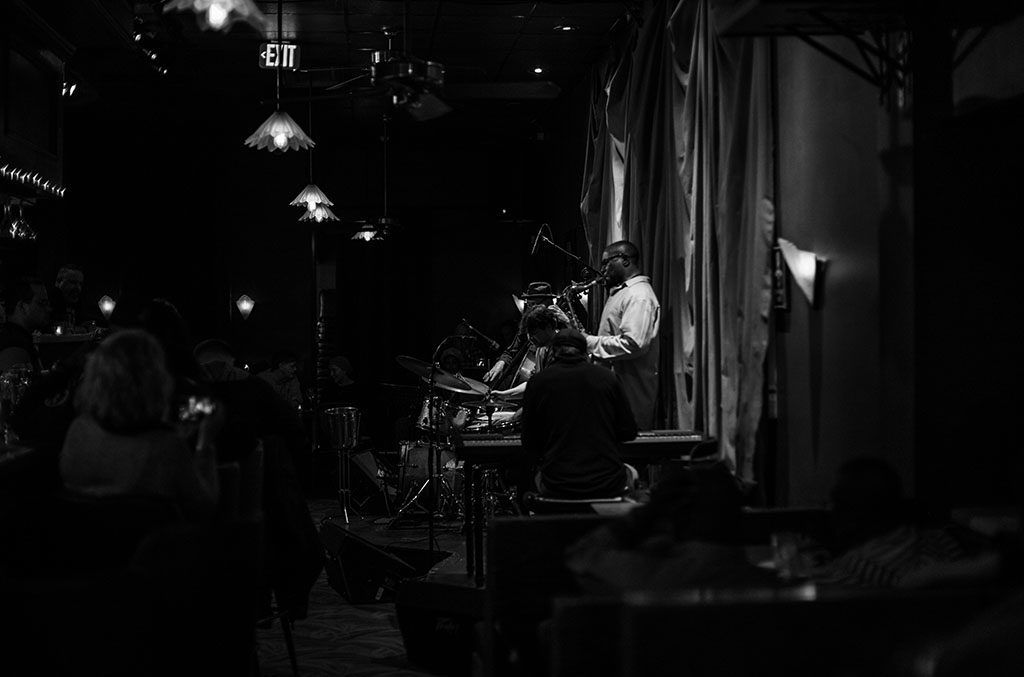 Pursuance
The audience needs to trust you if you're going to chase that next surprise without a script or a safety net. Good jazz exists at the boundaries of ability and possibility, and when this band is locked in, every person in the room is not only a witness but a co-conspirator in the hunt.
Fisher and crew have worked hard to cultivate that atmosphere, including teaching the audience how to respect what the musicians are trying to do. Every night, Fisher makes the same announcement: Sunday night at the Balcony Club is a listening room experience, so out of respect for the musicians who came to play and the audience who came to listen, please, keep conversations to a whisper during the music.
"It'll be packed and they'll be quiet, listening, which is unusual for Dallas. I think I've trained them a little bit," says Fisher. "People didn't know to behave that way at a show where guys are playing their asses off. They didn't know that it was appropriate to not just to hang out and yak or whatever, but to have a concert type of setting and experience something."
Sunday night regulars not only oblige, they self-police. It's not uncommon to see members of the audience cross the room during a song to kindly suggest that fellow patrons take more boisterous and boozy conversations out to the porch. Several regulars I talked to floated the idea that you should have to apply for membership and be vetted by a council of more consistent attendees to come on Sunday night.
And yet somehow, Jonathan's nightly PSA and the regulars' attempts to cajole their louder neighbors never feels cranky or exclusionary. Step inside and the whole room seems to say, "Hey, stop and really listen to what's going down here." That's why Milyo is eager to drop his Sunday night plans at the last minute to come join. "I've known these guys for a couple of years and played with them in other settings and every now and then I'll get that lucky call," he says. "Don't print this, but it's worth canceling dates to come play this show."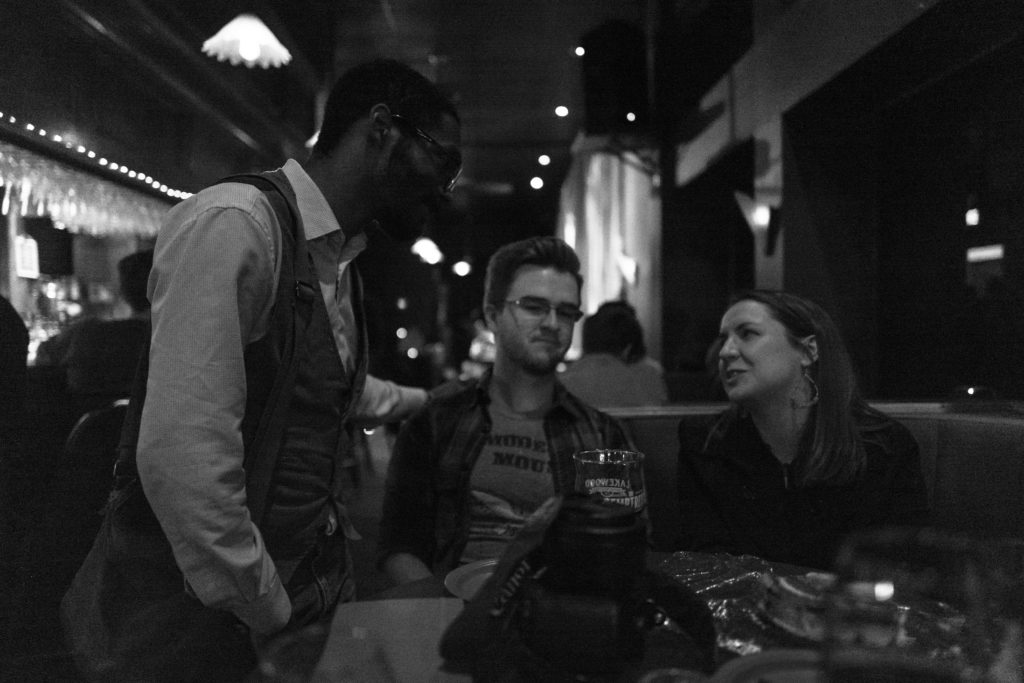 Psalm
I'd cancel a date too. In the past three years, Sunday night jazz has become a pillar of my weekly routine. Right as the Sunday scaries are hitting hardest, it offers a chance to take part in something immediate and tangible when most other parts of my life are anything but. I often turn my phone off and leave it in the car. My friends and I have stopped doing a roll call on Sunday afternoons: show up and most of us will be there at a back booth, listening.
That chance to set aside the week for a while draws of lot of different kinds of people, which is striking in a city where most bars are marketed to a narrow and homogenous crowd.
"The thing is I like is that there are different backgrounds different ages. Most places you've got a certain kinda thing for a certain group of people but here it seems you get a little bit of everybody. And that's the unifying factor of this music, not just jazz but the way it's played, it's not an exclusive thing it's an inclusive thing," Griffith says.
Come around for a few Sundays and it starts to feel like your family's living room. You settle into your usual seat, order your usual drink (Buffalo Trace in a brandy glass for me), and greet the familiar faces around you. It's a weekly solace, an almost holy ritual not unlike what you'd aim to find at a church. The musicians feel it too, and when that circle of love is complete, the music goes to a higher plane.
"When you get past the mechanics of playing and enter into more of an emotional and spiritual realm, that's what people feel," says Griffith. "And that's the really rewarding thing, I find. When you can reach people and they may not know anything about the history of this music but the music has touched them in some way. I always feel like we're just the vehicle for it."
Dallas is a tough place to be a neighborhood bar—much less a neighborhood bar and jazz venue. The ongoing Uptownization of Deep Ellum and Lower Greenville are a warning: neighborhoods with character get turned into market opportunities, which risks diluting the soul that drew people to them in the first place. As of my writing, the Lakewood Theatre right next door to the Balcony Club is being transformed into a Big Lebowksi-themed bowling alley. I doubt that adding dozens of half-drunk bowlers to the area is going to tie the room together.
But if some stop by on a Sunday, maybe I'll just give them a nudge and let them know that there's something special going on here.
Get the FrontRow Newsletter
Get a front row seat to the best shows, arts, and things to do across North Texas. Never miss a beat.