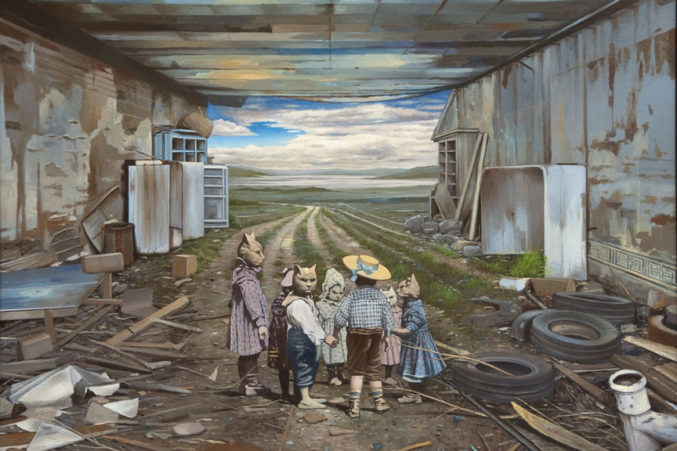 See Juan Luís Jardí's Surreal Paintings at Cinq Gallery
This is your last chance to see the strange and superb show before it closes on Saturday.
Where do you pray after the world has ended? I find myself asking this in the main room of Juan Luís Jardí surrealist paintings at Cinq Gallery while a cat-person stares directly at me, giving me the stink eye. The piece, Reunion Clandestina features 6 cat-people and perhaps one young boy in a sun hat arranged in a circle holding hands. They are in a broken down underpass accumulating with debris and the road appears to be overgrown with weeds. In the background of the painting is a landscape and billowy clouds on the horizon. There are no signs of humanity besides these cat-people, who seem like they are in a prayer circle. The one looking directly at the viewer makes you feel like you have violated a sacred gathering. Maybe they are time travelers. Maybe they are what happened after humanity falls apart.
Three of Jardí's paintings have this same grouping of cat people. He also has a penchant for painting stacks of abandoned things, from tires to televisions to mannequins. In Almacen de Maniquies, his juxtaposition of a Russian department store with a window full of unclothed female mannequins abutting a beach with a ferris wheel is jarring. There is a desolation in much of his work–his worlds are unpopulated–the symbols of advertising and abandoned industrial progress being swallowed up by expanses of nature.
However, everything you think you know from the main room quickly unravels in the second room of the exhibition. It becomes clearer that Jardí is all about the multiple–a pop artist masquerading as a surrealist masquerading as a photorealist. In pieces like Franz Hrdilcka, el Mago a store owner is depicted in multiples of three in front of a crowd of children. There is a ghosts of past, present, and future quality to the technique, with one image of the store owner fading into the window like an advertisement. For Jardí, even the living are already just part of the future-past.
Our cat people appear twice more, first in a subway station and next in the atrium of a crumbling palace. In The Boss, Jardí depicts a dilapidated mansion with a portrait of a crime boss, and a young girl with an oversized teddy bear going up the stairs. There is decadence, squalor, mystery, and of course those puzzling cat circles. Jardí is at his best when the composition is wide open and there are just a few clues to establish a sense of narrative or mythology. A snowscape called Clown en la Miere depicts a person looking at a huge billboard of a smirking clown on a snow filled countryside road. There is a sense of unease.
Jardí is great at establishing a sense of dread, but not quite betraying what exactly happened. His paintings beg the viewer to conjure up fantastic narratives. I think I have settled on the time traveling humanoid cats creating a Catocracy in a post-apocalyptic world as an allegory of how cats control the minds of their owners as my personal narrative of Jardí's surrealist works. Whatever they mean, the paintings are visually interesting enough to make you take a second look.
Juan Luís Jardí's paintings are on view at Cinq Gallery through Saturday, June 22.