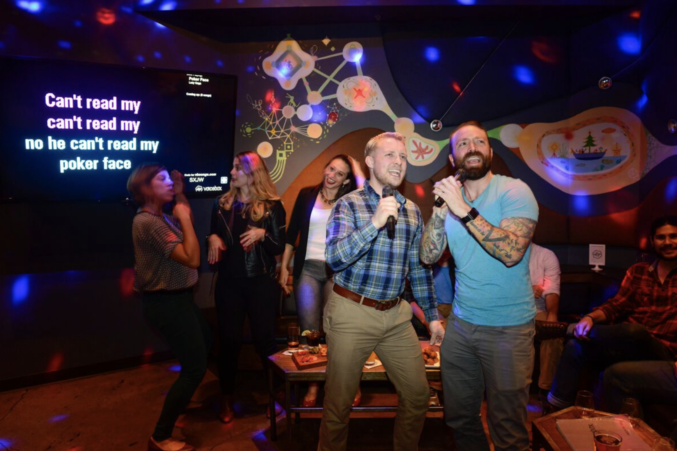 Portland-Based Voicebox Karaoke Expands to Texas This Fall
The private suite karaoke bar will open its first Texas location in Fort Worth.
I require a very specific set of circumstances to perform karaoke. Alcohol is necessary. The audience must be small, and, preferably, untalented. I need a friend to join me on stage for moral support and to mask the sound of my voice. And if "Strawberry Wine" isn't on the song menu, it's a no go. All in all, I'm not a big fan of traditional karaoke bars. Private suite karaoke, on the other hand, is an activity I can get behind. 
This fall, Voicebox Karaoke, a private suite karaoke bar founded in Portland, opens its first Texas location in Fort Worth's West 7th Street. (According to Lakewood Advocate, it originally planned to open in Dallas' Lower Greenville.) The company has other locations in Denver and an upcoming outpost in Boise, Idaho. It's a franchise that's popularizing Asian-style karaoke, where people can take over an entire (sound-proofed) room with a group of friends rather than facing a big crowd. 
Voicebox definitely isn't the first to bring private suite karaoke to DFW, though. There are two similar concepts, Family Karaoke Music Studio, and Norazo Karaoke Club, off Royal Lane in Northwest Dallas, and a few more, including Sing Box Karaoke, City Night Café, and Dansungsa Karaoke Bar & Korean Food, in Carrollton.
In Fort Worth, the new 3,900-square-foot entertainment venue will have eight private karaoke rooms and one public lounge area. Each suite has two TVs, one for the star singer and one for the audience, and remote controls for music and lights. You don't have to wait in long queues, listen to annoying strangers, or embarrass yourself in front of any more people than you want to. It's a little different, maybe less adventurous than American-style karaoke, but it's great for private parties, girls' night, families, and anyone who gets stage fright. 
The bar will serve craft beer, wine, liquor, and its signature, sake-infused cocktails. There will also be shareable snacks available–the Portland location offers items like bacon bleu cheese buffalo popcorn, giant soft pretzels, pigs in a blanket, chicken strips, and fries. Each suite has an assigned server. 
The Fort Worth location is set to open sometime in the fall at Crockett Row at West 7th, a shopping mall near the Cultural District, which is surrounded by bars and nightlife.