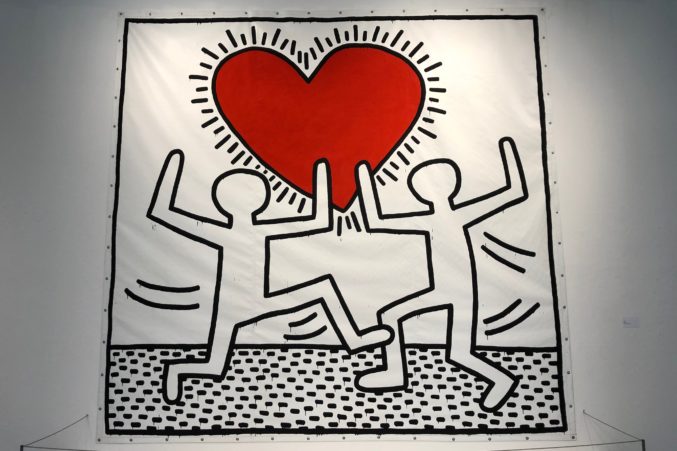 Arlington Museum of Art Unveils Keith Haring: Against All Odds
The new show includes both bright and dismal works by the iconic pop artist.
A new Keith Haring exhibition opens this weekend at Arlington Museum of Art, a series of works loaned by the Rubell Family Collection in Miami exclusively to the suburban museum for its summer show. Keith Haring: Against All Odds includes some of the iconic pop artist's signature, sunny pieces on the first floor: cartoonish figures embracing, a trio of Marilyn Monroe portraits with graphic swipes of paint, a giant heart motif. The second floor is a much darker affair. Through images of monsters devouring babies, a syringe plunged into an arm, and giant daggers bleeding the earth dry, Haring questions the future of the planet.
"These drawings are about the Earth we inherited and the dismal task of trying to save it – against all odds," reads a framed, handwritten letter from Haring in 1990. He also notes that listening to Marvin Gaye's What's Going On? and Bob Marley's songs about oppression became "an essential part of the creation of the work."
The drawings are gloomy, disturbing, and a little bit messy, but they certainly convey their intended message. It is a statement that has only grown more desperate in the decades since Haring first made it. The cheerier pieces downstairs provide a necessary contrast.
The fact that the museum opened its Keith Haring retrospective during Pride Month is a happy coincidence. About a year ago, a woman emailed the museum's director with an unusual request. She and her son had just discovered the children's book Keith Haring: The Boy Who Just Kept Drawing, much to the young boy's delight. She wrote the director asking if they could bring in a Keith Haring exhibit. It seemed unlikely at the time, but when the director learned that the Rubell Family Collection was renovating its building, they were able to secure this rare series of works as an exclusive. 
As a fitting addition to the Keith Haring show, the Arlington Museum of Art has a local artist on view in its rooftop gallery. Trey Wilder painted directly onto the walls in his signature graffiti style, exploring social justice issues in colorful vignettes. My favorite detail is the proud phrase "I'm in a museum" scrawled in spray paint. His exhibit, The Most Known Unknown, is on view through August 1.
Keith Haring: Against All Odds is in Arlington through September 15. Admission to the museum is $10 for adults, $5 for students and seniors, and free for children under 12.