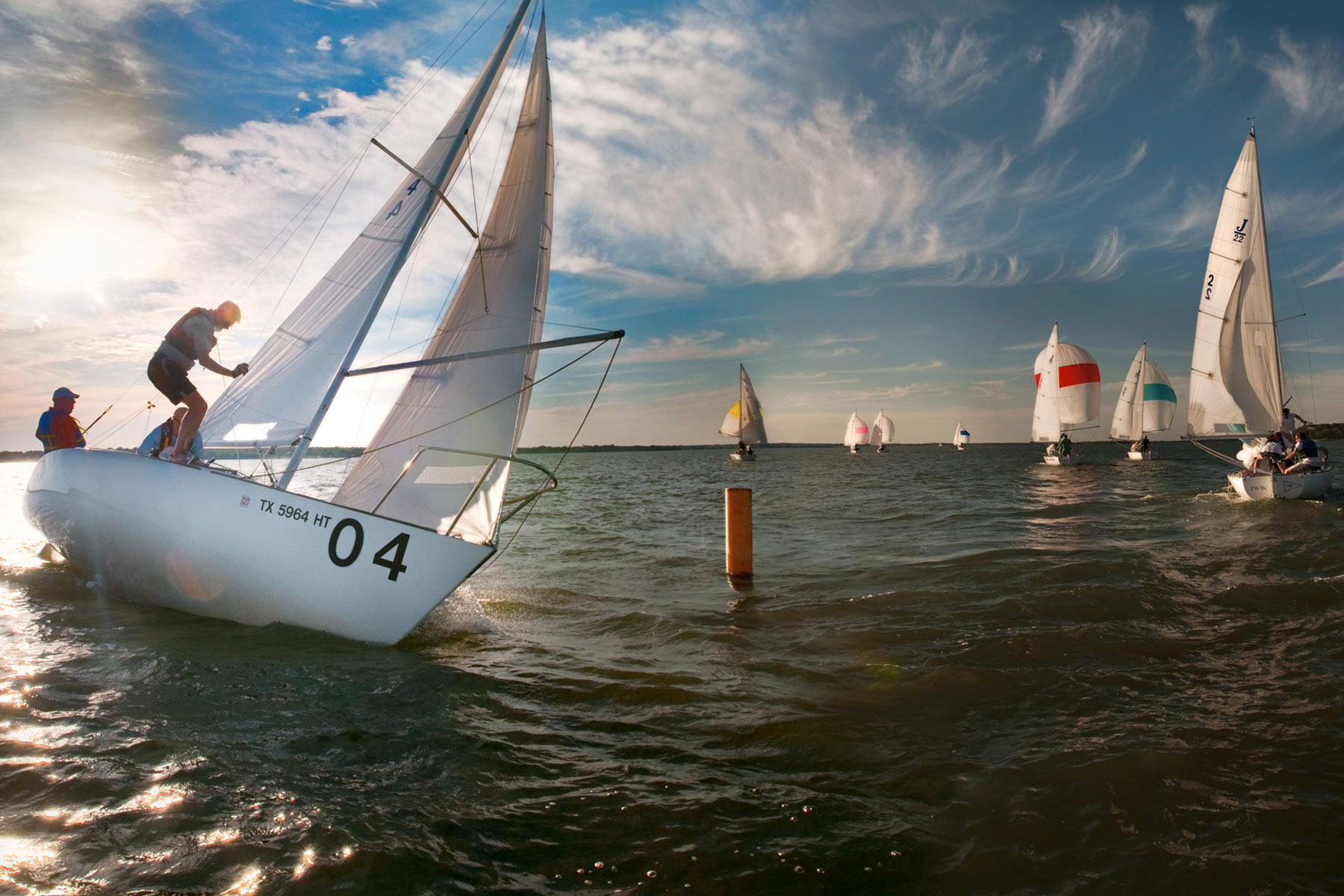 A Comprehensive Guide to Dallas Lakes
Where to sail, swim, kayak, and float in DFW this summer.
Summer is approaching and temperatures are starting to climb. Which means it's nearing that time of year in Texas when you can't go outside without having a body of water to jump into. That's how we avoid bursting into flames, after all. If you want to do something outdoorsy, lakes are the answer. There are several nice (manmade) lakes around the Dallas-Fort Worth Area for you to swim and sail around. If you're looking for a (kind of) beach to lie on, a boat to rent, or a board to paddle, you've come to the right place. Here are six of the best lakes within an hour or so of Dallas, and some ideas for what to do once you get there.
White Rock Lake 
The most popular urban lake in all of DFW isn't swimming-friendly (anymore), but it does have lovely birdwatching, miles of shoreline trails, and boating ops.
White Rock Paddle Company offers hourly rentals on single and tandem kayaks and stand up paddle boards. It's pretty reasonably priced–about $25 per hour–and less than 20 minutes outside of Dallas' city center.
If you're into sailing, look into joining White Rock Boat Club. The membership-based club has a shared boat program with five sailboats available for use, plus racing events and sailing lessons. See pricing details here.
Corinthian Sailing Club is another group which offers adult and youth sailing lessons on White Rock Lake. The 80-year-old organization also has a Women on the Water (W.O.W.) group and a yacht club.
If you're looking for something simpler, find a public grill near some picnic tables and invite the family out for an afternoon.
Lake Ray Hubbard 
Suntex Water Sports has locations on the east and west sides of Lake Ray Hubbard near Rockwall, at Captain's Cove Marina and Chandler's Landing. Both rental locations have speedboats, pontoons, and jet skis. You can get accessories like water skis, wakeboards, and tubes with the boat for about $30 a piece. See more details here.
NTX Flyboard lets you fly on a water-powered jetpack above Lake Ray Hubbard for $125/hour, including safety gear and instruction. This futuristic water sport is only available Thursday through Sunday.
Party Boat Rental Dallas has some party boats for hire: a 12 passenger pontoon and a 14 passenger double decker boat. They're about $165 per hour on weekends (four hour minimum), and they include coolers and floaties and speakers and everything you need to have a good time on the water.
Joe Pool Lake 
Lynn Creek Marina on Joe Pool Lake has an awesome selection of water sport rentals: kayaks, canoes, stand up paddle boards, fishing boats, speed boats, pontoons, party barges, and jet skis.
Cedar Hill State Park offers a more natural way to enjoy Joe Pool Lake. The state park has hiking trails along the shores, a beachy little swimming spot, picnic areas, and fishing piers.
Grapevine Lake 
Lake Grapevine is the only body of water in North Texas that boasts a floating water park. Altitude H20 at Meadowmere Park is a 25,000-square-foot water park with trampolines, slides, and an obstacle course floating over the lake. The park is only open during the summer season. Book tickets here.
Sam's Dock at Silver Lake Marina (Lake Grapevine) has pontoons, jet skis, speed boats, and compact power catamarans for rental.
Lake Lewisville
You can bring the party to any of the above lakes, but Lake Lewisville is the only one with a designated Party Cove. On hot summer weekends, this is the place to go to get sun-burnt and turnt. Heed the website's sage warning that "there are times when the lake and alcohol can be a dangerous combination." Boat rentals and boat ramps are available through Eagle Point Marina or Hidden Cove Park. 
If you'd rather avoid the perils of booze cruises, try out one of Lewisville Lake's beaches. There are a handful of parks with sandy shores that make for perfect family swimming areas.
Eagle Mountain Lake 
Located west of Fort Worth, one of the region's largest lake reservoirs is a pretty spot for hiking, water sports, and great fishing. This lake also has a party cove for rowdy weekends, and boat rentals available through Suntex Watersports. The lake is regularly stocked with largemouth bass, catfish, and other critters. Head to Eagle Mountain Park to take in the surrounding nature, or head to Twin Points Park to take advantage of the year-round boat ramp.