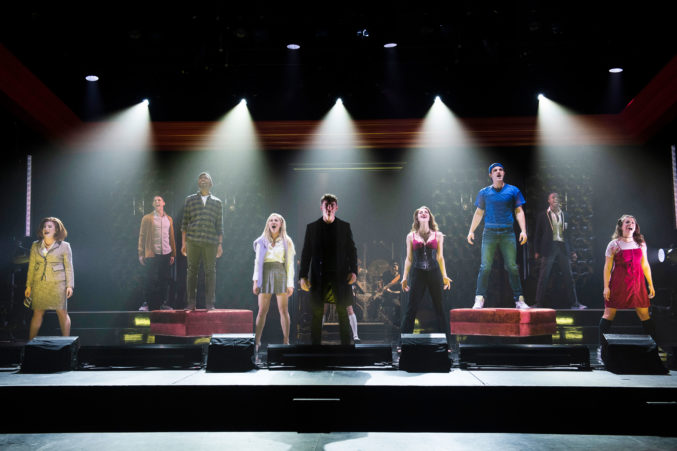 Feel the Nostalgia at Cruel Intentions: The '90s Musical
The campy musical version of the 1999 drama is as inappropriate as ever.
It's been two decades since Cruel Intentions, the melodramatic teen romance starring Ryan Phillippe's ass, came to theaters–and unlike Reese Witherspoon, the film hasn't aged particularly well. But this week at Wyly Theatre, a new generation of actors are channeling nostalgia to give the drama a campy second life. Cruel Intentions: The '90s Musical is politically incorrect, provocative, and filled with songs you forgot you know all the words to.
If you've seen the movie by Roger Kumble, you'll notice that the play, which he created with Jordan Ross and Lindsey Rosin, closely follows suit. The setting: a posh community of Upper East Side prep school teens in the summer of '99. The villains: notorious playboy Sebastian Valmont and queen bee Kathryn Merteuil, step siblings with an inappropriate dynamic and a shared habit of using sex to manipulate their peers. Their victims: pretty much everyone else in the play, but especially Annette Hargrove, the virginal daughter of the school's new headmaster. Sebastian and Kathryn make a bet that if Sebastian deflowers Annette, he can finally sleep with Kathryn. If he loses, Kathryn gets his prized vintage Jaguar. Of course, their plan causes some other casualties along the way.
The cast–led by Jeffrey Kringer (Sebastian), Taylor Pearlstein (Kathryn), and Betsy Stewart (Annette)–actually looks pretty similar to its '90s counterparts. Kringer perfectly emulates Phillippe's irresistible boyish charms. Stewart has the spunk, attitude, and dimples of a young Witherspoon. The costumes are another fun nod to the era, complete with butterfly hair clips, flared pants, and Matrix-inspired sunglasses.
In fact, the play would be very much like the movie if it weren't for the characters bursting into song every two minutes. Any time that the dialogue reaches a boiling point or an unbearably romantic moment, a tongue-in-cheek musical number sweeps in to ease the tension and stir up laughs. There are hits from the movie's soundtrack like "Bittersweet Symphony" and "Colorblind," as well as delightfully cheesy music from the time, like Backstreet Boys, NSYNC, TLC, Boyz II Men, and The Cardigans. The play was billed as including "of course, Britney Spears," but there's no Britney to be found here. However, there are hilarious renditions of "Sex and Candy" by Marcy Playground and "Bitch" by Meredith Brooks.
Cruel Intentions: The '90s Musical is a rowdy good time that will leave you singing Christina Aguilera and wishing you kept your CD collection. Grab a drink, grab a friend, and grab a seat. The production is at Wyly Theatre now through May 26 and tickets start at $46.