On Sunday, the Dallas Museum of Art will finally unveil its anticipated retrospective of fashion designer Christian Dior to the general public. Dior: From Paris to the World, which comes from a hugely successful debut at the Denver Art Museum, documents the history and evolution of the haute couture house from its beginnings 70 years ago to its most recent collections. On Tuesday morning, an unusually large group of reporters, media people, and museum patrons gathered at the DMA to get a peek of the show.
"I wish all press previews were like this," laughed Dr. Agustín Arteaga, the DMA's Eugene McDermott Director. He gave a thoughtful introduction before allowing the crowd to descend on the halls. To be walking into the exhibition, he says, is to be "walking into the cathedral of fashion."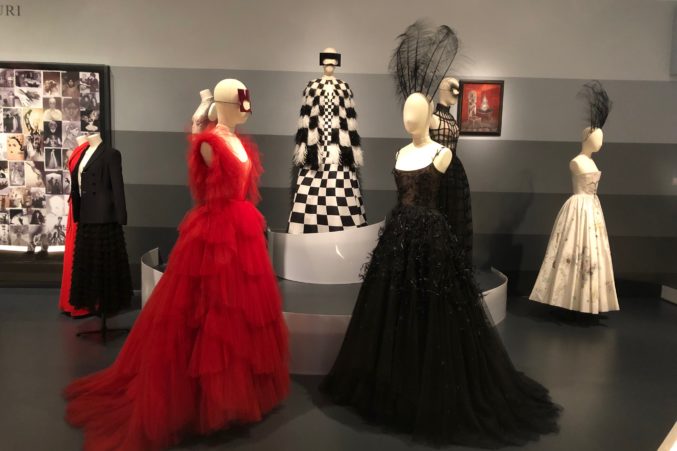 Dior: From Paris to the World was a massive undertaking for the museum. As Arteaga explained, it had never done an installation on this scale. The DMA, with the help of architecture firm OMA, transformed the barrel vault and its surrounding galleries into a world of high style, with 11 immersive sections and nearly 200 haute couture looks to soak in. 
You'll want to allot at least an hour to explore the rooms, from the "Office of Dreams," a tall arrangement of toiles (mock-ups in plain muslin), to "Fields of Flowers," a dreamy room of floral dresses accompanied by impressionist paintings.
The museum's pairings of fashion with works from its permanent collection adds a new dimension what was already a comprehensive look at the ties between fashion and art. In "Fields of Flowers," you'll see Monet and O'Keeffe next to glittery frocks. The section "Splendors of the 18th Century," a celebration of excessive frills, is punctuated by the massive, heavenly Jean Baptiste Marie Pierre painting, The Abduction of Europa. In "Creative Directors," a two-room section that shows each of the seven designers' distinct tastes, a large Sterling Ruby painting—on loan from a private Dallas collection—hangs behind a creation by his frequent collaborator, Belgian designer Raf Simons. These pairings are unique to the Dallas showing of Dior.
There are also 32 new dresses in the exhibition since it debuted in Denver, including 13 pieces by Christian Dior himself, and six new dresses by current creative director, Maria Grazia Chiuri.
The pièce de résistance, though, is "From Paris to the World," the section in the museum's stately barrel vault. The corridor is now a catwalk, with multiple stories of haute couture specimens inspired by global cultures lining either side. Major gowns ae displayed like votives in the archway. Rihanna's white ball gown and matching cloak are front and center, floating overhead like a saintly apparition.
Dior: From Paris to the World is breathtaking. While recent fashion exhibits like Balenciaga in Black at the Kimbell and Jeremy Scott at Dallas Contemporary were beautiful and joy-inducing, there is just no comparison. Schedule a visit and reserve your tickets now before they sell out. The exhibition is on view Sunday, May 19 through Sunday, September 1. DMA Member preview days have already started. 
Get the FrontRow Newsletter
Get a front row seat to the best shows, arts, and things to do across North Texas. Never miss a beat.