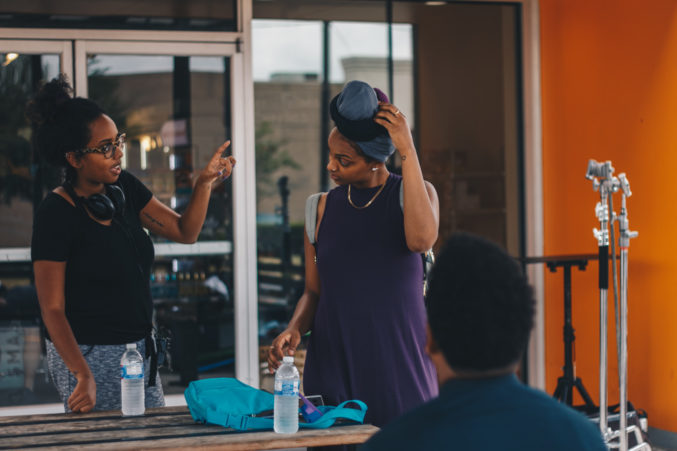 For Two Dallas Natives, a Short Film About Hair Is About So Much More
"Yirga" is inspired by B.B. Araya's experiences growing up in a family where elaborate braids and "third culture" identity are subtly yet inextricably linked.
B.B. Araya fondly recalls a weekly ritual that helped define her Dallas upbringing — involving her mother, her sister, and hours of washing and braiding.
"Saturday mornings belonged to hair in our household," said Araya, a daughter of East African immigrants who settled in Texas during the 1980s.
She's now a filmmaker living in Austin whose debut comedic short, Yirga, is inspired by some of Araya's experiences growing up in a family where exquisitely coiffed braids and "third culture" identity are subtly yet inextricably linked.
"We wanted to explore identity through hair, growing up as the child of an immigrant and straddling between cultures," Araya said. "We grew up in a home with our cultural identity, but then out in the world, it's a whole different landscape."
The 8-minute film will screen in competition during the upcoming Dallas International Film Festival, beginning Thursday. It centers on the title character (Rekik Neway), a young Dallas woman of Ethiopian and Eritrean heritage enduring an extremely bad hair day as she prepares to move out and get a fresh start. She heads to the club with her best friend, then banters with a store clerk in her family's native tongue.
"When people talk about Dallas, they tend to have a vision of it that's pretty different from what [B.B.] and I saw," said the film's producer, Tamar Price. "There's a large immigrant population, and there are pockets that don't get shown. You get more of a sense of the people and the world they've created within Dallas."
Yirga was filmed in Austin but is set in Dallas, which is where Price and Araya hope to eventually expand the concept into a feature film. They're hoping the short serves as a springboard for potential financiers and other influencers.
Price graduated from Lancaster High School then enrolled at Baylor as a pre-med student before changing course and earning a degree in mass communications and electronic media from Texas State. Araya was a business major at UT-Dallas, and after branching out with a couple of short films, she moved to Austin and landed an internship with Boyhood director Richard Linklater.
Their first collaboration was the six-part 2017 web series "We Are," which was acclaimed for its honest portrayals of millennial women of color and garnered almost 400,000 views on the "Issa Rae Presents" YouTube channel.
The duo hopes to continue that mission in future projects by highlighting stories featuring underrepresented cultures in their home state.
"It's not only about the movies we've seen, but the movies we haven't seen. We want to fill that space with our work," Araya said. "It's about expanding the narrative and expanding ideas about what we, as a society, see about certain things."