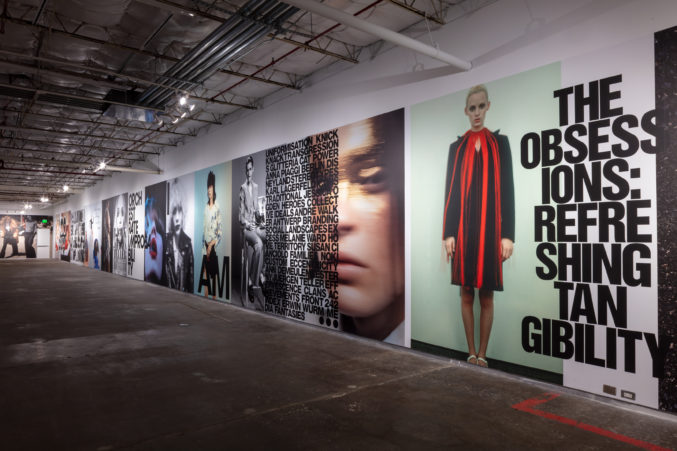 Dallas Contemporary Pays Homage to Self Service Magazine, Kate Moss with Spring Exhibitions
The museum has a series of fashion-forward photography exhibits on view through the summer.
This year, Dallas Contemporary is on a fashionable roll. Having packed up designer Jeremy Scott's retrospective, the museum opened four new exhibitions last weekend, all but one centered around photography. They are a 25-year survey of Paris-based fashion and culture publication Self Service Magazine, a collection of iconic photographs Mario Sorrenti took of Kate Moss when the two were young lovers in the early '90s, a surreal series of Stepford-esque images by Ukranian photographer Yelena Yemchuk, and a sparse, large-scale installation by Italian artist Francesco Clemente.
The latter is the oddball of the group, a desolate town of wooden structures dominating the left side of the building. Clemente speaks in symbols, creating a conversation about movement, transition, and mythology. You won't necessarily get that from looking at his work. It's an obscure kind of art that calls for explanation, but doesn't easily explain itself. (In all fairness, I viewed this exhibition last, after the first three had sapped my attention span.) The show is titled Watchtowers, Keys, Threads, Gates, and it includes all those objects, along with sprawling murals and an embroidered red flag embroidered with Guy Debord's words, "THE SPECTATOR FEELS AT HOME NOWHERE BECAUSE THE SPECTACLE IS EVERYWHERE." There's something lonely and rough about it. It's a stark contrast from the polish of the fashion world across the hall.
The other exhibits seem to fit together perfectly as a trio, complementing one another as distinct bodies of work. I walked through Self Service: Twenty-Five Years of Fashion, People and Ideas Reconsidered first. A neon sign with the publication's name welcomed me inside its pages. One gallery wall is pinned with layers of tear-outs from issues past. Others are plastered with floor-to-ceiling images of models and clothing. There's a moving film element in one room, a selection of printed, framed photographs in another. It's nice to see a fashion-forward exhibition that's less about clothing than style and taste, and I think the same could be said for the magazine itself.
It's worth noting that Self Service included the recent work of one Dallas native in the exhibit, 26-year-old photographer Bryan Liston, who works exclusively in 35mm film and currently lives in New York. 
Around the corner, do you remember Calvin Klein's iconic campaign for the fragrance Obsession? Mario Sorrenti and Kate Moss built their careers off of it, but before that they were just two kids in love with a camera. That's the basis of Kate, a series of early '90s photographs which later turned into the career-changing campaign. The images are beautiful, simple, and intimate portraits of Moss, often in the nude. They're brimming with youth and spontaneous energy, two things which, for better or worse, never go out of fashion.
Finally, in the hallway of the Dallas Contemporary–a narrow corridor that usually only displays a sign for the loo–there's one more show to take in. Here, Yelena Yemchuk has woven the tale of Mabel, Betty & Bette, three fictional characters played by an ensemble cast. Like the space itself, the images are stifling–portraits of women that seem to be plucked from a '60s movie set. Think of a less morbid Cindy Sherman. There's a sense of disconnect between the ladies and the lens. It's a little sad. It's also very glamorous–two more perennially fashionable things. 
Dallas Contemporary has its spring shows on view through August 18, 2019. Admission is always free; donations are welcome.