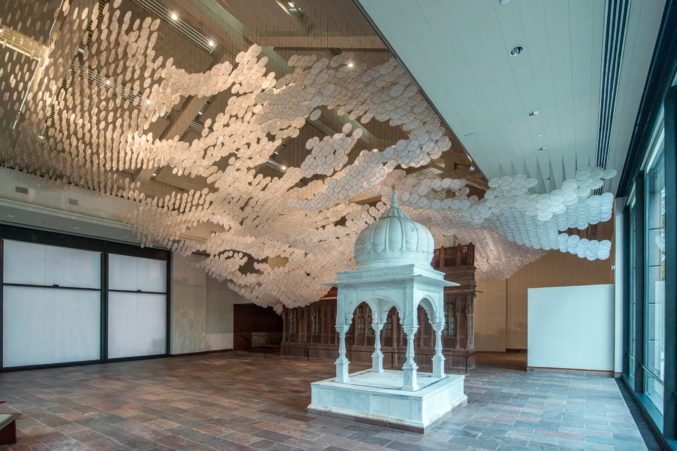 A Rundown of Soluna's First Week
The fifth annual music and arts festival kicks off Thursday.
The Dallas Symphony Orchestra's month-long Soluna International Music & Arts Festival starts this Thursday, April 4 and runs through April 28. Now in its fifth year, Soluna has struck an interesting balance between pop culture friendly performances and classical music. This season, the line-up seems to veer more toward art-minded audiences with headliners like Terence Blanchard, Lonnie Holley, Egill Saebjornsson, and Jennifer Hudson. These names may not generate the same kind of buzz that Pharrell, Nas, and St. Vincent have in years past, but they're still something to get excited about.
This week, the festival kicks off with three special events on Thursday. At the Crow Museum of Asian Art, New York-based composer and artist Aki Onda will create a site-specific performance based on Jacob Hashimoto's Nuvole installation. Expect an experimental musical number featuring Queens-based vocal artist Samita Sinha, and enough flashing lights to warrant a epilepsy warning. The event is at capacity, so I'm not sure what to tell you if you haven't gotten tickets yet. Sorry to bring it up.
Also on Thursday, SMU Meadows celebrates its 50th anniversary at the Winspear with the Meadows Symphony Orchestra and Meadows Dance Ensemble presenting world premieres. If you're a former or current Mustang or a dance connoisseur, this one's for you. Tickets are available from $17.  
If you'd like to get to the roots of Soluna, the Dallas Symphony Orchestra is performing with conductor John Storgårds and violinist Augustin Hadelich on Thursday. They'll perform the demanding Violin Concerto of Sibelius, which includes Haydn's Surprise Symphony, and the Fifth Symphony by Nielson. This performance will be repeated Saturday at 7:30 p.m. and Sunday at 2:20 p.m.
On Friday, Soluna continues with two concerts: the Voices of Change Chamber Ensemble's Voodoo Jazz Sonata at Arts Mission Oak Cliff, and mezzo-soprano Susan Graham performing with the Texas Texas University Orchestra under the direction of Philip Mann.
Live from Here with Chris Thile, the radio show formerly known as A Prairie Home Companion, records at the Winspear on Saturday at 4:45 p.m. Thile will welcome a range of under-the-radar artists to join him in the variety show. Tickets start at $50. 
Sunday brings one of the most exciting events of Soluna, especially for film and music lovers. BlacKkKLANSMAN: The Art of Film Scoring with Terence Blanchard is at 5 p.m. at Alamo Drafthouse in the Cedars. The Grammy-winning and Oscar-nominated composer will discuss his work after a screening of the film. There are a handful of tickets left, so grab yours ASAP.