Style: Very varied.
When to go: Late nights on Fridays and Saturdays, or for special events (there's live music often). 
Vibe: One night, you'll walk into Ruins and find it jam-packed with tipsy patrons dancing to cumbia, the next you'll find an experimental band performing for a sparse but enthused crowd, and the next you'll find mainstream hip-hop pumping through the speakers. It's relatively new to the neighborhood, but it captures the Deep Ellum spirit in a good way.
Style: Swing, blues.
When to go: Wednesdays for swing night, or for special events.
Vibe: Sons of Hermann Hall is a proper piece of Dallas dancing history, a charming 108-year-old building in the outskirts of Deep Ellum. The city's best swingers have kept the historical dancehall alive with vintage-inspired parties and weekly dance nights. Even if you're not the swinging type, it's a local institution you need to check out at least once. Beginner lessons are every Wednesday night at 7 p.m.
Style: Hip-hop, R&B, club, electronic
When to go: Now.
Vibe: The soul of Beauty Bar is its dance floor, a dark nook where you can get down and dirty with strangers, bust some serious moves, or sway gently to the beat (it's up to you). The crowd is rowdy, fun, and sometimes a little weird. No bottle service, no dress code, no worries. This week is the last chance to dance at its location on Henderson Ave. We'll check out the new location when it opens and report back. 
Style: Dancehall, honky tonk, two-step, west coast swing, anything country.
When to go: The dancehall is open with lessons almost every night of the week.
Vibe: Whether you're a first time two-stepper or experienced cowfolk, Cowboys Dance Hall is a solid spot to boot scoot 'n boogie everyday of the week. West Coast Swing lessons are Wednesdays at 7 p.m., and two-step basics and patterns are taught on Thursdays and Fridays at 7 p.m. Check the website for other dance lessons and special events.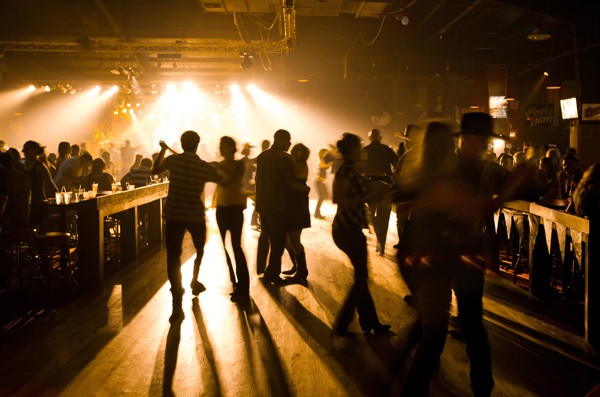 Style: Hip-hop, R&B, pop.
When to go: Wednesday-Saturday, 9 p.m. or later.
Vibe: It's a record shop, it's a bar, it's definitely not a club. Regardless, people line up out the door every weekend night to hit the dance floor at this Deep Ellum spot. Speaking of the dance floor, it's tiny and poorly positioned right by the entrance, but that kind of adds to the charm. There's a patio in the back if you need a refuge from the narrow space. The Fort Worth location, on Magnolia Avenue, is worth going to if you're out west. 
Style: Electronic, house, indie, hip-hop.
When to go: Friday and Saturday nights, or for special events.
Vibe: It'll Do is one of Dallas' most classic nightlife institutions. The club often plays host to touring acts, like Goldroom (April 12) and Miguel Migs (April 13). If you're looking for a place to hear a really great DJ without the douche factor of a bottle service club, this is a good bet. Also, the dance floor lights up.
Style: Nightclub.
When to go: Thursday-Sunday, late.
Vibe: Texas' no. 1 gay dance club (or at least that's what Facebook says) is giant and multi-faceted, with a huge dance floor, cages, and poles on one level, a low-key patio on another, and The Rose Room, where you can catch some of Dallas' best drag shows.
Café Salsera
Style: Salsa, cumbia, bachata, merengue, reggaeton.
When to go: Thursdays for salsa, weekends for everything else.
Vibe: The food isn't very good and neither is the service, but Café Salsera is a really, really good time. Go on Thursdays at 8:30 p.m. for salsa lessons (it's Ladies' Night), or go on the weekends for the perfect latin dance playlist and a sexy dancing scene. It gets pretty packed past 11 p.m.
Style: Salsa.
When to go: Fridays and Saturday nights, 10 p.m. – 2 a.m.
Vibe: When the dinner plates are cleared, the dance floor fills up at Gloria's in Addison. (Unfortunately, the chain doesn't offer nightlife at its other DFW locations.) If you're not feeling 1000 percent confident of your salsa abilities, this might be a good place to test the waters, as it's a little more low-key than Café Salsera. There's no cover for ladies on Fridays.
Style: Salsa.
When to go: Wednesdays at 7 p.m.
Vibe: If you want somewhere extra casual to salsa the night away, Beto & Son in Trinity Groves hosts free salsa lessons every Wednesday night on its pleasant little patio. It's a perfect dinner-and-dancing date, and the margs are on point.
Style: Line dancing, swing, two-step, freestyle
When to go: Monday-Thursday for lessons, weekends for partying
Vibe: It's one of the best gay country western dancehalls in the country, and the fact that Lady Gaga has been there thrice is a testament to that. There are step and swing classes every Monday, dance competitions on Tuesday, and line dancing on Wednesday or Thursday, depending on the week. Check the full schedule here.
Get the FrontRow Newsletter
Get a front row seat to the best shows, arts, and things to do across North Texas. Never miss a beat.