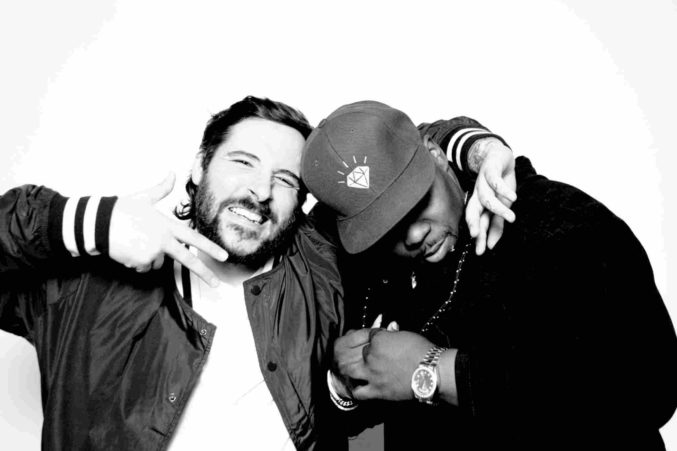 Phantom City Records Wants to Put Dallas Hip Hop on the Map
The city's latest rap-focused record label is determined to make its mark on the national music scene.
Chris Nicolaou wakes up as the sun peeks over the Dallas skyline. The clock reads 6:00 a.m. He rises, gets ready for the day, then heads to Phantom City Records on Canton Street. He works at the record company until about 5:00 p.m. As thousands of Dallas denizens trudge home after a long work day, Nicolaou settles into the studio.
"As the sun sets, the day starts," he says.
For the next several hours, Nicolaou helps artists record and cut tracks, arranges meetings and video shoots, and does anything and everything he can to keep his business moving and to keep the music going.
"Music is as close to magic as this world offers," he says. That's why he co-founded Phantom City, Dallas' latest full-service label created specifically to serve the hip hop scene. Along with rapper 7 Tha Great and a diverse team of musicians and creatives, Nicolaou strives to put Dallas hip hop on the map.
"There are talented people out here, but they don't have the pieces or the support they need to break out," Nicolaou says. "That's why I do what I do."
He's always been a hip hop head, but his first love was hockey. Nicolaou was a center in USA Hockey's Southeastern District when years of the game caught up to him. "I aged out," he says. "And I wanted to do something productive with my time."
He launched a graphic design and marketing firm, but his love of hip hop persisted. He founded Phantom City Records in March 2017 to give Dallas hip hop artists a one-stop shop for the music and business services they need. He's following in the footsteps of a few other labels, like the Bruton Bazaar storefront-slash-mixtape label T-Town Music, which helped launch Big Tuck, Tum Tum, and the rest of the DSR crew a decade ago; and High Standardz, which currently counts Bobby Sessions and Blu, the Misfit among its roster.
"We do everything in-house. Artists walk through the front door and go out the back a new artist. They have a bio, a press kit, a record, everything."
Nicolaou has a trusted partner to help with Phantom City's music ventures. Local rapper 7 Tha Great, a.k.a. Ladarrion Burton, is a native of Dallas' Dixon Circle neighborhood. Phantom City Records dropped his sophomore album, Demigod, last December. Less than 26 hours after its release, Burton's project reached number one on Apple's Most Trending Albums, eclipsing the album Meek Mill released the same day.
The rapper believes his success would be impossible without Nicolaou. It's an unlikely pair: a Farmers Branch native and Greenhill grad turned hockey player, and a rapper from Dixon Circle. But it works.
"We're brothers," Burton says. "Chris had the vision, we both have the drive, and we knew we'd have a better chance of being successful if we did this together."
Rap is Burton's outlet. It's what he relied on when he lost his uncle to AIDS, and when his friend James Harper was gunned down by the police in 2012. Like Nicolaou, Burton was an athlete for much of his life. When he tore his ACL playing basketball, he turned to the art form he's loved since he was a kid.
"Rap keeps me out of trouble, keeps me out of prison, keeps me alive," he says. "These troubles, these challenges–they make me go harder."
Grit is a common theme on the Phantom City team. The crew includes promotional manager Victor Gonzalez, 18, who directs videos, manages social media accounts and more. Nick Ramirez, a DJ since age 12, is Nicolaou's jack-of-all-trades. He helps him manage the business, and supports the label's marketing efforts however he can.
"Phantom City is a family, and everyone has their roles," Ramirez says. "If I don't know how to do it, I'll learn."
The label's grind has earned them the admiration of BC Newton, a longtime Dallas resident who owns the company Southern Fried Marketing.
"Artists need support" Newton says. "You can have all the talent in the world, but without someone telling you what to do or not to do, you may never make it."
Nicolaou and Burton look for talent, but they also covet work ethic. Their current roster includes Nick Noel, Teddy Montana, Bryson "Godbody" Busby and many more. They're open to bringing in more–as long as they're ready to work.
"We want to help people who are dedicated and committed to this," Nicolaou says. "7 has shown people what is possible, but you don't wake up one day and magically hear yourself on the radio. It takes time."
Time is the one thing Nicolaou will never mind spending, and he has a message for hip hop artists in Dallas.
"Artists don't have to go to L.A., or New York, or anywhere else but here," he says. "Stay, work with us, and I don't care how long it takes. I'm going to keep at it until it works."
Correction: A previous version of this article promoted Phantom City as the first rap label in the city. That was incorrect, and we have adjusted the copy to reflect that.