It was a steamy Wednesday night when I parked my car behind Deep Vellum Books to see Melissa Broder. A small group, which felt more like a cool hangout session, gathered there at 7 p.m. for the paperback release of her book, The Pisces.
The novel is her attempt to explore whether you can fill an insatiable existential hole with romantic obsession. At least that's how she described it in a tweet announcing the tour from her renowned Twitter account, @sosadtoday. Oh, and the main love interest is a merman.
As I walked into the book shop and publishing house, it felt cosmic. The Cardigans played in the background while meditative smells of incense and Palo Santo filled the room—it was a sanctuary dedicated to good prose.
Broder walked in gleaming, wearing a leather skirt and her own spotlight. The two women who worked the event were excited to share the astrological setup they organized to match the theme of the book.
After a thoughtful introduction from Deep Vellum's General Manager, Cristina Rodriguez, the author greeted us energetically.
"Guys, I'm driving a red pick-up truck," she exclaimed, running over to point out the window.
She rented a car with insurance, which Broder said is always a necessity; and it was between a Kia and this brand new shiny beaut'. The decision was obvious.
"I don't know, it makes me feel Texan," laughed Broder.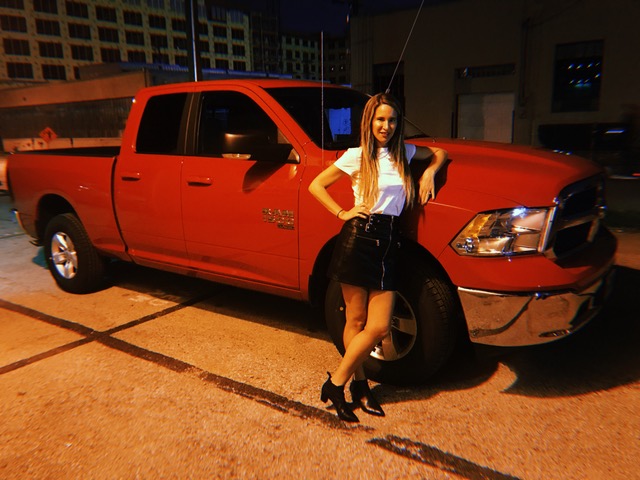 The Texas Tour, as she's calling it, was in response to a Twitter poll she did last year. She asked followers where they wanted to see her next and the feedback was overwhelmingly (thankfully) Texan. Over the next few days she'll be driving across the state, stopping at Brazos Bookstore in Houston, and BookPeople in Austin.
Before going into a Q&A, she read us an excerpt from The Pisces, introducing it by asking if we have ever experienced the contradiction of feeling worse after therapy. That is where her main character was in the book: a therapy-induced panic attack on the sidewalk.
"This was just what people did now. We went from emotion to phone," she read. "This is how you didn't die in the twenty-first century."
Her writing is hysterical and brutally honest, in an incredibly poignant, insightful way. I don't know that I've ever laughed so much and been equally moved by a book event.
Following the reading she looked to the audience to guide the discussion. "So, if anyone has, like, questions or comments—I'm available," she quipped, breaking the ice on the esteem that can typically accompany literary events. But really there was no hesitation. Of course, the crowd wanted to talk to her.
They asked about her writing process, whether it changes from poetry to fiction. The Pisces is Broder's first novel. She was always The Poet From New York, and couldn't see the point in writing a whole book about something that could be described in a single page. But when she moved to LA in 2013, it was different.
"You can't write poetry on the 405." So, she started dictating in her car with her iPhone. As she noticed her writing becoming more conversational, a novel is just what poured out. "Three paragraphs a day for nine months equals a rough draft," she said, making it sound easy.
The idea for the book sprouted while reading The Professor and the Siren by Giuseppe Tomasi di Lampedusa on the beach in Venice, CA, she told us. It's centered upon the relationship between a man and a mermaid. Broder suddenly recognized its unprecedented storytelling potential.
The mer-human relationship could represent the irrational sensation of feeling a love that isn't real more deeply than a love that is real, healthy, and right there in front of you. It's the whole I-want-what-I-can't-have syndrome.
An intentional added bonus in The Pisces is that a female character drives the narrative. Rather than the man pining for the mermaid, it's the other way around.
The last question came from an audience member who admitted to the relief he felt in giving up Twitter after basically living off it, and he wanted her thoughts.
"Oh, I'm definitely addicted," she said. "I have Nicorette, I have caffeine, and I have the internet."
Broder turned her own popular Twitter account into a book of personal essays published in 2016 under the same name, So Sad Today. She still writes relatable vulnerabilities on the daily and, somewhat embarrassed to still be posting, was adamant that she's not giving it up any time soon.
We can expect new work in the near future—she told us she's working on multiple projects, and described one as "horror fiction about validation addiction and the internet."
"Writing about it is the first step," she said. "At least I think."
Get the FrontRow Newsletter
Get a front row seat to the best shows, arts, and things to do across North Texas. Never miss a beat.