Keer Tanchak is interested in obscurity in every sense of the word. The British Columbian, Dallas-based artist's new show at Conduit Gallery in the Design District is nearly hidden behind a narrow entrance, the pieces propped up in layers on a tall platform. The viewer is forced to crane their neck a bit to see those closest to the wall.
The paintings' subjects are no less curious; they are portraits inspired by whimsical porcelain figurines by Ukrainian ceramicist Oksana Zhnikrup. Zhnikrup herself would have remained in relative obscurity had Jeff Koons not super-sized one of her ballerinas in 2017 (that's another story). Tanchak saw Koons' ballerina sculpture in an advertisement for Miami condos and got inspired.
This was the starting point for her new installation: a group of twenty-something aluminum paintings characterized by delicacy and rough edges. Tanchak uses tin and aluminum frequently in her work, citing traditional retablos as an influence.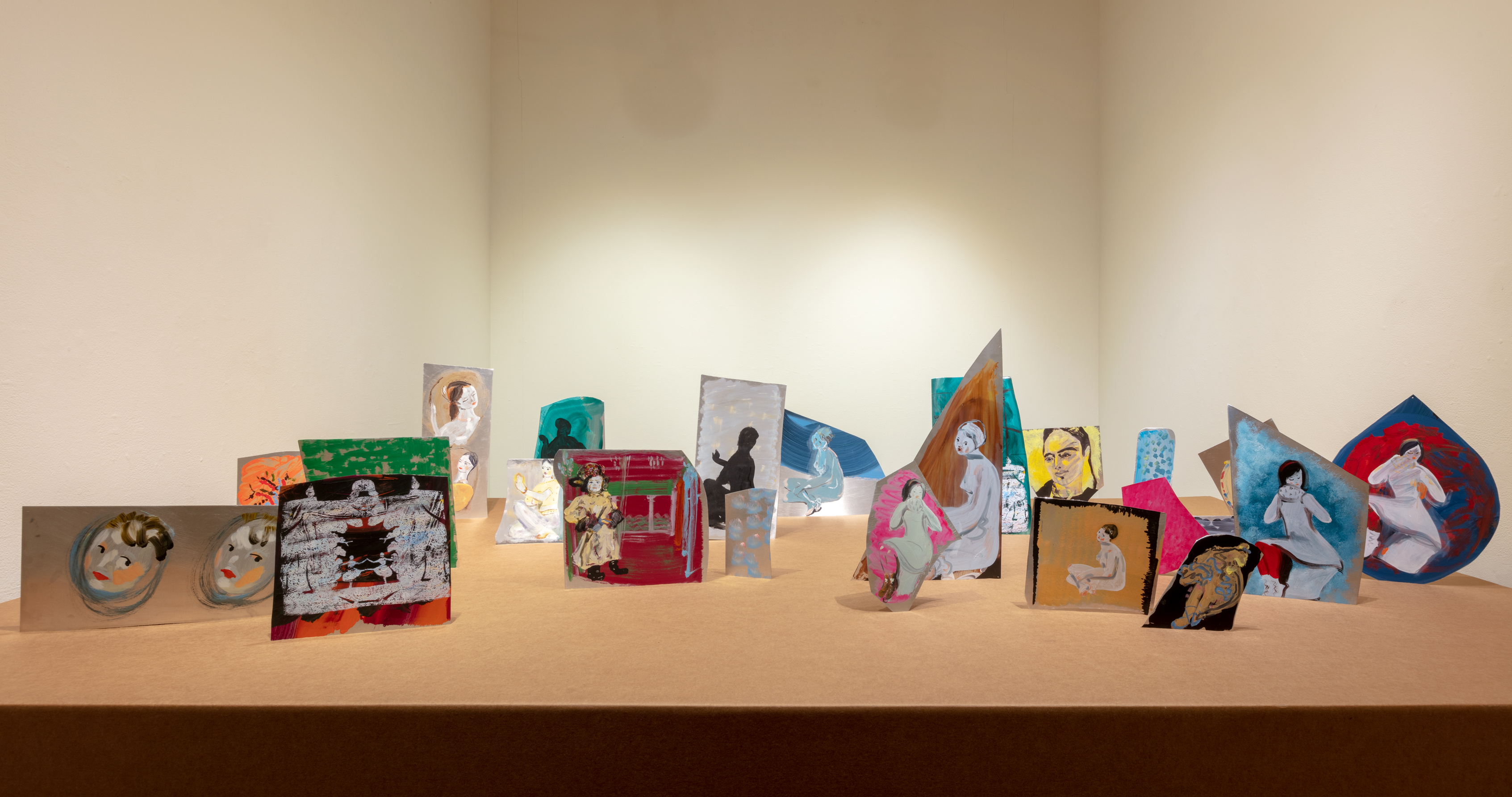 "I thought it would be funny to make super utilitarian paintings on aluminum, versus his shiny titanium, so it was like my poor woman's Jeff Koons. And then I started learning about her. In a way it was a gift, because then I got to discover this artist who's kind of incredible," says Tanchak.
A curator friend sent Keer images of Zhnikrup's ceramics. She immediately developed a fascination with the doll-like figures.
"They're just so weird. They're bizarrely sweet, but really kind of aggressive as well. I was taken by how odd the combination of the personalities were of her ceramics," Tanchak says.
Rather than replicate their shapes, Tanchak wanted to give Zhnikrup's little characters a new life in her artwork.
"Essentially, I was wanting to immerse myself in the psychology of what she was thinking about, and what these characters of hers are doing still now," she explains.
Recreated on bits of metal, they coyly stare down the viewer, seemingly aware they're being watched; a ballerina, a nude woman, a little boy in winter fur, a goddess. They're entirely flat, but standing tall on the table, one obscuring another, they create depth. It's almost like a giant diorama inside the gallery.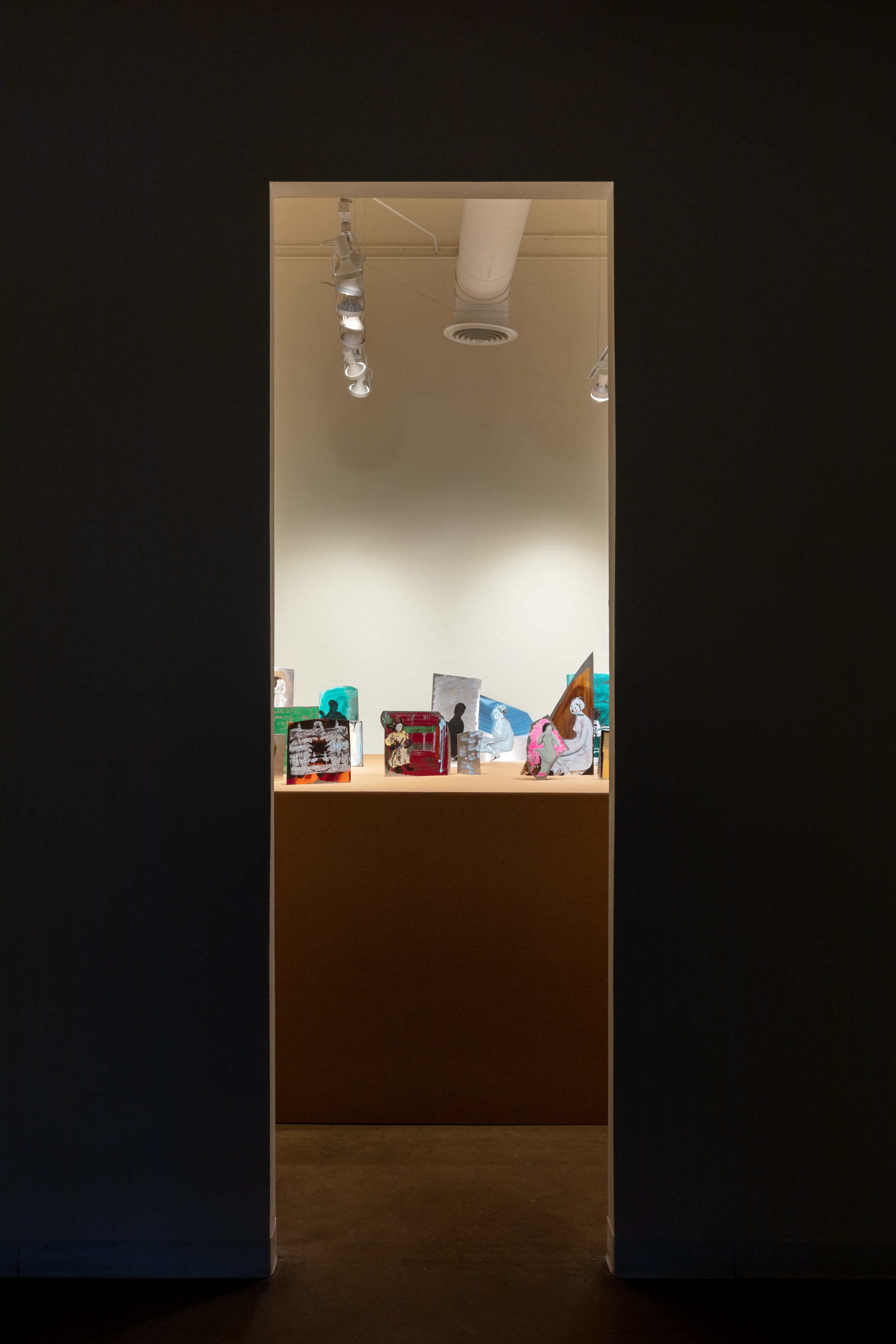 "When I first stood in front of the Project Room doors at Conduit, I had this feeling that I had this connection to standing in front the Duchamp in Philadelphia," says Tanchak, referencing Marcel Duchamp's famous Étant donnés, a nude scene viewable only through a peephole. "This is the same feeling, that I'm about to look into this small opening in this space and I want it to be frontal and theatrical and a little restrictive. So, I didn't want the audience to have a lot of freedom."
If you feel intrusive upon visiting the gallery, that's not an accident. As Tanchak says of seeing Duchamp's mysterious artwork, "it is kind of a creep moment."
Keer Tanchak's solo exhibition will be on view in the Project Room at Conduit Gallery through March 30, in conjunction with two solo exhibitions by Roswell-based Robert Jessup and Dallas-based Susie Phillips.