Yesterday, in a room full of suits and ties—and In-N-Out—Trammell S. Crow was honored with the second annual Stodghill Award from Dallas Film. The ceremony took place Wednesday, February 13, in the form of a luncheon at Four Corners Brewery. You can imagine this unlikely combination of classy and casual.
All of the proceeds from the luncheon benefit the Veteran's Institute for Film & Media, founded two years ago by Dallas Film with the goal of supporting veterans with reintegration back into the community. So, before the actual honoring, people ate and talked with the understanding it was going towards a worthy cause.
It wasn't until about 1 p.m. that Johnathan Brownlee, CEO and president of Dallas Film and executive director of the Dallas International Film Festival, came to the stage to jumpstart the conversation. He started off by making sure everyone got the memo about the coloring contest.
"See—Trammell's done it!" Brownlee said, as Crow waved around a half-colored sheet from the audience. Whoever won would get two Star Passes to the upcoming Dallas International Film Festival happening April 11-18.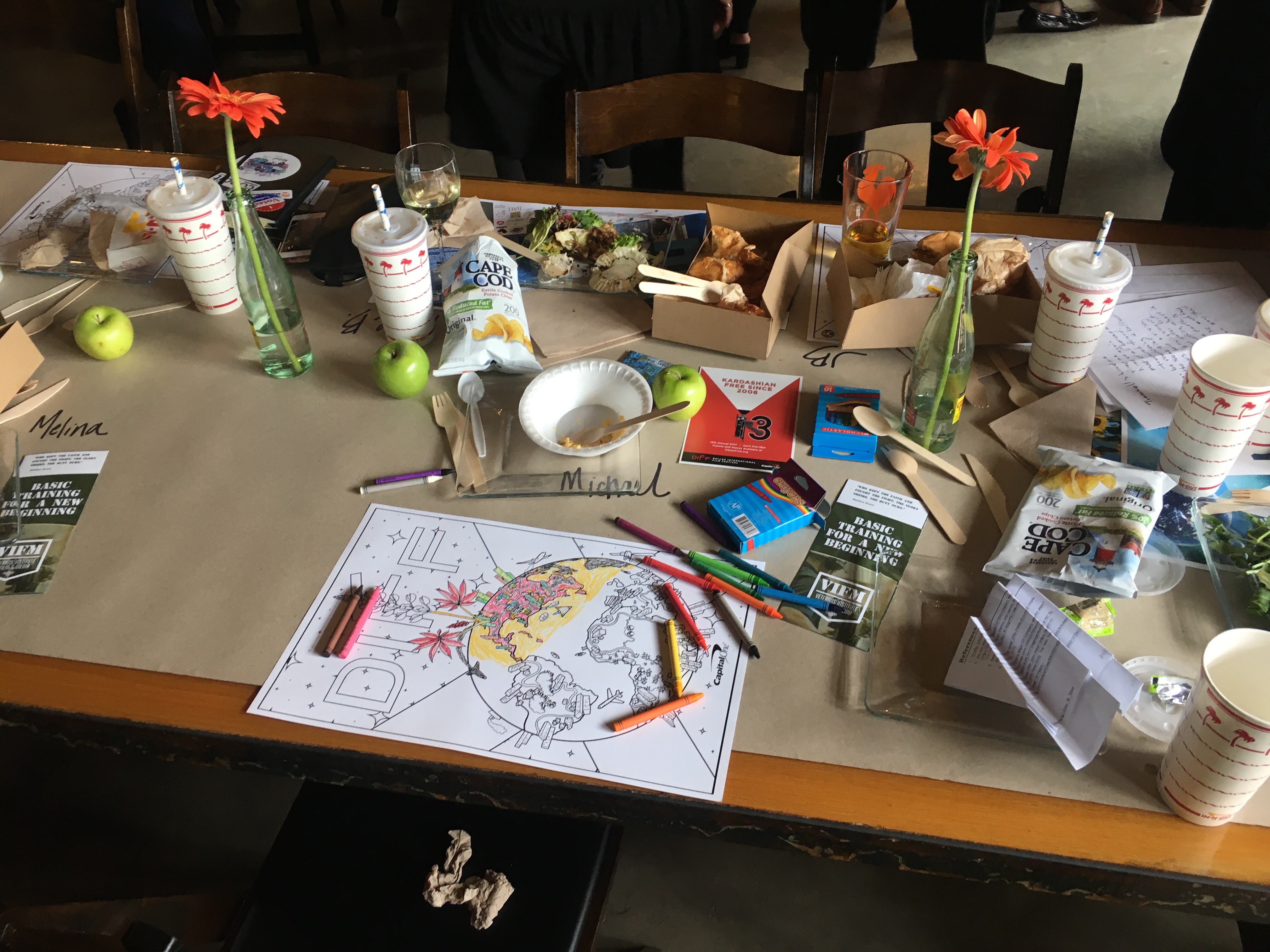 Brownlee then asked the few veterans in the audience to stand for a thankful applause and went into further detail about the structure behind VIFM.
The institute offers a 12-week training program that isn't short-selling. Split into three one-month phases—classroom, paid internship, and job placement—by the end of it, veterans are getting placed into media positions at places like Mercury Studios in Irving, he said.
The namesake of the award himself, actor and producer Steve Stodghill, came up next to discuss the story behind the awards founding. They were thinking about who had really been inspirational in supporting film in Dallas.
Apparently, the award was originally designed to be based off of Zeus sitting in his throne with a lightning bolt—Stodghill had just gotten back from a trip to Israel when he met with the designer. But the sculpture, designed by Brad Oldham, has since been readjusted to resemble a man sitting in an old theater chair with popcorn.
"It's the heaviest award being given out in Dallas," Stodghill joked.
A video packed full of sentimental explanations regarding Crow's achievements was presented afterwards, such as EarthX, and EarthXFilm's that followed.
The organization as a whole is a comprehensive approach to action for a better, more sustainable future. EarthXFilm uses the power and accessibility of media to further that call, attempting to bring a diversity of environmental stories onto screen.
Michael Cain, president and co-founder of EarthXFilm, introduced Crow as his good friend, godfather to his daughter, co-creator, and inspiration.
"I'm going to be real brief," Crow said when it was finally his turn to take the mic and accept the award. "The real reason EarthX is the biggest environmental event in the world is because there are no others," Crow admitted.
He's not hiding the fact that no competitors exist, but rather highlighting why it is so crucial that EarthX does.
"People don't want to think about the 5% of monarchs that still exist—it's too hard to get your arms around," Crow said. "So, we've bludgeoned it."
In other words, he's punctured a hole in the silence that surrounds global environmental issues through his extensive and multifaceted efforts with EarthX. Awareness isn't enough; there has to be action.
In the light of the Stodghill Award, the upcoming EarthX 2019 Expo will take place at Fair Park from April 26-28, kicking off with EarthXFilm Festival that starts the prior Friday, April 19.
"I joke about Dallas being the green center of the world," said Cain. "But if we're not, who is?
Get the FrontRow Newsletter
Get a front row seat to the best shows, arts, and things to do across North Texas. Never miss a beat.