Imagine a living room much stranger than your own. A place too chic to reside in and too beautiful to be left alone. It's home to no one in particular, but welcomes a steady stream of visitors through its doors who sit on expensive couches and plush velvet armchairs. And sometimes, every once in awhile, those strangers stay long enough to converse with one another.
This is the French Room Salon. The most intriguing bit of the Adolphus' multi-million dollar overhaul, completed in 2017, is this smallish, art-filled lounge just outside of the hotel's iconic dining room. The Salon was designed by Swoon, the Studio, and its art is curated by Lucia Simek, an artist, curator, writer, and manager of communications and international relations at the Nasher Sculpture Center. Its style is a mixture of the Adolphus' turn-of-the-century opulence and its own modern eccentricity. It's adorned with pieces by Texas-tied artists like Keer Tanchak, Ezekiel Gibbs, and Ike Morgan.
While it serves as a sort of receiving area for the French Room, the Salon has found a more fitting use in a monthly series of artistic forums dubbed The Salon. These are curated by Simek and modeled after 17th and 18th century salons in Europe.
"I thought it was really important to have a space in the city that wasn't in a gallery in a museum to have conversations about art," she says.
Over the past several months, The Salon has hosted guests Julie and Bruce Webb (owners of Waxahachie's Webb Gallery), Keer Tanchak, Francisco Moreno, Travis LaMothe, and Gavin Morrison. Simek chats with all of them.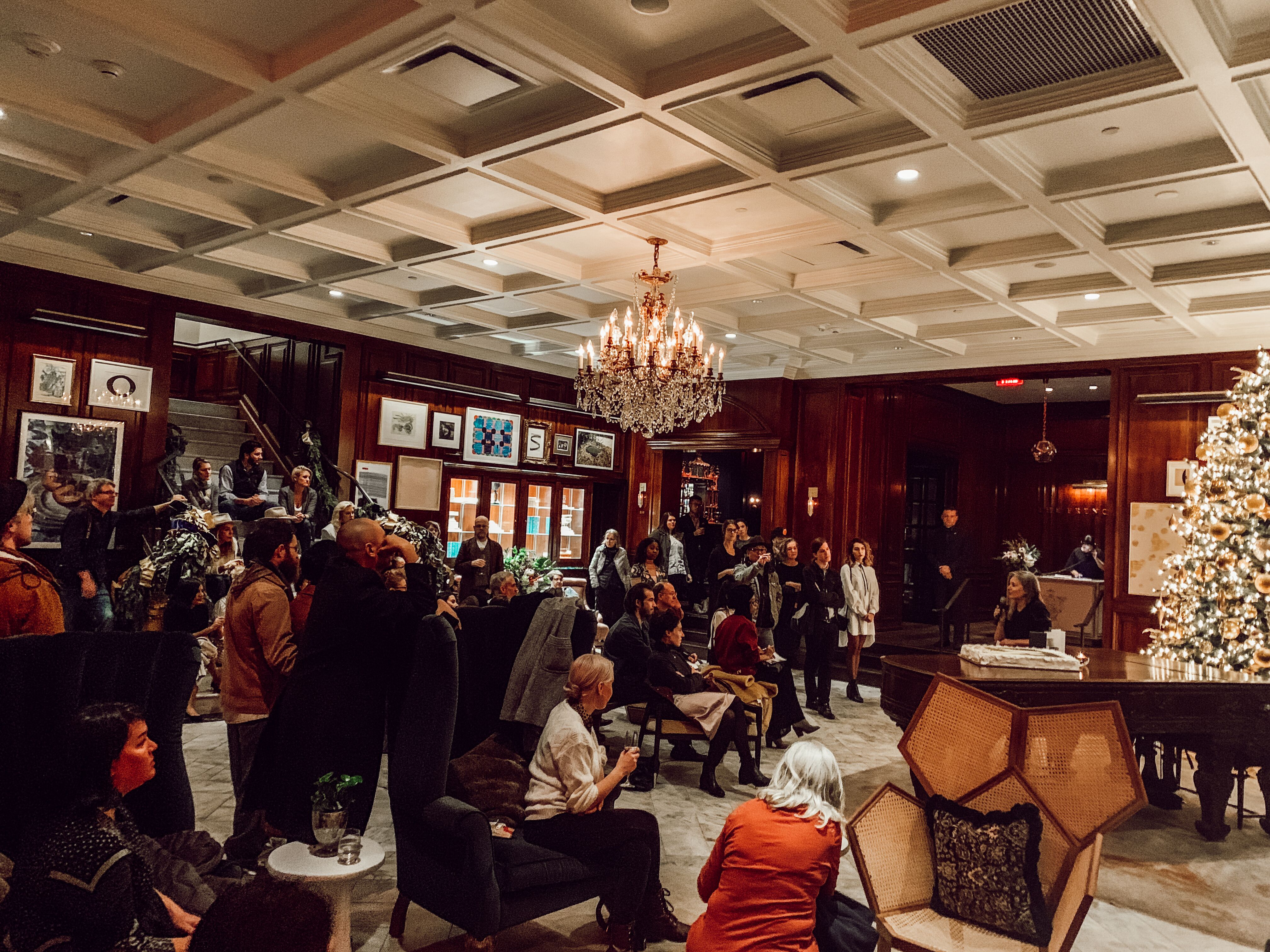 Each event is open to the public, with a small number of tickets available for free online to accommodate the small space.
"I really wanted it to feel intimate and kind of vulnerable," Simek says. "I think we don't have many occasions where we sit awkwardly with strangers and listen to an intelligent person stumble through ideas."
The topics of discussion range from the artists' inspirations and peculiar interests to the intricacies of Napoleon's diet (his portrait hanging on the wall suggests he illegally ate a particular, tiny bird, as Gavin Morrison explained at January's event).
"When you're in a space like a hotel space, which is by nature a kind of transitory space, it's out of the norm as a place to have an intimate conversation with strangers," she says. "I really wanted it to be an arena where artists and could talk in detail about their own fascinations."
This week, the series celebrates its fifth iteration with renowned artist Tom Sachs in an event called "Sympathetic Magic." Sachs, who mounted a major exhibition at the Nasher in 2017, is known for his cheeky, DIY style of creating, and an interest in toying with iconography, not to mention his frequent collaborations with Nike. His show at the Nasher, Tea Ceremony, reimagined a traditional Japanese tea ceremony as it could happen in outer space. Guests were invited to wear split-toe Nike socks and eat Oreos with their matcha in a weird ritual that took well over an hour.
"Sympathetic Magic" will dive into the theme of empire-building and myth-making within the Salon's collection, as Sachs speaks on the iconic figures and entities which shape the ideas in his studios.
This month, The Salon has already sold out of free tickets for its Thursday evening talk. That said, if you really, really want to go, I'd encourage you to just show up and try to squeeze in the crowd of strangers. This is, after all, a space created specifically for that intention.
Get the FrontRow Newsletter
Get a front row seat to the best shows, arts, and things to do across North Texas. Never miss a beat.