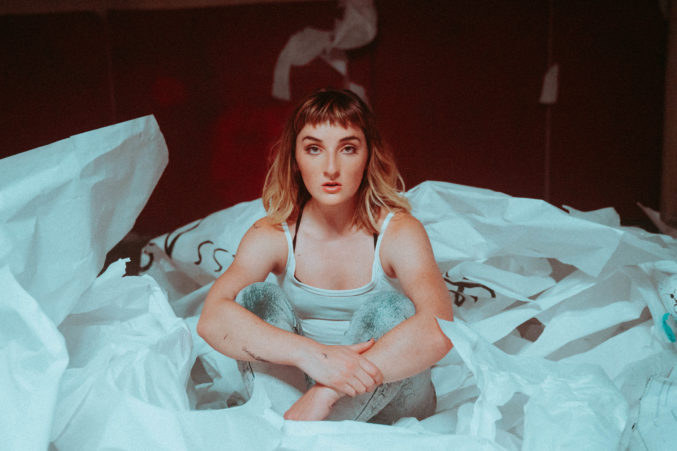 Watch This: Tippy Balady's Music Video for 'Merry Go Round'
The Booker T. Washington senior is poised beyond her years.
Booker T. Washington High School for the Performing and Visual Arts has long been an incubator for rockstars, from Erykah Badu to Norah Jones. Tippy Balady, class of 2019, is the next generation. The 17-year-old singer and songwriter is currently balancing exams and college applications with recording her debut album, which she plans to release song-by-song over the next year. In the meantime, she's dropping a poignant music video for her single "Merry Go Round," a song about dealing with anxiety. Understandably, the teen-turned-rising-star is familiar with the subject.
"I honestly just write what I feel and it comes out a certain way," she says. "I wrote from my heart."
Despite her anxiety, Tippy is self-possessed beyond her years. She's already started to forge a unique identity as an artist; alt pop with bedroom pop undertones and a hint of R&B. She's thrown herself into the Dallas music scene, working with local producer Jason Burt (Medicine Man Revival) at Modern Electric to hone her style. "They spoke the same language," says her mother Elizabeth.
Her first music video for "Begin Again" – a DIY project she and two friends tackled in a day – racked up more than 100,000 views in three months, giving her a presence outside of Texas.
And now, with the release of the music video for "Merry Go Round," Tippy is set to have a breakthrough on a bigger scale. The new video was made by HiHat Productions, a company that typically works with artists like Shakira, Rihanna, and Justin Bieber. Unlike filming "Begin Again," it was not a simple process.
"We had a makeup crew, and people who were passing me waters and stuff. I was like, 'I can walk over to get a water.' While we were recording 'Begin Again,' I was holding dripping ice cream cones from McDonalds because our budget was like $20," says Balady. "I had to sew my dress three times because it broke three times. So, this was a completely different experience."
Tippy teamed up with fellow Booker T. senior and dance major Ava Noble for the new music video. The pair has known each other since preschool, and they reconnected when they both enrolled at the arts magnet school.
"I had always wanted to work with her but I couldn't get the courage to ask her," says Tippy. Then, during their junior year, Ava approached Tippy about collaborating on a school project. It went well, and the girls' moms got to talking.
"I told her, 'Tippy has secretly always wanted to do a music video with Ava, maybe I can look into and we can make it happen.' And she said, 'Well, I know how we can make that happen.' We had no idea that Ava is managed by HiHat," says Elizabeth.
The Baladys admit they didn't do much research before their first meeting with the production company. "We were expecting, like, a wedding videographer," jokes Tippy. The young artist pitched her concept to the team not knowing that they were, well, kind of a big deal.
"It worked out better because you weren't nervous," says Elizabeth.
Her ideas went over well. A couple weeks later, HiHat sent Tippy a storyboard with everything she had dreamt up. "It was like everything I imagined and told them about and more," she says. In July, the musician and her mom flew out to Los Angeles to film the video.
Ava spent the week rehearsing with choreographer Noelle Marsh, who pulled from her own experiences with anxiety to choreograph the movements.
Having the input of other anxiety-sufferers like Marsh was important to Tippy. The video begins with three of her friends speaking on the subject, and she hopes more people will share their experiences when the video is released.
"I'm just so blessed to be part of that project and that so many people wanted to be part of it too. The fact that they also wanted to spread my message was really impactful for me," she says.
Having her childhood friend be the star of the show, creating a visual expression of her music through dance, was the cherry on top.
"It's just so cool. I saw her last week and told her about a college I got accepted to, and she told me she got a USC audition and we're both like 'Woo!'" says Tippy.
Now, she's turning her focus to post-high school plans. She's already been accepted to Berklee College of Music in Boston, among other prestigious institutions, but her dream is to go to school in California and break into LA's music scene. She's considering taking a gap year to build her fanbase in Dallas and Austin (and maybe do a little touring) before she moves. Luckily, between her classical training at Booker T. and her professional experience, she's already made a name for herself in town.
"Doing an audition is like second nature at this point," she says. "It's what I love to do and I'm happy to be around other people who love to do it."