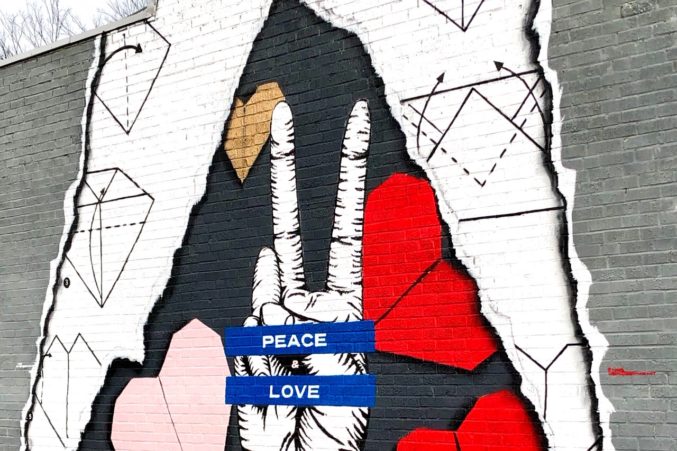 There Is A New Anti Gun Violence Mural in Oak Cliff
Toms Shoes commissioned a work by Dallas artist Chris Bingham as part of its #endgunviolencetogether campaign.
If you haven't yet heard, Toms Shoes has a new philanthropic endeavor. The company, which was founded on the deeply flawed though well-intended idea of donating a pair for every pair purchased, recently announced a $5 million donation and campaign to end gun violence. Part of the plan includes a large mural project, wherein local artists across the country to create an anti gun violence painting unique to their city. In Dallas, artist and teacher Chris Bingham has painted the message on the side of a building near Spiral Diner and Rush Patisserie.
"I'm a parent to two boys, I'm a high school art teacher. So day in and day out I see the effects of gun violence," says Bingham.
Bingham was hired for the project after being tagged in a friend's post on Facebook, and he finished the mural just before Christmas. He says that he was pretty free to do what he wanted with the idea, as long as it included the hashtag #endgunviolencetogether and a peace sign. Bingham took that and ran with it, depicting a series of origami hearts being created around a giant hand.
He hopes that the mural can raise awareness to the cause, and perhaps inspire people to send a postcard to their state representative asking to pass universal background checks – something which the Toms campaign has made very easy online (more than 700,000 have been sent so far). 
"I use art as an expression and it's a way I can get what I want to say out and it can be a voice for the voiceless," says Bingham.
If you want to see the artwork for yourself, you can find it at 1101 N. Beckley Avenue, where it will be on display indefinitely.