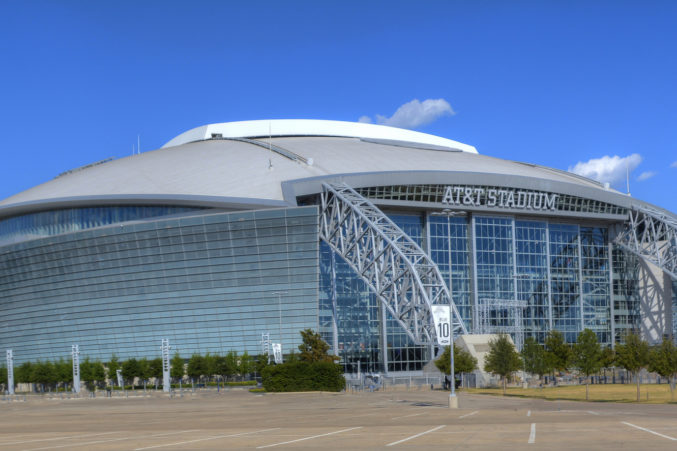 It's Only January, But KAABOO Has Claimed the Weirdest Festival Lineup of the Year
The festival is bringing together Sting, Pitbull, Alanis Morissette, and so many others.
What do Ms. Lauryn Hill, Kid Rock, and Brad Garrett (a.k.a. Everybody Loves Raymond's giant brother) have in common? They're all slated to perform at the debut KAABOO Texas festival in Arlington May 10 to 12. The full lineup for the music/comedy/art/ambiguous fest was announced this morning, and, like, it's not bad, but it makes no sense. Who is its audience?
The vast list of artists coming to AT&T Stadium includes The Killers, Sting, Lynyrd Skynyrd, Pitbull, Alanis Morissette, Ludacris, Counting Crows, The Black Eyed Peas, Joan Jett and the Blackhearts, The Avett Brothers, Flo Rida, Little Big Town, and about a hundred other, equally random choices. And that's just the music programming.
The "full sensory event" also offers comedy performances by Dennis Miller, Demetri Martin, Garfunkel & Oates, and Whitney Cummings, to name a few.
And the fun doesn't stop there! "Full sensory events" also require art exhibits at which to gawk, food and drink to taste, an onsite Vegas-style pool club, and "a full spectrum of INDULGENCES." The specifics for food, art, and INDULGENCES—emphasis theirs—have yet to be announced, but the Vegas-style pool club, named BASK (they're into all caps over there at KAABOO) will host DJ sets by Cash Cash, Chromeo, Le Youth, and Paul Oakenfold.
The festival, which has been a hit in Del Mar for the past four years, is coming to the home of the Cowboys in collaboration with The Jerry Jones Family. It's the first partnership of its kind between a lifestyle festival and an NFL ownership group.
All these amenities come at a price. Limited quantities of general admission passes are available for $299, and those will go up in price after the first batch sells out. VIP Blue Star passes are on sale for $999, and include premium stage viewing, private restrooms, and VIP-only performances. The VIP Rockstar passes, a cool $4199, include all the Blue Star perks, plus on-stage viewing, meet and greet opportunities, complimentary food and drink, shuttle services, and more. Those prices are near what Coachella commands, which seems rather steep for a first-year festival. 
If you want to get a taste of what KAABOO Texas is all about before shelling out the big bucks, stop by Halcyon Coffee Bar tonight, January 16, 5 – 8 p.m., for a free concert by Rhett Miller and a live mural painting by Amandalynn.