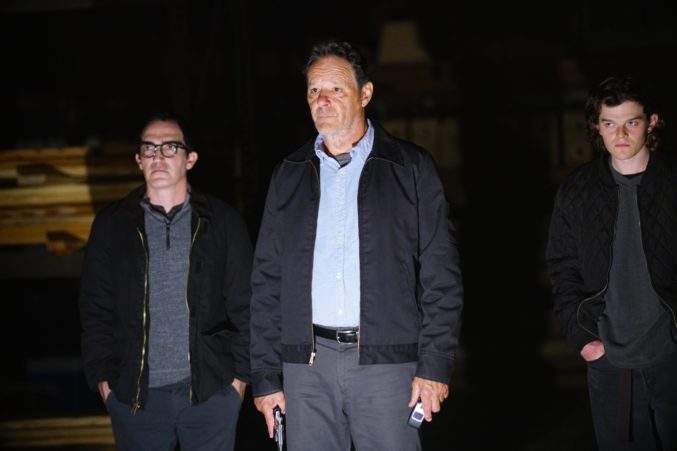 How a Dallas-Made Indie Thriller Unintentionally Gained Political Relevance
Rookie filmmaker Henry Dunham's exploration of gun culture, The Standoff at Sparrow Creek, has generated plenty of buzz on the festival circuit.
Seven years ago, a movie about a mass shooting at a police funeral, a missing assault rifle, and some suspicious militia members might have been received differently.
Henry Dunham wasn't trying to make a political statement with his screenplay for The Standoff at Sparrow Creek, but he acknowledges such a subtext is inevitable these days, given its deep-dive into gun culture and other hot-button topics.
Dunham's feature directorial debut, which was shot in Dallas only 10 months ago, debuts in theaters this weekend. During a successful run on the festival circuit, its subject matter generated buzz, whether intentional or not.
"You can't avoid it. I've heard people say there's political subtext, and I've heard people say there's nothing political about the movie. I just want people to watch it and hopefully not be bored and hopefully feel something," Dunham said by phone. "That situation became lucky in that it accelerated the movie getting made, but unlucky in that it imbued the movie with more political stuff than it would have had if it would have been made in 2013 or 2015."
The story follows an ex-cop (James Badge Dale) who anxiously sequesters his militia colleagues in a lumber warehouse following the shooting, the details of which aren't initially shown. The resulting interrogation aims to uncover the truth — it turns out an AR-15 is missing from their cache — before the authorities close in.
"This has always just been a story about connection versus isolation, and being a part of something whether or not you want to. It's more interesting when you're forced to identify with characters that you otherwise wouldn't have," said Dunham, whose script made the 2015 Black List of the best unproduced screenplays. "I never knew where these guys leaned politically, and I didn't care."
The film is the latest project from Cinestate, the Dallas-based media company founded by Highland Park native Dallas Sonnier, which is building a reputation for its indie genre fare such as the ultraviolent Western Bone Tomahawk and the upcoming Mel Gibson thriller Dragged Across Concrete.
"Dallas was the only producer who reached out to me and wanted me to make the movie I wanted to make," Dunham said. "It was a no-brainer to go with them. They kept their promise. Every day on set, they were excited about it."
Sonnier and Amanda Presmyk produced Dunham's film, which was shot in just 18 days last March using a local crew at three different warehouse buildings in Dallas, on a budget of only $450,000. However, the story is not necessarily set in North Texas.
"It had this environmentally androgynous feel to it, where you can't tell where you are," said Dunham, a Michigan native. "It's in the middle of the country and it could double as anywhere."
The project attracted an acclaimed ensemble cast including Dale (13 Hours), Chris Mulkey (Whiplash), Brian Geraghty (The Hurt Locker), and Gene Jones (No Country for Old Men).
Dunham knew that keeping his story logistically simple would benefit him as a rookie filmmaker. He just needed to build tension in smaller ways, such as communicating emotional beats through subtle gestures.
"It was always written to be that kind of contained-space thriller. If you don't have a car chase, you have to make unlocking a door just as suspenseful, and make sure you have all those minimalist tactics that you can employ," he said. "It really comes down to spending as much time as possible on the script beforehand, so when you get to the shoot itself, you're painting by numbers and not discovering these things."
Although The Standoff at Sparrow Creek has drawn stylistic comparisons to Tarantino's Reservoir Dogs, Dunham said he was more influenced by French directors from the 1950s and 1960s, such as Robert Bresson and Jean-Pierre Melville.
"Those French guys had a way of taking uber-masculine material and then treating it with incredible focus and restraint — like something that can be as quiet and subtle as a stage play," Dunham said. "A lot of the works we were referencing were stage plays. Film acting is usually so different from that."
Producers Dallas Sonnier and Amanda Presmyk will conduct a Q&A on Friday following the 7 p.m. screening at the Texas Theatre.