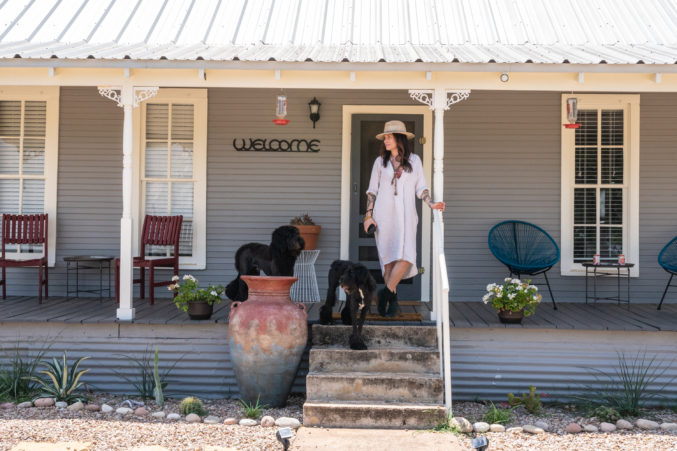 Dallas' Virgin Hotel Is Artist Lesli Marshall's Biggest Project Yet
"I wouldn't even have been invited to sit at that table," she says, "but sometimes you have to pull up your own chair."
It may be commonplace for artists to receive pictures of people posing with their work, but they're usually not from Mark Zuckerberg. That's the world of Lesli Marshall, a mixed-media artist and curator, whose mural work covers large walls in the Facebook headquarters. The city of Dallas, however, is Marshall's real canvas.
Marshall made a rather dramatic entrance into the world. Born prematurely with a condition called gastroschisis, her intestines leatherized outside of her body. "I was rushed to Children's Medical," she says of her birth, "my mom didn't even get to see me, and I was in the ICU for 54 days."
All that remains from Marshall's early medical emergency are a few "prevalent" scars on her stomach. As any good artist would, she plans on pouring her insecurities therapeutically into her art by showing enlarged photographs of her scars; making them her subject, not her burden.
"I have a lot of ideas for shows for my personal work," Marshall says, "it's just a question of making the time."
Time, or the lack thereof, is a theme that comes up frequently in Marshall's discourse. She has practically all of 2019 already booked up. As the sole owner of Articulation Art, where she's an art consultant, curator, and designer of commercial interiors, she's working with 30 different clients at the moment.
Her biggest undertaking will be Dallas' Virgin Hotel, slated to open next September. Marshall curated the art for the entire building, filling 266 rooms, the two Richard Branson suites, and outdoor areas with "sexy and playful" works. "All the art has been approved," she says excitedly.
Marshall is a familiar figure in the North Texas art scene, one who employs local artists for hundreds of jobs each year. But the Virgin Hotel job, she says, most likely would've gone to a high-powered firm had she not fought for the opportunity once she caught wind of the project.  
"I wouldn't even have been invited to sit at that table," she says, conceding that her name wasn't originally on Virgin's list, "but sometimes you have to pull up your own chair."
Marshall first earned an Associates of Arts at Brookhaven College, and then a business-focused degree from the University of North Texas. She failed her first drawing class. "My TA told me it wasn't for me," Marshall recalls, "that I should probably do something else." She retook the class with the same professor, who taught her to draw by literally holding her hand through the exercises. The following year, she was asked to help out by leading the class.

An only child, Marshall was raised in Grapevine by her accountant mother. Her father is an entrepreneur and professional fisherman sponsored by the Dallas Cowboys. Her family did not support her move to the arts, she says, so she put herself through college by working several jobs, one of them bartending.
"I was taking 16 or 17 hours a semester," she says of her hectic college years, "plus I had two or three jobs. That was a really hard time in my life," she interrupts herself when she finds that her schedule remains as complicated. "Wait, maybe it hasn't changed that much," Marshall says with a long laugh, "it's even harder now."
Marshall recently returned from working in a remote area of Peru. Tomorrow, she'll fly to Los Angeles to oversee some installments. But today, she's on her way to a town called Llano, which is an hour west of Austin. Marshall is paying a visit to her country property, The Long Branch, est. 1905. It's a 10-and-a-half acre farm with a house built by her great-grandfather.
First, she makes a quick business stop in Oak Cliff at one of the two property complexes she has as design clients. She needs to spray the tags on a new mural of Bonnie and Clyde's car, filled with flowers rather than bullet holes, done by Los Angeles-based Muckrock. The same artist painted a red mouth on the back of Marshall's work vehicle, with the word "Artbitch" slightly disguised, as to not offend families driving by. Even as an art bitch, Marshall is assertive but fine-mannered.
Marshall points out of her car window – fresh paint on her manicured, tattooed fingers – to every bit of interesting geography along the way, like the cleaved mountain that she nicknamed "the butt crack" as a child.
The farm, where her family raised hogs and cattle for generations, was lost by the family fifteen years ago. The property is a significant symbol of Marshall's success. She purchased it towards the end of last year, renovated it by April, and began renting it out. Ever the entrepreneur, she says she makes four times its mortgage through Airbnb rentals.
The property's homes are now deluxe rustic, an ideal place for artists seeking solitude. Marshall has plans to open an art studio in a silo on the land, close to where a deer is now roaming.
"This is my magical place," she says as the sunset covers the horizon around her, "It's worth the investment. This is my family's stuff, I don't have anything else." The statement is untrue, at least in a material sense. Marshall also owns land in Pagosa Springs, Colorado.
Sitting on the deck wrapped in a blanket, Marshall talks about her ascent in the art world. After a brief stint at an art consultant firm, Marshall decided to branch out on her own 11 years ago. She had only a website and business cards, "the starter pack," she says. Marshall set up meetings with designers, and used what she calls "a fake Power Point," where she superimposed art work into empty walls on mockups, and showcased a promise of what she could do if given the chance.

"I was young," she says of that time, "I remember one guy in a meeting when I presented, he goes 'How old are you?,' and I said, 'Old enough.'" That man gave her her first big design job, a bank in Frisco Square.
2019 will mark her fourth year running the artist residency program at Mr. Cooper's mortgage company, which has patronized close to 100 local artists in Dallas alone. Marshall says that the company's headquarters building now holds the largest collection of local art in Dallas.
While the residency primarily attracts visual artists, Marshall has had musicians like Charley Crockett create listening stations, while Will Von Bolton did a white-washed listening booth for his book Loophole to Happiness. Even fashion designers have created sculptural displays made out of garments.
The mortgage company has six locations, including one in California and one in Arizona. Marshall is adamant about using local artists in each city.
"I tell other designers – look into your local community," she says, "it's gonna make you stand out as a designer, it's gonna be very unique, and you're gonna be supporting your community. You're creating value."
Marshall has a hard time ignoring job opportunities, and instead outsources them to fellow artists when her style isn't a fit. She remembers a time a few years ago when she spent lavishly, until the recession had other plans for her money.

"I was just spending, paying for my friends to go on trips with me," Marshall admits, "When the economy hit, it was a punch in the gut. I had, like, 15 dollars to my name."
Marshall started selling off her own possessions, and dumpster diving for furniture to flip and sell on Craig's List.
"People didn't know I was traveling back and forth from Austin with a cooler in my car and 17 cent ramen instead of the 19 cent at H-E-B," she says. "That's how I was living."
Then, Marshall got a call to do a restaurant design in Dallas. Since then, she's done seven bars in Fort Worth alone, "and I don't know how many restaurants," she notes.
Dallas, Marshall says, offers an ideal convergence between commerce and art. And Marshall herself is the prime officiant to marry the two. "DFW is packed with creative artists," she says, "people ask me 'How do you keep finding artists?' and I say there are so many artists I haven't worked with yet that I have lists."
"People don't realize the opportunity that there is in Dallas," Marshall continues, "so much growth, so much money. It is the hub for creatives, and it's where they are paying. It's booming here right now. Everybody is busy, I love it."

She laughs at the idea of the nobility often projected onto the starving artist stereotype. "I've never understood that," she says, "I never understood when people say that an artist sold out. You worked so hard on your craft, and you're getting paid for what you do, and in turn that supports you to be more free and to fund other creative things."
Marshall is proud of being in a position to support her artistic community, like the two recent years in which she curated Deep Ellum's 42 Murals project, and she was able to give prime real estate exposure and fair compensation to 42 Dallas creatives.
"There are artists way more talented than I am," she says, "that's why I utilize them. But I found a niche." Marshall continues, "Given the platform that I have and that I've created over the years, being able to create opportunities like that for other artists, I think is huge."