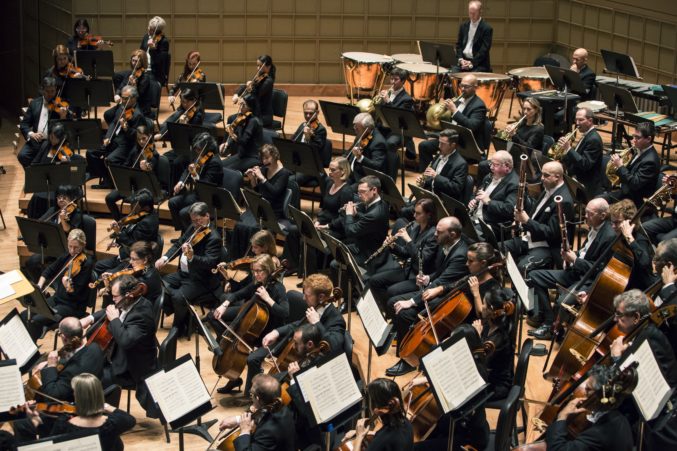 The Dallas Symphony Orchestra Wants You to Use Your Phone During the Performance
But will the new app take away from the real show?
Picture this: you're at the Meyerson Symphony Center to see the Dallas Symphony Orchestra. The musicians are on stage warming up. Suddenly, the house lights come down. Do you clap? Do you wait to clap? Come to think of it, are you underdressed? You decide not to clap. The concertmaster walks onto the stage, beckoning the tuning "a" from the oboist. Ah, now you applaud.
The conductor finally makes his way out, takes his bow, and raises his baton. The first note is just about to sound … when your phone goes off. You forgot to silence it. Something like 1,500 annoyed faces turn your way. You try to play it off, but there's no denying it was you.
A nightmare, am I right? There are so many potentially awkward moments like this when you attend the symphony, and it can be an especially intimidating experience for new concertgoers.
I found myself in one such situation when I attended the DSO's performance last Thursday night. The program was led by Fort Worth Symphony's Miguel Harth-Bedoya, who stepped in last-minute for renowned American conductor David Zinman. I was very much looking forward to this performance, as two of my favorite works were on the program – Copland's Appalachian Spring and Elgar's Enigma Variations, two of the most beautiful pieces of music ever written. Beethoven's Second Piano Concerto, with Jonathan Biss as soloist, was sure to be a treat as well.
The DSO was also offering patrons something new at this performance: the Symphony recently introduced "LiveNote," interactive program notes available through the DSO app. The idea is, you follow along on your phone during select pieces in the performance for commentary and images relating to the music. The DSO hopes to implement more extras like this in the future to "enhance" the concert experience, one of six goals in their strategic plan. This week, LiveNote accompanied Appalachian Spring.
So, I downloaded the app, and just as the Copland started, I went "live." I followed along with the slides, but found myself incredibly distracted and hyper-aware of the patrons around me, several of whom were glaring at me as I looked down at my phone rather than up at the stage.
The DSO woodwinds' gorgeous solos, most notably clarinetist Gregory Raden and oboist Erin Hannigan, flew by, as I continued to read more slides on my phone. This information was also in the printed program book, I might add.
The visual aspects play as much of a part in a concert as the aural. It's so satisfying to watch as the strings move their bows in perfect unison, or to observe the soloist's subtle nudges as he communicates with the conductor and the other musicians. Sometimes one can even catch the eye of a particular musician on stage – perhaps you might see from their expression how much they love making music. Or perhaps they look bored out of their minds during long periods of rest. Either way, it's a thrill, and a big part of the concert experience.
Call me old-fashioned, but whether I'm at a show at Trees in Deep Ellum, or at the Meyerson Symphony Center, there's nothing worse than looking out into the audience and seeing dozens of lit-up screens. And whether fans are taking videos for their Snapchat stories or reading program notes on the DSO's app, the feeling, for me, is the same: Seriously? Let's put our phones down and actually experience live music.
I'm here to tell you, DSO: you don't need to enhance our concert experience. The orchestra is amazing. And we don't need more than that.
You can try LiveNote for yourself at the Dallas Symphony Orchestra's upcoming performance of Bernstein's Symphonic Dances from West Side Story, showing November 9 – 11 at the Meyerson Symphony Center. Find tickets and more info at MyDSO.com.