A Casting Debate About Real Housewives of Dallas Season 4
Should this Instagram-famous local join the Bravo series?
The Real Housewives of Dallas isn't everyone's cup of tea. A woman did purposefully get drunk to prove she wasn't an alcoholic and proceeded to stack wine glasses in the middle of a Michelin-starred restaurant. But then again, a woman did purposefully get drunk to prove she wasn't an alcoholic and proceeded to stack wine glasses in the middle of a Michelin-starred restaurant. To each his own in terms of entertainment.
Whether or not you consider yourself a fan, there are plenty of them out there. Chrissy Teigan shared her affection for RHOD earlier this fall. When Meghan McCain defended her love of The Real Housewives on The View back in October, she singled out Dallas as the franchise that helped her cope after her father's death. In that same clip, Andy Cohen all but confirmed RHOD is returning for season four.
We are here to stay, boo! 💕💕 ask @Andy 😉 pic.twitter.com/OIZaOxiZIf

— Cary Deuber (@CaryDeuber) October 23, 2018
Another reason we feel certain the show is coming back: producers are currently casting in Dallas. And it seems they took note of Holland Murphy's suggestion that Katie Rogers, the larger-than-life personality behind Mermaid Hair, the Mermaid SEAlon, and something called cotton candy Champagne, should absolutely be on reality television. While watching Katie's Instagram stories, as I do daily (note: it's a private account, because, as she told Holland, "you have to buy a ticket to see the show"), I saw her post about receiving a call from Bravo to discuss RHOD, and give a shout out to LeeAnne Locken for "putting in a good word."
When I passed the news along to Holland, however, she was less than pleased. She thinks Katie deserves to headline her very own show — on Bravo or wherever. Personally, I very much want to see the mermaid woman in the RHOD mix.
Here, we make our cases.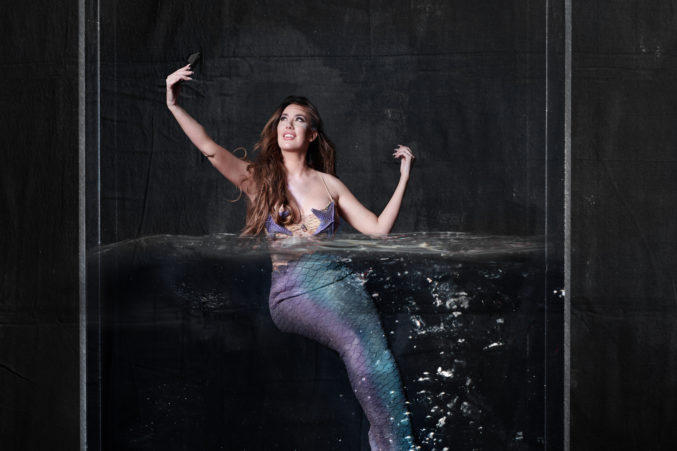 The Case for Katie Rogers' Own Reality Show
By Holland Murphy
Katie Rogers and her SEAlon have all the makings of a totally-disturbing-and-yet-amazing reality show, and joining the cast of RHOD is a waste. Here's why she needs her own show:
She has the personality to carry her own show. Katie once bought a billboard ad for herself and once threw herself a birthday party in which Oompa Loompas carried her in. If you require more explanation, read this or watch her Insta stories. Over-the-top lead = good TV.
The hot roommate. Katie's BFF (aka @summerslayy) is a 5-foot-10 blond who's as hot as a Diamond Seahorse Straightener set on MAX. (She's also the dogmom of a very rotund Frenchie—cute points!) And speaking of hot, Katie is currently dating a physical trainer who I will go ahead and dub McMeaty. Pretty people = good TV.
Hilarious sidekicks. The full day I spent at the SEAlon was a fairly quiet, rainy Saturday, when half of the staff was out of town, and yet, there were still plenty of reality-esque hijinks. Specifically, I'm thinking about a moment when Katie was boosting her lip injections and her newest hire, Cory, a fabulous gay man fresh from Monahans of West Texas, was Facetiming another stylist, Kye, warning him that he was going to double-up his lip injections to out-do Kye's. Lip injection wars between adorable men = good TV.
Makeovers, makeovers, MAKEOVERS. The formula for each Mermaid SEAlon episode is like one of the car shows on Discovery: You bring in a gal who has low self-esteem and limp layers, insert some salon shenanigans, go to a scene with Katie and her knockout roomie, then circle back to the sad girl who now looks like Kylie Jenner with her hair extensions and sparkle spray tan, and therefore has a renewed sense of self-worth. Is this kind of what's wrong with the world today? Yes, but it'll sell. Makeovers = good TV.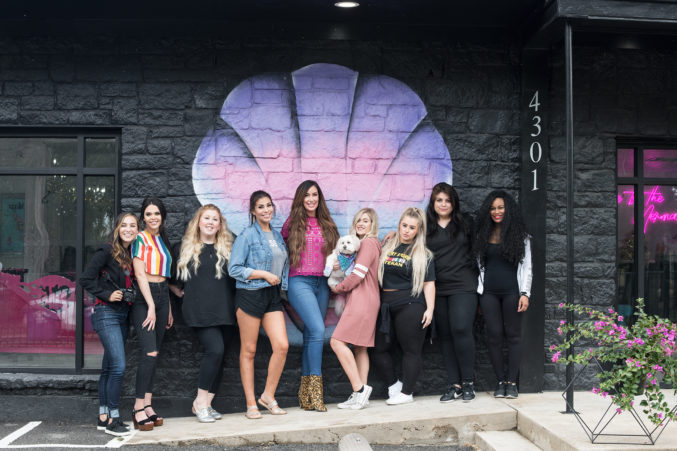 The Case for Katie Rogers Joining The Real Housewives of Dallas 
By Caitlin Clark
I definitely think Katie should have her own show, but I want to see her on RHOD first. Here's why.
We need a new challenger for LeeAnne Locken. So like, I guess Katie and LeeAnne are friends (hence the Instagram story shout out), and I'm pretty sure LeeAnne gets her extensions at the SEAlon, but you just know these two strong personalities would clash at some point. Brandi and D'Andra have alternated as LeeAnne's foils for the past three seasons, but I'm ready for something new, and I'm guessing LeeAnne probably is too. Strong willed women with luxuriously long hair fighting = good TV.
Katie's a self-made woman. More than almost any other franchise, the "housewives" of Dallas tend to be extremely and sometimes disturbingly dependent on their menfolk. Katie's self-made independence would be refreshing for Dallas. She's her own rich husband, damn it! Smart businesswoman challenging societal norms (should) = good TV.
Take a cue from Lisa Vanderpump. Vanderpump Rules isn't just the best reality show on Bravo, it's the best reality show on television. Vogue literally just called it "perfect." But Lisa Vanderpump's juggernaut never would have gotten off the ground without her first becoming a fan favorite on The Real Housewives of Beverly Hills. Katie clearly strikes a chord on Instagram, so she probably will on television too. Let the world get to know Katie through an already-established show that Chrissy Teigan is totally watching, then let her have her own Bravo spin-off. It can be called Under the SEAlon or something. Fan favorite's workplace spinoff has proven to = good TV.
You definitely don't have to be a housewife to be a "housewife." Not a single member of The Real Housewives of New York is currently married, so I think they're pretty fast and loose with the title these days.
Agree with one of us? Disagree with both of us? Think we both desperately need to get a life? Feel free to sound off in the comments.