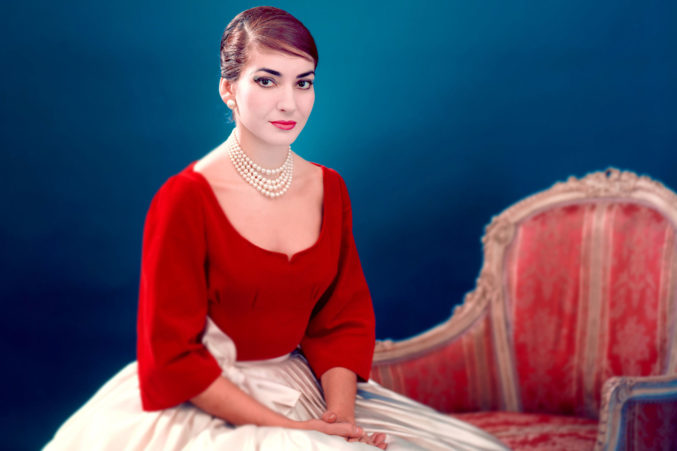 Filmmaker Aims to Shine a Fresh Light on an Opera Diva With Maria by Callas
The documentary recalls Callas' life and career, such as a 1957 trip to Dallas that included her being fired from the Metropolitan Opera via telegram.
How does an opera novice wind up directing a documentary about Maria Callas? Maybe it's an accident. Tom Volf prefers to call it destiny.
The French filmmaker didn't discover the legendary soprano for himself until about five years ago, and even then, his first exposure was on YouTube, which wound up leading him to his first feature film, Maria by Callas.
Volf, best known as a fashion photographer, was living in New York at the time. He was working by the Metropolitan Opera one night, then decided to impulsively go in and check out that night's show, uncertain what he would see or hear.
That performance of an Italian opera by Donizetti completely changed his perspective. When he returned home later that night, he began looking up Italian opera online, and one of the first things that came up was an aria by Callas.
"She allowed me to discover opera," Volf said. "It was a revelation. It completely blew my mind."
The film chronicles the American-born singer renowned for both her glorious voice and her diva behavior in the public eye, assembled using only archival video and soundbites, along with Callas' various writings. Along with her work on stage, it also tracks her more dubious moments, such as being fired from the Met via a backstage telegram while she was performing Medea in Dallas in 1957. Callas died in 1977 at age 53.
Volf said he didn't want to make a conventional documentary that spliced together interviews and archival footage, but sought to create something more intimate by essentially allowing Callas to tell her own story.
"Her life was so extraordinary, it could have been a novel," he said. "You actually see and live through all these events with her. Only this way would allow you to get that immersive."
While researching the project, Volf gained access to never-before-seen performances and writings, including private letters written by Callas that provide insight away from the spotlight. Joyce DiDonato, who performed the leading role during Volf's influential visit to the Met, narrates the film by reading those letters.
"The film exposes a lot more about Callas than we've known before, but it's really about revealing the woman behind the legend," Volf said. "It shows us who she really was, and how that connected to her as an artist — what part of her life experience and struggles nourished her art and her performances."
Volf made another bold choice by including Callas performing full arias in the film, which he said showcases both her singing range and her magnetic stage presence. Plus, her choice of operas many times provided a subtle window into her personal life at the time.
For example, Volf said it's no coincidence that Callas didn't sing Carmen until the early 1960s, after she began a relationship with industrial tycoon Aristotle Onassis. Among the songs in Bizet's classic is "Love Is a Rebellious Bird."
"I wanted to find the right balance between the music and the life episodes," he said. "The film has a whole subtext with the arias, with almost subliminal messages about what's happening in her heart and in her mind at that time."
He wanted the film to remain accessible to moviegoers who aren't familiar with Callas or opera in general, allowing them the same sense of discovery that he experienced five years ago.
"She's one of the few artists who transcended the world of opera and was able to reach a very wide audience beyond that," he said. "I wanted to bring her out to a new generation. Hopefully, this film will be a way for people to discover her and discover opera."
Also telling a story about fame and celebrity, Wolf's intention wasn't necessarily to repair Callas' diva image or scandalous reputation, but simply to take a more even-handed glimpse into her personal life.
"All reputations are not truth," Volf said. "The film shows her in a different light. It doesn't hide anything."