Eye Scream Wasted Is The 'Post-Apocalyptic Ice Cream Experience' You Never Knew You Needed
Dallas' newest experiential pop-up has no chill.
As the old proverb goes, "I scream, you scream, we all scream for ice cream." This rings especially true at Eye Scream Wasted, the immersive art and (spiked) ice cream experience that will give you more than a sugar rush. The concept, created by Brigid Calloway, is a millennial's dream – an experiential art pop-up made for selfies – with one bonus feature. Here, you get drunk on ice cream.
The pop-up, located at 1107 Dragon Street, doesn't look like much at first glance. I got lost on the way, but it's possible that is because I am a bad driver. The outside of the building is unassuming; you would never be able to guess what lies ahead. I entered into the bar area, where I was served my first ice cream cocktail and greeted by the founder, Bri Calloway. Bri is as cool as you'd hope the founder of a post-apocalyptic ice cream experience would be. Wearing braids, a beanie, jeans, and sneakers, she chatted with me as she led me through each room.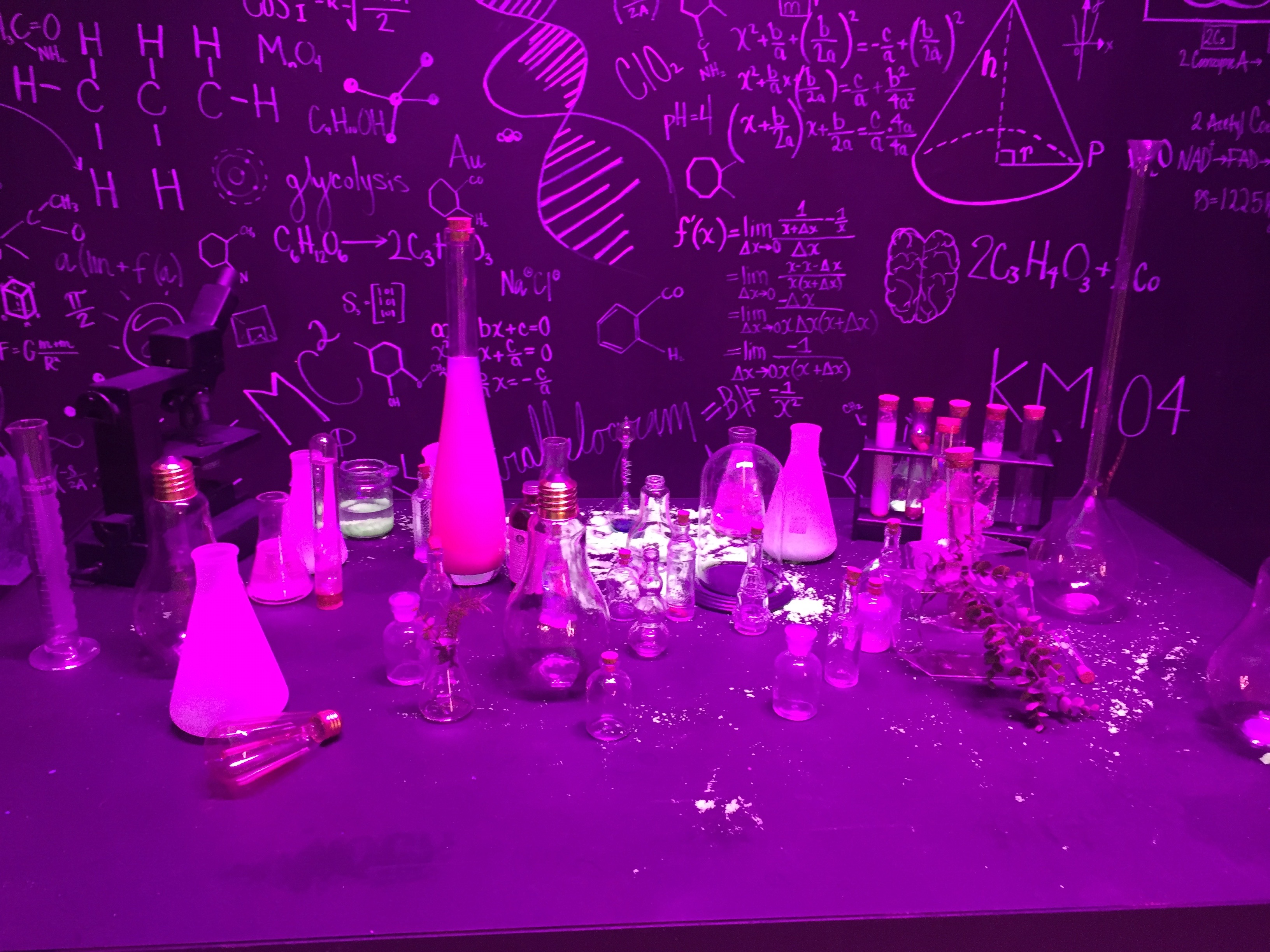 First, we ventured through the "Deconstructed Lab," imagined as a space where future scientists must figure out a cure after the ice cream apocalypse. Lit up in a hazy pink light, the centerpiece of this room is a lab table cluttered with beakers, flasks, and test tubes. The chalkboard walls are covered in science-y equations. Some of them are real, which is apt, considering Calloway studied as a chemist, but some of them are simply doodles of microscopes or the Kendrick Lamar lyric "loyalty inside my DNA." The lighting here is not the best for selfies, but the hidden surprises make up for that. The closer you look, the more clever touches you'll notice. Some of the flasks are filled with pink glitter, some of the chalkboard writing contains little jokes, and there is definitely at least one jar stuffed with a deconstructed Barbie doll covered in glitter.
Across the way is the "Junk Yard," which spoofs on the idea that "one man's trash is another man's treasure." Set up behind a baby pink fence, the corner is an ironic twist on the junk theme. Everything is in pastel colors, from the purple vines and pink vans slung over the fence, to the baby blue garbage can, to the pastel-hued fake dog poop on the ground.
Calloway's favorite room is "The Ultimate Bodega." It very well could be a shop you'd find in a movie about New York, except it's entirely decked out in pastel colors. Even the (very real) food products that the bodega sells conform to the dreamy color palette. This room has excellent selfie lighting as well as tons of hidden gems. Go ahead and open all the drawers – you may find tiny purple rats or other little presents waiting for you.
The story behind the basketball court, called "Shoot Your Shot," is one of resourcefulness. After Calloway's first idea for the space didn't pan out, she came up with a last-minute plan for the mint green basketball court. Should you be so inclined, you can indeed shoot your shot here – the court is fully functioning, and fully pastel.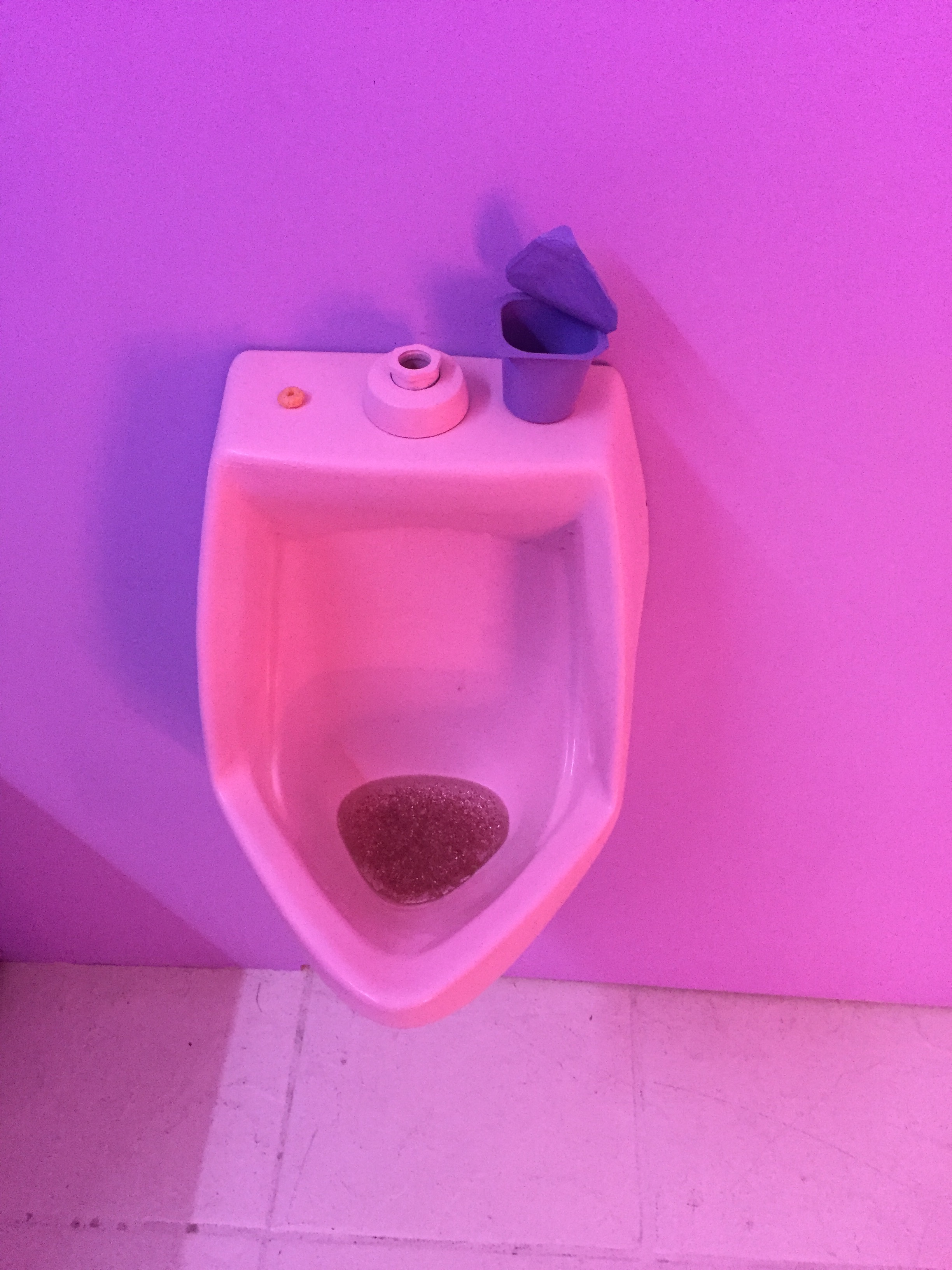 The room next door, "Jail Cuffed Up," is much sparser. The centerpiece of the room is the prison bunk beds, which, apparently, many people have been climbing on for pictures. Next to the beds is the selfie phone, which instructs you to take a photo with its pink glittery receiver. The cabinet across the room holds a delicious prison breakfast, complete with blue ramen noodles, a YooHoo, and a can of gruel that actually contains another dismembered Barbie swimming in brown glitter. In a move that is not particularly hygienic, right next to the food is the pink urinal, filled with (what else?) gold, glittery pee. I both hate and love it. No laws apply here.
The experience gets a little more risqué in the next room, called "VHS and Chill." A pyramid of clunky, metallic TV monitors dominates the room. The check-out counter features a few working screens, which mostly project static, making the room feel a little haunted. Three of the walls are plastered with VHS cases and tapes, which, no surprise, are all painted soft colors. It is very different from your former forays in the Blockbuster movie aisles. The back wall, covered in electric hearts that are perfect for your full outfit Instagram shot, reveals the entrance to the XXX room.
The experience markets itself as "no kids allowed," and this room – along with the generous amounts of alcohol – is certainly the reason why. I was not prepared. When you part the curtains, you are greeted with a line of suspended blow-up dolls, whose legs you must walk under to get into the room. It only gets worse. Or perhaps, better. Hopefully, by this point, you are tipsy enough to handle it. There is a collage of '80s porn, above which is a shelf of antique sex toys (I encourage you to look closer at their names), and under which are condoms filled with glitter. The opposite wall is just as sexy, with a peg board featuring models of butts, and an orderly procession of pastel dildos. With its dusky light, it gives you the feeling of Amsterdam's Red Light District. An irreverent sense of humor is required.
The final room is not listed on the website, which is probably because it's the bathroom. But, despite its humble title, "Restroom," it is no less theatrical than the others. You proceed down a hallway lined with paper lanterns into a bathroom that is my ultimate nightmare. A quintet of pink rats descends into a hole in the wall. Above the toilet scurries a colony of glittering roaches. Imagine all of your post-apocalyptic cleaning nightmares and you'll get the picture. It was delightfully cute and horrifying all at the same time.
If the myriad of Instagram opportunities aren't enough to convince you to head to the Design District for Eye Scream Wasted, then the ice cream really should be. I sampled three of its boozy flavors, and each was better than the last. Calloway was a chemist and created the formulas herself, all with their own distinct flair. "Bubble Gum Eye Scream" was inspired by the old 7-Eleven Bubblegum Slurpee. It really does taste like bubblegum. Almost sickeningly sweet, you're briefly convinced that you can chew it, but you definitely can't. For people who aren't fans of bubblegum, this may not be your flavor, but I encourage you to try it. It doesn't even sort of taste like it has alcohol in it, but it definitely does. Next, you should try the "Death by Chocolate," which has peanut butter ice cream swirled with dark cocoa, peanut butter cups, and the surprise ingredient of activated charcoal. I'm not really sure how that one features in, but nonetheless, it is delicious. You can sort of taste the alcohol in this one, but only if you try. This rich flavor is perfect for chocoholics. Personally, my favorite flavor was "Pineapple Express." It is not too sweet, it's incredibly creamy, and it really does taste like pineapple. If you have even the slightest of sweet tooths, the bar at Eye Scream Wasted will satisfy all your needs. I recommend trying all of the flavors that you can. You won't be able to tell that you're getting buzzed when you sample these ice cream cocktails, but trust me, these things are potent. Even the whipped cream drizzle is infused with vodka. It's an experience you won't forget, as long as you don't pound too many ice cream-tinis.