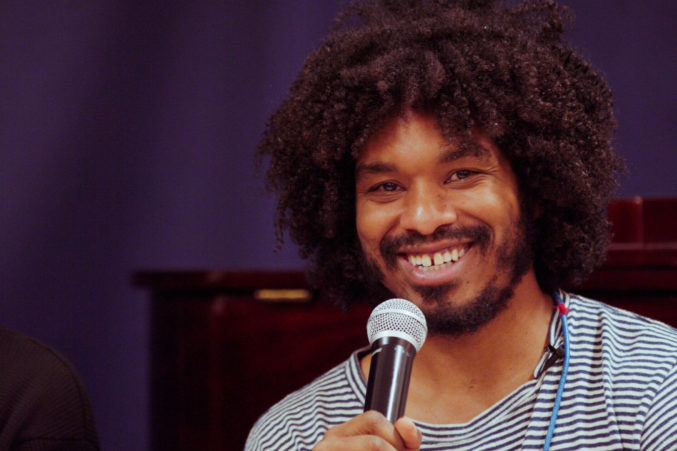 Dallas Native Terence Nance Talks About His Hit Show Random Acts of Flyness
The writer and director returned to his hometown with co-creator Naima Ramos-Chapman to discuss the conversation-starting HBO series.
Ironically, after you watch the first season of HBO's Random Acts of Flyness by Dallas-born creator Terence Nance, you'll note that there is nothing random about how he chooses to articulate a variety of Black-American experiences through a series of pulsating vignettes.
The show, which Nance has described as being "about the beauty and ugliness of contemporary American life," has found critical success since its debut in August. In addition to writing, directing, composing music for, and executive producing the series, the 36-year-old stars in all six episodes. HBO recently renewed Random Acts Of Flyness for a second season, and, as of September, Nance is also set to direct the long-anticipated Space Jam 2, to be produced by Ryan Coogler (Black Panther, Creed).
Terence is adamant about the level of collaboration that went into conceptualizing and executing the genius that is Random Acts, which he attributes to a writing and directing team that includes Naima Ramos-Chapman (award-winning director of short film And Nothing Happened), Mariama Diallo, Nuotama Bodomo, Jamund Washington, and Darius Clark Monroe.
On a recent Monday evening, local activist Mercedes Fulbright organized a RAOF screening and teach-in with creators Nance and Ramos-Chapman at St. Luke Community United Methodist Church in Oak Cliff. We took the opportunity to chat with the pair about their hit show.
I know that you came back to Dallas and you specifically chose to show your work at St. Luke. Is this your home church?
Terence: It was very few people when we started coming here. That kind of small community, that's how I learned how to operate the camera, this is where I learned how to do sound, record the services, and this is where I learned how to play drums. If you look out the window, there's a little house right there – it's called the Harambee House – it's called the Mandala Program, there was the rite of passage program. They'd make us read the Autobiography of Malcolm X and talk about it, or teach us how to do a push-up. They brought Crips in from the neighborhood to talk to us. When I graduated, it was thousands of people. Pastor Zan W. Holmes (Jr.), what he put into us as people – spiritually, emotionally, educationally – he'd even review our report cards one-on-one in the office. So there's no distance between who I am and who my sisters and brothers are… I have several nieces and nephews – they benefited from that. There's no concept of myself that I can even understand that isn't geographically located here.
Has the pastor seen your film work? Does he comment?
Terence: Yeah, I saw him yesterday. He was at the premiere of my feature film, An Oversimplification of Her Beauty here. I remember, he asked me a question about how the film reflects what my childhood was like here. All of my interpersonal romantic relationships as a teen were at church. All of my dating experiences were here.
Oh wow, so this place was kind of a move!
Terence: Not kind of a move. It was the only move.
I don't know if you found a church or if you partake in rituals living in New York City, but what does ritual and ceremony mean to you in your life now?
Terence: It's very important to me. I think I have not found a way of doing it yet communally that mirrors this experience, but I think that my meditation practice occasionally becomes shared between us [points to Naima]. I think other than that, it's just something that I'm in the nascent stages of, in terms of building it out in a communal way.
Switching gears – having watched Random Acts, it felt very much in the lineage of the movie Tales from the Hood. It's such an underrated piece of Black Horror Satire, which we don't see made nearly as often as your typical Hollywood (Re: white) fare. Thinking about your place in the lineage of Black Horror and Fantasy, how do you frame what you've done to the past?
Terence: The show is representative of a community. It's not just my show, it's Naima's show, and many others'. It's framed in a lot of historical contexts that I wasn't even aware of. There's a psychoanalytical context that comes from Naima, it's just voracious really. I have to catch up when she's talking and introducing certain concepts in the room. That's just one take.
Naima, where do you drop this work into the trajectory of Black Cinema?
Naima: I definitely feel like being in that writer's room was my first experience making work in a collective. I've worked with Terence, and every time you make a film you make it with many. But it's different, you come up with a script on your own and then people come in and they're creative within that framework. What was cool about Random Acts of Flyness was that Terence wanted people who weren't trying to, like, write in his voice per se, but there's something about our shared mission and goal as individual writer/directors of thinking about blackness in a very expansive way. Our art can come in many different types of form – it can be like archaic poetry interspersed with avant-garde images that don't seem to make sense, but make sense when you put them together, or it can be like an advertisement for your blindness. There's just different ways of talking about subjects that matter to us, and the themes of how our community deals with police brutality, with gender, the fluidity of gender, and how toxic masculinity on one hand can also be a part of the conversation about homophobia, and also can be connected to a conversation about what women have to deal with in terms of male supremacy and misogyny. All of these things are interconnected in that we care about it.
Terence: In terms of contextualizing it, I think Tales from the Hood is good – because I don't remember seeing it, but I know we saw it. Hollywood Shuffle, all the films with the black comedians, and we (Re: black people) would have known it at the time, but it was still not wide-released stuff. It was more kind of counter-cultural in a way and, thus, avant-garde before they all started to do their version of The Cosby Show.
Naima: I don't come from a film background, so I think sometimes its harder for me to talk about that lineage, but I studied at Alvin Ailey, and I feel like there's a lot of Judith Jameson and seeing Revelations maybe, like, 150 times. Even though I didn't go to black church, the black church is in that work, so I did. Drum circle. We had that all the time, and that was definitely the moment I felt closest to God, being in that circle and kind of having – basically couldn't control my body after a certain point, because something was accessed and channeled. It's deconstructed so you assume its secular, but it's all spiritual and it's all very connected, and it's all black.
Terence: It's about excellence in a way. You couldn't be up in here half-stepping.
I think with the show, it brings up a lot of triggers and a lot of your shadow self.
Naima: There is a literal shadow – in episode two, Nuncaland, when he's chasing his shadow, and it's a projection in a sense of what Wendy has on what he's supposed to be as a man versus what is growing up, what is maturity, what is masculinity, and what does that look like? The shadow isn't fully formed, it doesn't have eyes, it doesn't speak back.
How do you relate to masculinity?
Naima: I don't have a very positive relationship to it as its been defined by society.
If you could re-write or redefine masculinity?
Naima: Well I feel like in some ways, in Nuncaland, which I wrote a lot of and Terence co-wrote, furthered the conceptualization of that. I don't feel like it's my responsibility to reclaim masculinity and define it. In a lot of the conversations we have about toxic masculinity, men are very quiet, and I hope they're quiet because they're listening, versus quiet because they don't feel like it's their responsibility to claim it and redefine it. Masculinity and femininity – all of these things can be toxic, all of these things can be embraced. More importantly they're all fluid. For me, as a person who identifies as a woman, I definitely would like to see people who identify as a man reclaim it and expand it beyond what we've been told it's supposed to mean and where it's cut off the erotic from the emotional freedom. Embrace the feminine energy within you.
In Episode Three, one of the woman characters takes a prenatal vitamin even though she's not actually pregnant. That brought up my shadow self, because I have a womb that I've never used and don't know if I want to. Tell me about accessing that character for you?
Naima: There's definitely the topic of maternal mortality that we wanted to touch on throughout the show. It's sort of like connecting these dots between how, you know, even Serena Williams can't escape this sort of trauma that the poorest black woman also understands, which is – racism doesn't give a fuck in terms of how much money you make or who you're married to. What does that mean in terms of our survival and our ability to heal ourselves?
What's your north star for knowing if your work is going in the right direction? Basically, how do you check yourself before you wreck yourself?
Terence: I just try and get wrecked. [laughs]
Naima: It's super communal. I don't think it's checking, but we definitely question. My north star can only really be, does this make me uncomfortable in ways that can push? Can I create enough absent space for the audience to project what they need to get out of it?
Terence: There's an expansiveness that's in episode six – to your point of what the north star is – hopefully the whole season is pummeling towards the emotional experience of episode six, which is broadly about the show coming to a resolution or culminating point.