Dallas Black Dance Theatre emphasizes diversity in each of its evening-length programs. The directorial choices that unfurled four works last Friday, Saturday, and Sunday at the Wyly Theatre drew from local talent in Bruce Wood Dance Project and married it with pieces that spanned registers from the emotional to social, for a striking range and a deeply relevant program. Still marking the opening of Melissa M. Young's first season as artistic director, the program underscored that DBDT is a company we should be watching.
This Time, by Joy Bollinger, artistic director and resident choreographer for Bruce Wood Dance, opens on dancers in a clump, white-clad bodies that undulate gracefully, arms reaching across one another. The piece is technically difficult, but also highly emotive, requiring an almost meditative focus to achieve a feather-light grace. Dancers—individuals and pairs—break off, folding over an arched back, holding a torso or head the way one cradles a lover's face. They touch their foreheads as though unspooling memories. The beauty and judiciousness of these pedestrian movements proved captivating, lending them an almost spiritual gravitas. Bollinger, whose style is highly cerebral and highly intuitive, brought an emotiveness out of a company that we are used to seeing move in slightly different ways; meanwhile, its dancers have the skill, control, and tenor to pull it off. The effect was mesmerizing. In program notes, Bollinger wrote that the piece, a world premiere, was inspired by her family relationships across generations and by a belief in the power of recollection. This Time posits bodies as each other's sanctuaries, as repositories of memory and sites of grace.
In contrast, Thrown for a Loop, set on the company by Booker T. faculty member and Arts District Executive Director Lily Cabatu Weiss, is about scattering and changing course. The fast-paced piece, set to a highly percussive work by contemporary American composer John Mackey, opens with individual movements that read as highly controlled, feral chaos, dancers clad in red shorts that hug the body, are riveting in their ferocious intensity. Out of the chaos, a single movement phrase becomes synched into one movement that catches your breath. But turning and shifting directions, Mackey's Concerto for Percussion and Orchestra builds intensity, crescendoing into a sequence with jungle drums; the dancers run, as though hunted. The urgency is in keeping with Cabatu Weiss's style of modern dance, both extremely physical and rooted.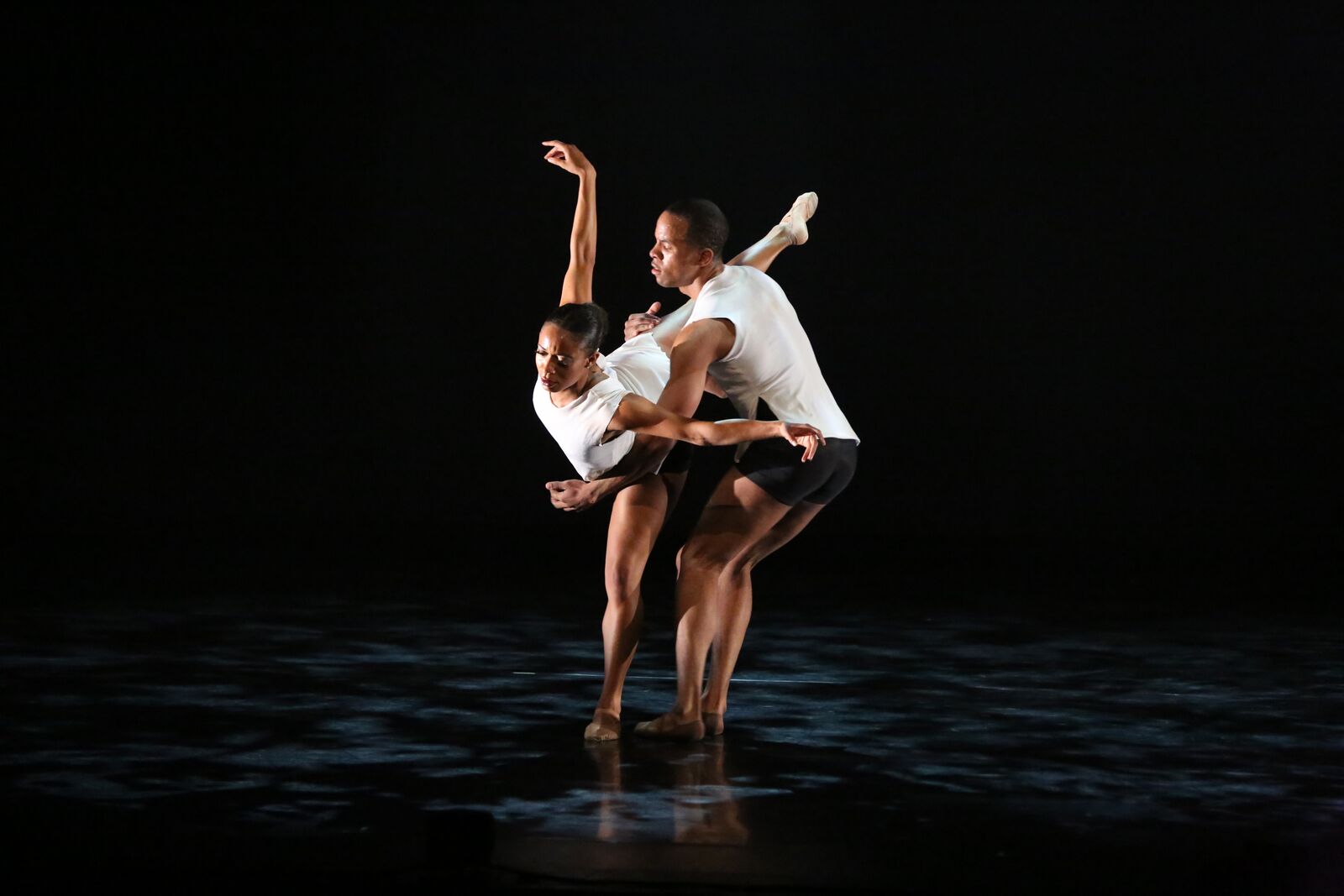 The third work, a striking duet, Absolute Rule, by Elisa Monte and David Brown, takes as its subject a relationship. In the piece, rapport figures as an intense interchanging and interlocking of two bodies and energies. He holds a mythical pose. She rolls toward him. And it commences. The battle of being translates to control and submission, relinquishment and then request. Beautifully technical, the piece requires athletic strength, but in moments that register as exquisitely slow and regal—the arabesque penché as a repeated motif gorgeous in its development—the strength is shared. The intensity is mutual. Music (by Slovakian composer Peter Zagar), lighting (the vertical column of light that gravely opens the piece), and poise coalesced in the work, danced the night I saw it by company dancers Sierra Noelle Jones and Claude Alexander III.
Finally, Bodies as Sites of Faith and Protest, a premiere at DBDT, brought work by Tommie-Waheed Evans (based in Los Angeles, Waheed-Works). Unbelievable energy explodes as a final piece. The work begins with spirituals, the company's voices rising. They have entered from the audience stage-front wings. Once the curtain rises behind them, the pace quickens, and narrative vignettes offer glimpses of scenes—of power, fear, resistance, shelter—that speak to Waheed Evans' interest in the Civil Rights Movement speeches, in this case Dr. Martin Luther King's "We Shall Overcome" speech, which forms the basis of the piece. But the narrative never takes center stage—the power of the piece lies in the timelessness that arises from theme built over a gripping movement language that telegraphs its significance in ways that remind an audience of what dance as a political but also deeply human art form can be.
Get the FrontRow Newsletter
Get a front row seat to the best shows, arts, and things to do across North Texas. Never miss a beat.