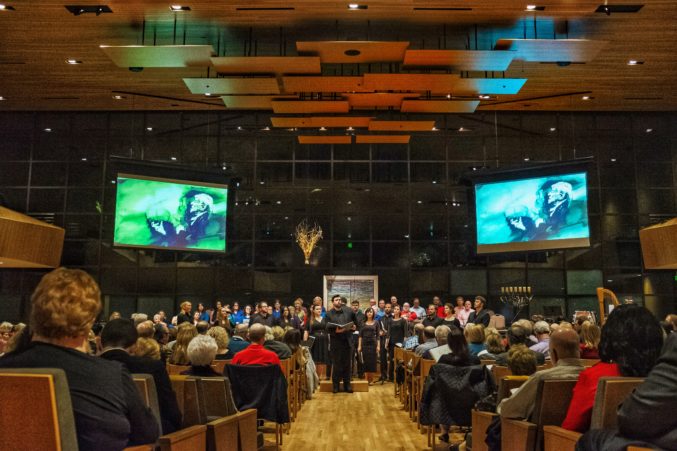 The Verdigris Ensemble Asks You to Finish This Sentence: 'Dallas Is…'
The local choral group wants to voice your opinion.
The Verdigris Ensemble wants to know what you think of our city. The local choral group, which was formed in 2017, is inviting anyone and everyone to complete the sentence, "Dallas is…" The candid survey is the foundation of Verdigris's upcoming concert series, Faces of Dallas, which will take selected responses and set them to music by composer David Ross Lawn. The four best (most interesting) answers will also be chosen for an interview and a portrait commissioned by watercolorist Stephen Zhang. However, the choir isn't just looking for love letters to Dallas.
"We wanted to get people's feedback and responses on what Dallas is," explains Verdigris singer and board member Erin Roth Thomas. "It doesn't have to be a good answer, it can be a bad answer if someone doesn't feel their community is represented."  
The answer can be as short as a single word. It can be a poem. It can be an essay. It just needs to be sincere.
"We're really encouraging creative and, obviously, honest responses. There's really no restrictions on what they can and can't say," says Thomas.
Everyone in the greater Dallas area is welcome to participate, regardless of age or anything else. The responses, even if selected for use in the concert, will be kept anonymous.
Faces of Dallas will be presented with Zhang's artwork during the final shows of Verdigris's 2018-2019 season on April 26, 27, and 28 at Arts Mission Oak Cliff. The concerts will also feature new compositions by the winners of Verdigris's ION Young Composer Competition.
Have something to say about Dallas? Click here to take the (quick) survey and jump in the conversation. You may not have the pipes to join Verdigris, but they'll still make your voice heard.