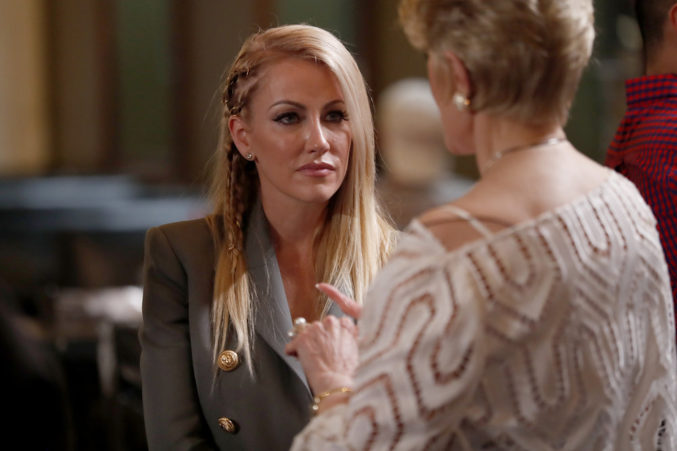 The Real Housewives of Dallas Recap: Do You Smell What Mama Dee is Cooking?
Apparently it has a lot of butter in it.
Guys, I'm going to be totally honest with you. This is, like, our eleventh week together, so I hope I can be a little vulnerable and candid: I'm having a hard-night-good-morning. (Except not a very good morning.) We had our Day in Dallas event last night, and I guess I thought it was Whiskey Wednesday or something because the notes I typed afterward, during last night's episode ("A Recipe for Disaster"), are… poor. But apparently D'Andra can relate. Hard Night Good Morning was dubbed as such by her roommate during their days at Sweet Briar College, a small women's liberal arts school in the foothills of the Blue Ridge Mountains that almost shut down three years ago, but was rescued in part by a social media and fundraising campaign called "Saving Sweet Briar" that effectively challenged the school's board and its president. The more you know!
Anyway, once more unto the breach, dear readers. Let's hope I can understand my notes.
We kick things off at yet another random warehouse photoshoot for the rebranding of Hard Night Good Morning, where Jeremy is the photographer and D'Andra is our model. D'Andra says, "When I think about Hard Night Good Morning, I think about sex, which is why I like working with my husband." I remember having a strong reaction to that last night.
Now we're over at The Shops at Highland Park, where Kameron is hosting the grand opening of Elizabeth W Boutique because, in her words, she's a fashionista (but the "is" is pronounced "is") and has "amazing girlfriends that are involved in the Charity World." (A cold shiver went down my spine at the mention of Charity World.) Cary and LeeAnne are those girlfriends I guess, because they arrive, and LeeAnne clarifys that she wasn't calling D'Andra an alcoholic, she was calling Brandi one. (Oh, SO IT'S SOLVED THEN.) To really drive it home, she says in her testimonial, "You earned every bit of it, bitch. Drink less, talk less, get the fuck out of my way." Sheesh. Sometimes I think about how I would react if any of my friends spoke to me the way these women talk about each other in testimonials, and I'm pretty sure I would just crumple up and become a mute like Brandi's friend Joyce.
At Cary's, we get a hardcore setup for the impending trip to Copenhagen, where I feel certain LeeAnne's exhausted panty-liner will finally make its grand debut. Cary feels that if she can develop a connection with the Danish culture, she and her father can have a better relationship. But this trip must be timed around one of her cousins' (I think?) albums release parties and, HOW CONVENIENT, both Zuri and Mark have prior commitments. GIRLS TRIP I GUESS.
At Steph's, she and Trav are talking mental health. She's worried about how she'll deal with the kids while he's off at Harvard (how long have we been talking about going to Harvard?), and he comforts her with a book analogy. They talk about renewing their vows, so often the kiss of death for reality television couples, but they've always planned to do this at the ten-year mark, so hopefully we're in the clear. That book analogy really sold me on Trav.
The big set piece of this particular episode finally arrives, and it's not at Dee's Cedar Creek lake house like I would have hoped, but at her BFF Marian's. It's a cooking class where Kam, LeeAnne, and D'Andra are making, as far as I can tell, candied bacon and ketchup meatloaf. I'd eat it.
The menfolk were also invited, as is Court's mom JIMMY. Everyone is scared of Jimmy. No one wants to cross Jimmy. But Dee proves that she's mastered the art of passive aggression (among other things!) by giving everyone super basic bitch aprons apart from D'Andra, whose apron says "Queen Bee." Dee was definitely that girl in high school who you were super scared of, but if she was on your side, it ruled.
(Just a note, none of the men are cooking. They are sitting over in a corner and occasionally saying actual things like "Where's my meat!?" and "I'm glad I have a penis." Just wanted to point that out.)
Once the meatloaves are in the oven, shit goes down. First, we have D'Andra getting right to the point by asking LeeAnne if she said she had an alcohol problem. LeeAnne says no. She's just concerned that Brandi isn't appreciating all the wonderful aspects about D'Andra, and thinks she's just looking for a drinking buddy. She then brings almost that exact wording over to a separate, one-one-one conversation with Dee (who got her Mama Dee nickname from LeeAnne apparently!). Dee is also concerned, and understandably so given their family history. But again, LeeAnne didn't actually call D'Andra an alcoholic, right? Maybe I'm still tipsy.
The power trio convo between Jimmy, Kam, and D'Andra left me with several questions. Who is the bad influence friend that Kam is banned from hanging out with? Was it really that damning for D'Andra to show up to a party with a drunk girl? Is Jimmy her given name, or is it short for something?
Back in Dallas, we're in the very Dallas place of De Boulle with Brandi, Trav, and Nick Boulle, who was named one of this year's Top 50 Bachelors in America by Town & Country alongside the likes of Timothee Chalamet and Daniel Kaluuya. For real. This is really just to make up for the lifestyle porn we surely missed not being at Dee's house, but it's intense. I have in my admittedly garbage notes that Trav purchases something called an "Asscer Cut" ring, which has five carats and costs $41,500 for his vow renewal with Stephanie. Aw.
But we're not done with this Cedar Creek cooking party. Everyone sits outside to eat their candied bacon in what appears to be the freezing cold based on Kam's puffy coat. Dee stands up to give a speech that actually turns out to be pretty emotionally manipulative in terms of D'Andra and Brandi's relationship. The crux: choose your friends wisely. Damn, Dee.
We end the episode at The Green Room in Deep Ellum (bet you didn't think we'd ever go there), where Jeremy is helping unveil a mural based on his very rad photo of marines breakdancing in Djibouti. But that's not really why we're here. We're here so that D'Andra can confront Kam about her hurt feelings and the Jimmy of it all. You see, she couldn't voice her opinion at the cooking class because Jimmy is her elder. "I don't bring my mother to the dog fight!" she says.
Now, I was genuinely worried about Kam going into this fight. I did not think this tall, lithe woman was cut out for the actual fighting element of the Housewives franchise. But guys, Kam came to play. Never underestimate a woman in a light pink denim jacket. She says her mother-in-law isn't someone you want to piss off "that's for sure," which D'Andra reasonably takes as a threat. She says Jimmy was just trying to protect D'Andra from the "trainwreck" of society people talking about her. (OH MY GOD IT'S STILL ABOUT THE KEURIG CUP BUTT TRICK. WILL IT NEVER NOT BE ABOUT THE KEURIG CUP BUTT TRICK?)
When D'Andra explained that she felt attacked by Jimmy, Kam will no longer engage. How dare D'Andra imply that Jimmy would ever be out to get her? That's insane. Kam's offended! She storms off saying, "Wow, D'Andra. Wow." This is the kind of condemning passive aggression that would make Dee, who later basically tells D'Andra that everyone is just jealous of them, proud.
Cary goes to get a drink.
Next week, we head to Copenhagen. Indtil da!