It's unlikely that Cristóbal Balenciaga would recognize his namesake label as it exists today. The spandex boot-pants, the super-sized windbreakers, the bedazzled Crocs, and the dad sneaks are a far cry from the Spanish designer's singular vision of elegance and sophistication. The Balenciaga of 2018 is a fashion house best known for ugly-cool trends and pop culture mentions (take Cardi B's "I Like It," and G-Eazy's "1942" for example). Bits of Cristóbal can be found here and there; his infrastructure still exists in exaggerated shoulders and nipped-in waists, but the brand has evolved with the times and become a different Balenciaga entirely.
To see Balenciaga's Balenciaga, skip the Paris runways and go straight to Fort Worth. The Kimbell's new exhibition, Balenciaga in Black, is an ode to the legendary couturier in his prime. More than 100 exquisite ebony pieces from the 1940s to the 1960s are on display. The collection – impeccably tailored dresses, gowns, and suits, and glitzy accessories – reads more like sculpture than clothing, poetry in silk organza.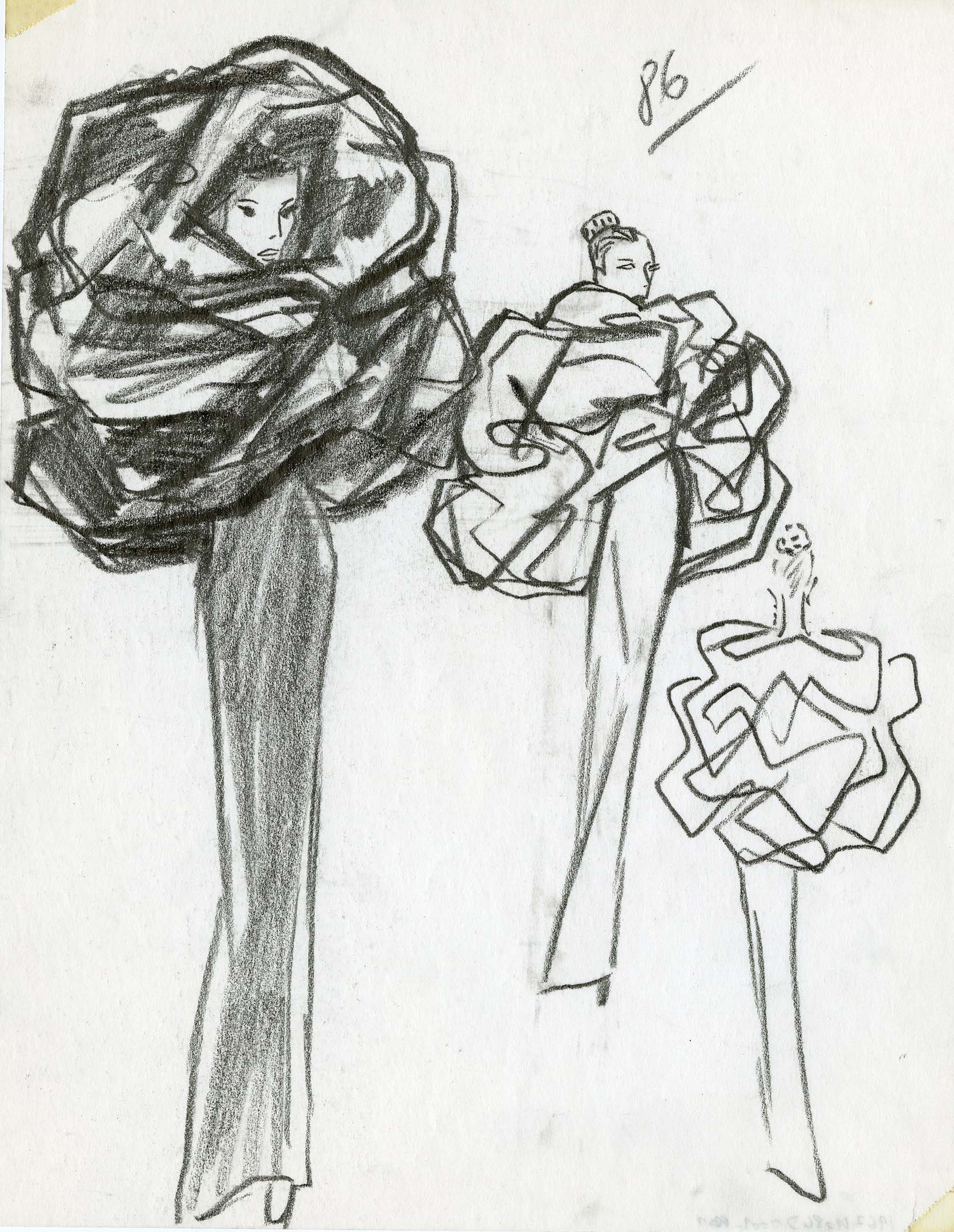 The exhibit was originally organized and shown in Paris by Palais Galliera, but it got some important additions before its debut in Texas. The curators borrowed two dresses and two hats from UNT's Texas Fashion Collection. The garments (and, in fact, most Balenciaga items in the Texas Fashion Collection) were donated by Dallas socialite Claudia Heard de Osborne, one of the designer's most dedicated customers.
S. Holland Murphy wrote about de Osborne's glamorous contributions to Balenciaga in Black in the October issue. You can read that here.
Apparently, the debutante was so loyal to the designer that when he closed his salon in 1968, she nearly stopped collecting couture altogether (the horror!).
"She said 'I won't patronize anyone else' and he said 'No no, you can go to Givenchy,' so she reluctantly went to Givenchy," says the Kimbell's curator Jennifer Casler Price.
De Osborne's velvet gown trimmed with ermine tails, tiered lace gown, and two feathered hats are the perfect compliment to the original 72 pieces shown at Palais Galliera. The exhibition is divided into six sections, each exploring a different facet of Balenciaga's design repertoire. It moves from structure to abstraction to draping to transparency to contrast to color. Of course, the color part is quite limited – this is, after all, Balenciaga in Black.
"He's very much rooted in his Spanish traditions, and that's one reason why we chose to focus on black," says Casler Price. (The designer was inspired to work in the somber color by Spanish masters like Goya, whose drawings are featured in an adjacent exhibit at the Kimbell.)  "He wanted to explore all these different qualities of the color black. Black in the absence of color really allowed him to focus on form."
The garments that look simple are not. In fact, the most basic-looking little black dresses are some of the most complex, with incredible seams and tailoring tricks that exemplify Balenciaga's thoughtful design process. 
Look closely and you'll get a glimpse into the mind of a creative genius. Cristóbal is in every stitch, every bead, every hidden detail. As a whole, the exhibition tells the story of a passionate designer who obsessed over his work from start to finish. There's a reason he earned the nickname "the couturier's couturier."
Get the FrontRow Newsletter
Get a front row seat to the best shows, arts, and things to do across North Texas. Never miss a beat.