Dallas has a new DIY arts space that, amazingly, runs no risk of being shut down by the fire marshal. Sweet Pass Sculpture Park opened in Trinity Groves over the weekend thanks to two out-of-town artists who now call Dallas home. Tamara Johnson and Trey Burns, a soon-to-be married couple from New York City, dreamed up the idea together.
"New York doesn't need another gallery or DIY anything," says Johnson, who was very active making public sculptural installations for the city's outdoor spaces. "And there was no place in New York where we could get that amount of space."
The couple was ready to leave the city after six years there and had been planning an outdoor sculpture park for about the past year. "We started hatching the idea and plotting an exit strategy because we wanted to head South, to Texas specifically," says Burns, a native of Atlanta who creates video and new media art.
They ended up in Dallas because Johnson landed a coveted position at SMU as a visiting professor in sculpture. Johnson is actually a Texas native, having grown up in Waco and attended undergrad at the University of Texas.
Before even touching down in Dallas, the couple was already well connected with the arts scene here. Johnson is friends with prominent Dallas artists Arthur Peña, Francisco Moreno, and Michelle Rawlings from their graduate studies at the Rhode Island School of Design.
The trio introduced Johnson and Burns to more local folks, one of whom happens to be real estate developer Butch McGregor, who had an empty lot in Trinity Groves just a couple of plots down from Erin Cluley Gallery. The duo knew they'd be in good company on their new block. They wrote up a proposal for the space, and McGregor drafted a two-year lease.
"Having an open outdoor space is way easier," Johnson says. "You don't have to worry about the codes of an indoor space," which will ensure the DIY project doesn't get shut down by the fire marshal – a fate many Dallas arts spaces have succumbed to over the last several years.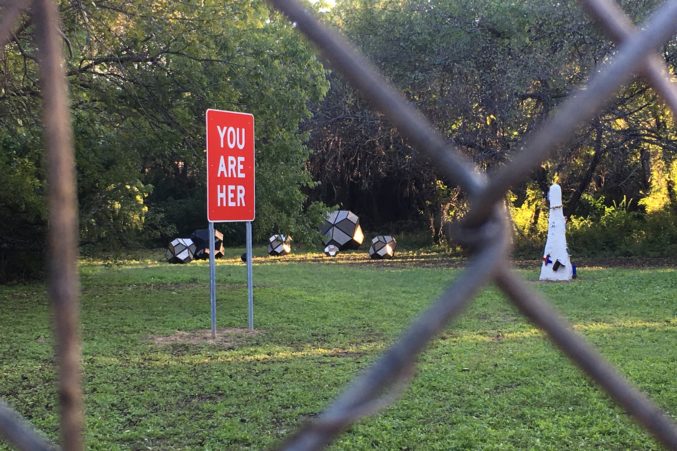 Finding the sculpture park is a bit of a challenge with the massive construction going on a couple blocks away at the Trinity Groves developments. Streets have been temporarily closed off, so navigating with GPS is not the most reliable way to find the sculpture park's entrance. However, happening upon it at the end of a rather underdeveloped residential street is a bit like stumbling upon a secret garden. The lot is not neatly manicured – its perimeters are a bit overgrown with trees and brush. Ivy climbs up the chain link fence, which is now bedecked with a smart Sweet Pass sign.
Exhibitions will turn over every couple of months. The inaugural show, Getgo, which opened on Saturday, was assembled at a breakneck pace – within the span of a month – so that the Sculpture Park's opening could coincide with Art Walk West. "We were given the opportunity to participate in the Art Walk, so we became a sculpture garden very quickly," Burns laughs. As far as selecting artists, "We cast a wide net," he says. Johnson adds, "We wanted to showcase Dallas and Texas artists but also bring in contemporaries from all the places we've lived." The artists currently on view are UNT sculpture professor Alicia Eggert, New York's Saki Sato, San Antonio-based Buster Graybill, and students from Johnson's intro to sculpture seminar at SMU.
The exhibition offers social critique with Eggert's "You Are Her" emblazoned on a bright red road sign, which greets visitors just past the entrance. Graybill offers some fun with his collection of tetrahedron sculptures covered in a reflective metal, which also double as animal feeders when stuffed with corn kernels. Apparently herds of rams and wild boars instinctively knew how to roll the sculptures to make the kernels fall out of the holes drilled in its surface. "To watch the animals activate them is amazing," says Johnson.
All of the works are for sale, and the couple invites anyone who is interested to reach out and schedule an appointment, or to check the website for info on when they'll have the gates open each week.
After this show closes on December 12, Johnson and Burns will wait out the cold weather months and open their next exhibition in March. "We already have a couple of artists who are ready," says Johnson.
Johnson and Burns hope to expand their vision on site by renting an adjacent house to show 2D and video work and by building some additional features at the outdoor property. Plus, they want to obtain a 501(c)(3) status for the sculpture park to help with funding and to be able to award artist stipends. So far the couple has funded the endeavor themselves.
"This is going to be a good test for when we eventually scale up," Burns says. Johnson adds, "Making really good outdoor objects for people to enjoy is something Trey and I care very deeply about. Doing public art and art in alternative venues in New York, I felt the most success when I was able to do projects that could be shown to a wider demographic of people and not just in the arts space. It could be more inclusive."
With the waxing and waning of DIY spaces in Dallas – especially waning over the last several years due to fire marshal crackdowns, which made operating those spaces difficult-to-impossible – this sculpture park is definitely a welcome addition to the city's arts landscape.