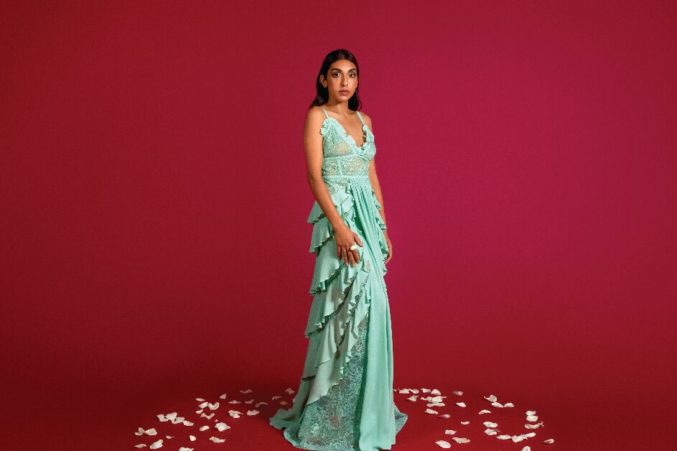 Instapoet Rupi Kaur Shines at the Majestic
Instagram's favorite poet shared her story IRL at an emotional Dallas reading.
At 8:45 on Sunday night, after a 45-minute delay, poet Rupi Kaur took the stage at the Majestic. The crowd brimmed with anticipation, holding well-thumbed copies of her books and quoting lines back and forth to each other. While the show was set for 8 p.m., audience members trickled in past call time until the theater was filled to the brim. When the author of bestsellers Milk and Honey and The Sun and Her Flowers finally took her place – centerstage in a ring of pink flower petals – she was met with thunderous applause. Wearing a red Valentino jumpsuit and looking radiant, Kaur was in her element. Without prelude, she took the mic and began reciting the first few poems from her second book.
"On the last day of love," Kaur said, "my heart cracked inside my body."
Her voice was powerful, yet smooth like honey. She swayed slightly as she spoke, like a tree in the wind, sometimes closing her eyes as the words took her away. Within the first few verses, I was already weeping. The first chapter of The Sun and Her Flowers, called "wilting," is all about a breakup. Kaur uses startling and surprising imagery to illustrate the pain of loss, like eating the last bouquet of flowers he gave her, or casting spells to bring him back.
After the first few poems, Kaur paused and spoke directly to the audience. "How many of you have been to poetry readings before?" she said. I joined the group of poetry fans who cheered in response. She smiled, saying, "well then you know what you're supposed to do when a poem speaks to you." We all snapped like the good poetry listeners we were. "Well, I don't want you to do that," she said. She explained how if a poem really spoke to us, she wanted us to show it. If we really liked a line, we were invited express our emotions – even if it meant screaming and shouting from our seats.
Even in a full theater, the poet made the show feel like an intimate gathering. She chatted with the audience as if surrounded by old friends, telling us about exploring Dallas via rental scooter the previous day, and how she'd seen Tony Tasset's Eye presiding over Main Street.
As she read, illustrations from the poems were projected on the screen behind her, as if sketched by an invisible hand. She would pause once in a while to tell a story or explain her inspiration. At one point, she jokingly remarked that she doesn't do a "revenge body," she writes revenge poems.
Kaur's poetry speaks directly to trauma without artifice or too many clouded metaphors. Her work is intensely emotional, dealing with themes like loss, abuse, sexism, rape, racism, self-loathing, and healing. Listening to her can be an emotional whirlwind, as she frankly explains what it is like to live with depression, and recites a poem about how she used to hate herself.
In an interview with The Guardian from 2016, she noted that there is not a lot of poetry that deals with trauma – "There was no market for poetry about trauma, abuse, loss, love and healing through the lens of a Punjabi-Sikh immigrant woman." She wrings out every emotion with her carefully crafted words, describing her experiences as a woman of color.
The reading took us through Kaur's journey of loss and healing as she learned to accept herself and her family background. She described hating the way her mother lingered in the international food aisle, hoping to find a bit of home, only to find herself doing the same as she grew to embrace her culture. Even her style of poetry reflects her background; she uses no punctuation except periods and no capital letters because that's how Punjabi, her mother tongue, punctuates. She made jokes about Bollywood in between poems about reclamation and love. She spoke to the audience candidly, making us laugh after reading poems that made us cry.
Her work was especially poignant for the women in attendance. Some of her poems are what she describes as "spicy," discussing female sexuality in a way that is often avoided in poetry (she apologized to the parents in the audience before she read a poem about breakup sex). Some of the poems handle female agency – "I am the first woman in my lineage with the freedom of choice" – in a way that made the women in the audience roar with excitement. Her voice is measured and commanding. She tells us that other women are not our competition and that we need to lift each other up, which prompted the loudest applause of the show.
It was so empowering to listen to her—this 26-year-old woman who started writing poetry for catharsis and chose to self-publish her first book when people told her that there was no market for it—claiming her voice and speaking for a generation. She lives boldly and unapologetically. That's part of why she rocketed to popularity when she shared her poems on Instagram, because she speaks to millennial in a way that few writers have done. She refuses to deny her trauma, but also takes us through a journey of healing. That's what we need nowadays; to feel deeply, and to recover even stronger. Her work takes us by the hand and leads us through.