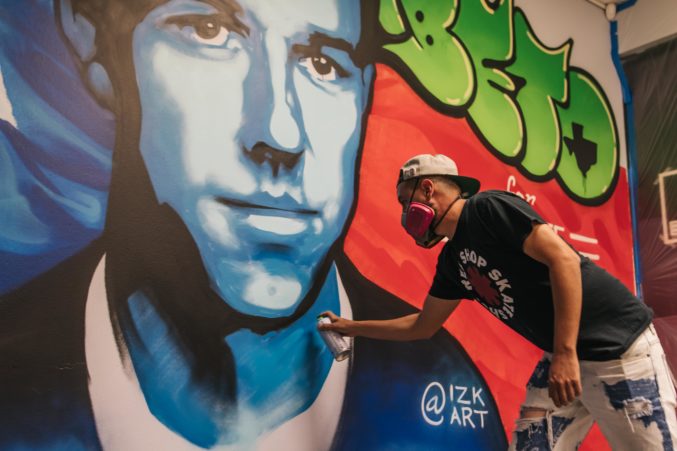 Dallas Artist Unveils Beto Mural At Candidate's Oak Cliff Headquarters
O'Rourke called upon Isaac "IZK" Davies to create a colorful mural in his Dallas office.
Isaac Davies has finally found time to cook. The artist known as "IZK" is performing in a hip-hop show this evening. He's painting a Lexus tomorrow during an art show. But now, it's time to chop the vegetables from his garden.
"It used to wear me down and now I'm learning to refine it," he says of his schedule. "Instead of saying yes to everything, I'm saying yes to things I want do."
Davies is talking about the power of an artist making their own choices; the ability to avoid burnout by picking and choosing what he dedicates his time to. Davies is an emcee, painter, muralist, collaborator, and poet. Despite his array of projects, the renaissance man recently agreed to a job that required his time and talents but paid nothing. It fed the artist in another way.
Last week, Davies completed a mural at the Oak Cliff office of Beto O'Rourke, nominee of the Democratic Party in the 2018 Texas U.S. Senate race.
"The reward lies elsewhere," he says. "It's a passion project, and this is what I'm passionate about. For the Beto mural, I knew it would be really popular – he has a great fanbase. Most people who support them have a similar mindset as me, about being open-minded."
Davies first saw O'Rourke speak in March 2017 at his neighborhood bar, Eight Bells in Fair Park, near where his studio resides. At the time, Davies worked at the bar part-time, as well as working on the creative team at Ochre House, the avant-garde theatre next door. Davies said the bar staff expected a large turnout of around 150 people. However, as crowds began to pour in, capacity soon surpassed 500. The bar began turning people away.
Davies was struck at the simplicity and authenticity of O'Rourke's message. He went home and did some research, becoming a Beto supporter in the process.
"If you listen to him and you posses logic, it makes sense. There's a list of reasons why he's the best option. Ted Cruz is Ted Cruz. I support candidates of certain parties, but at the end of the day, I'm a humanist. There are so many political parties around the world, and so many poor people suffering under them. I like to ignore the labels and deal with humans directly. That's what appeals to me the most about Beto," says Davies. "You don't have to do anything when it comes to politics. But if you don't, the future is in jeopardy."
Originally, another Dallas artist, Sarah Magill, was tapped to create the mural at Beto's headquarters. When an injury stopped her from completing the job, she recommended Davies, who met with the team and was hired.
"I've been fortunate enough that most of my projects are based on relationships I have with people I know," says Davies. "I knew what it would mean to this campaign and to the volunteers who use that office. They're there every day and basically live there. It was a good feeling to contribute in that way."
Having grown up in the neighborhood, the location of the mural was another special aspect for Davies.
"When I asked where the mural was and they said Oak Cliff, I smiled. I grew up in Oak Cliff and I feel it's important to have your political base in a place where there's a real sense of community," says Davies. "In Oak Cliff, there's generations of people who don't want gentrification and don't want to be railroaded by politicians and corruption. It's unfortunate there aren't more people like Beto. To see him come around and give these people support says a lot. If you were to go north of the Trinity River you won't find these communities. Not to say they don't exist, but it's concentrated here."
O'Rourke came to Oak Cliff in February for a town hall visit at Texas Theatre. He decided to open his headquarters south of the Trinity to connect and energize minority voters in the area after complaints about his staff not being diverse enough. 
"IZK was so wonderful to work with," says Jamie Pickard, one of the office managers at Beto's Oak Cliff headquarters. "He had a fabulous idea for the mural, accommodated our schedule – coming at night so we didn't have to close our office during the day because of the fumes – and he painted an incredible mural in our headquarters. He really led the charge on all of this. He was incredibly professional, bringing all of his equipment and helping us get the space ready, and has even more ideas for another piece of art."
Even with the political whirlwind taking place in America right now, Davies feels his work has always been political. Not taking himself too seriously or relying on conjecture, Davies doesn't believe politically-informed art changes political positions as much as it reflects them.
"Artists are in the back of the theater reacting to things," he said. "We aren't just talented hands. When you get down to it, politics permeates everyone's lives. I've always made art that directly faces injustice."
The Beto mural is the latest in a line of political statements made by Davies. In the summer of 2015, the artist traveled to Baltimore to work on a mural commemorating the murder of Freddie Gray at the hands of police. The mural was erected in the neighborhood where Gray grew up and lived.
"I met his friends and we put together a project where they helped me paint the mural. We all put our hand prints in paint and then on the mural. We did a portrait of them protesting at City Hall. We memorialized the event in an empty yard; they were supposed to turn it into a playground. We took over the corner for a few days and gave out backpacks and haircuts. We got engaged with the community. It was really humbling to be a outsider, as an artist from a different city, to come to Baltimore. They welcomed me with open arms. It was a very moving experience. That whole trip was a reaffirmation as to why I do art. It's not just public art for your town square, but for the forgotten places where people don't have art or art supplies."
Moved by the experience, Davies returned that fall with his brother, Jerod "DTOX" Davies, and fellow Dallas artist Joe Skillz to work on a follow-up mural confronting police brutality and wealth disparity in inner cities. The mural coincided with the 41st anniversary of the birth of hip-hop. On one side of the mural, a giant American flag covers a city, pristine and modern. The other side depicts a city ravaged, destitute and torn down. Standing at four stories tall, it's the tallest mural Davies has worked on so far.
The year before, in 2014, Davies traveled to Harlem for a mural dedicated to innocent civilians who were slain by police. At the time, the mural included a dozen people, including Trayvon Martin. Davies is called to these other cities because of his respect as a prolific muralist.
He has worked on murals for other artists, including Jean Paul Gaultier at the Dallas Museum of Art, Harry Belafonte, the Zulu Nation at the National Black Theater in Harlem, Erykah Badu, and national brands like the Texas Lottery, Netflix, Lexus, Modelo Especial, and Red Bull.
"Being an artist in Dallas is what you make of it," he said. "There's levels to this. The hierarchy isn't what feeds the people. Compared to other cities, we could get it together a little bit more. Not just with collaboration, but opening things up. The city has stepped it up with the Cultural Affairs Commission. I've seen a lot of friends who are getting grants from the city; that's what we need to be doing. Artists who come from out of town should be able to go to Dallas and the city pays for it. They can afford to put up another graffiti park. We are getting more downtown festivals that are more art-related like Aurora. The role of an artist is to be the tip of the spear. No one else is gonna do it for us, but we also need to communicate to those around us we need their help."
Davies' Beto mural can be found at the Oak Cliff campaign office, located at 4107 W. Camp Wisdom Road. Dallas, Texas 75237.