Patty Breckenridge came out of retirement to play Donna in Mamma Mia! It had been about three years since the actress had performed on stage when she got a hopeful call from Brick Road Theatre producer Noelle Woods Chesney.
The prospect of singing ABBA and playing a powerhouse role was enough to entice her back into the spotlight. What makes this show even better is that her friends are performing right alongside her. Fellow Dallas actresses Cara Statham Serber and Sara Shelby-Martin play the other two members of the Dynamos.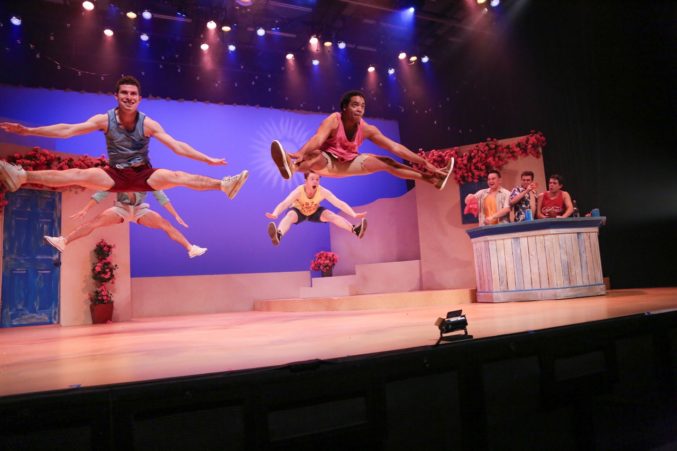 If you haven't seen or heard of Mamma Mia!, it is distinctly possible you have been living under a rock. The musical, with music written by Benny Andersson & Björn Ulvaeus of ABBA, was first written in 1999, but premiered in the U.S. on Broadway in October of 2001. It spawned the 2008 movie rendition of the same name, which got a sequel in 2018, Mamma Mia! Here We Go Again. Everyone raved about the second film, which grossed $392 million dollars, much like they raved about the original in 2001. And it's no wonder. It's a feel-good musical with songs that you can't not sing along to.
For those of you who have been living under a rock, Mamma Mia! follows Sophie as she prepares for her wedding on the Greek island of Kalokairi, where her mother Donna runs an unsuccessful hotel. Sophie, never having known who her father was, invites three of her mother's former boyfriends to the wedding, hoping that one of them will turn out to be her father. With three ex-boyfriends, and Donna's former bandmates and best friends, Tanya and Rosie, all arriving at the island, chaos ensues. Songs are sung, dances are done, and fun is had by all.
Brick Road Theatre's rendition is directed and choreographed by Katharine Quinn. Morgan Maxey plays Sophie, and Patty Breckenridge is her mother. The Dynamos are expertly played by Cara Statham Serber as Tanya, and Sara Shelby-Martin as Rosie. While this may be a story about the beauty of family, this is Donna and the Dynamos' show. The three are all "very best pals." Luckily, these ladies have no difficulty showing that unbreakable bond on stage, as they are all friends already. The trio has performed together before, so the whole musical has been like a reunion. Breckenridge calls it "ridiculous fun."
"For me, and working with these two, it's not going to rehearsal. It's going to play. It's going to play with my girls," Shelby-Martin says.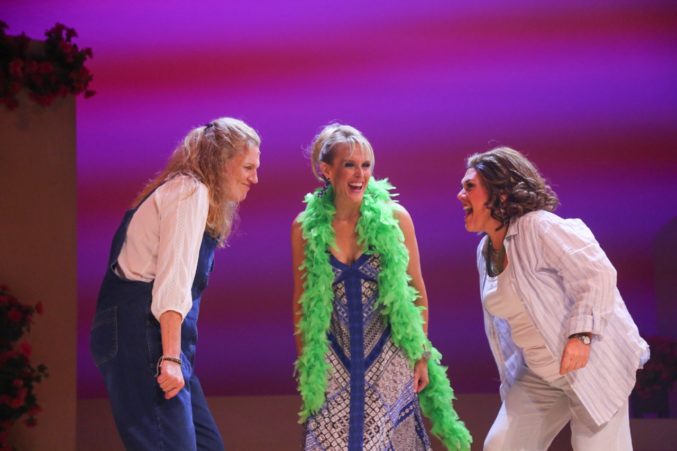 You can tell immediately that these ladies are perfect for their roles. Producer Noelle Woods Chesney thinks so, too.
"They basically are their characters. They don't have to really get into character very much because they basically are as close to their characters as they can be," Chesney says.
The musical is a ball of fun, and the Dynamos fit right in. It's not all easy though – with 38 songs, and nine of those as production numbers, it can be a difficult show to do well. Having the perfect cast is what will make or break this show. Brick Road Theatre has found that in its Dynamos, especially in the choice of Patty Breckenridge as Donna.
"With this show, it is essential and completely necessary that you have a Donna that is a force," Chesney says. "And if you don't, you don't have a show. Which is the reason that I called Patty in the first place, because there are really not very many people that can do what Donna has to do."
Donna spends most of her time on stage, and her relationship with Sophie carries much of the action. Breckenridge says she hardly ever gets to sit down. Luckily, she is so much like Donna that it is easy to get into character; the only problem is maintaining the stamina to get through the show.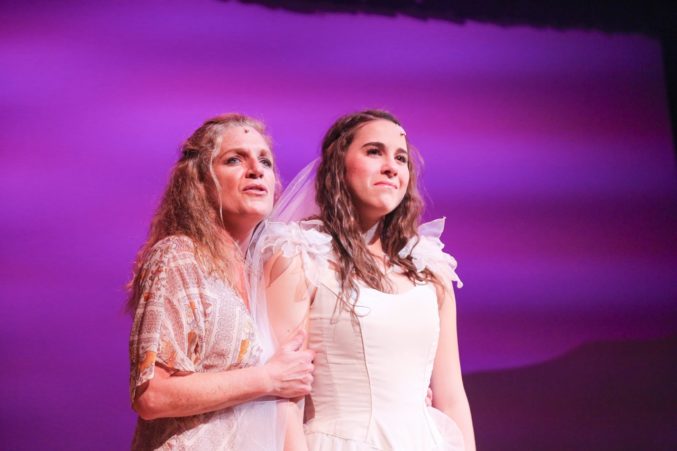 "This role's probably one of the easiest roles I've done in the sense of getting to where she is," Breckenridge says. "It's a beast of a role, though, I mean, she sings 11 songs. But I love it."
Breckenridge has the perfect combination of spunk and kindness to carry a role like Donna. She finds that the scenes with her stage daughter are some of the sweetest, especially for portraying Donna's depth.
Her favorite of the songs has to be "Dancing Queen." All three women agree on this. "Dancing Queen," along with being one of the most recognizable ABBA songs, is one of the biggest numbers in the musical. It really showcases the camaraderie of the three women. This musical features some pretty amazing girl power moments.
"It's about a strong woman who has made a life for herself – she's been independent, she hasn't needed to depend on a man," Chesney says. "Especially right now, it's a very empowering subject because it is not only talking about this woman who has not had to depend on a man and has made her own life, but she's supporting her daughter, who is now making her own choices and deciding what she wants with her life. And all of these friends who are strong females who are supporting that."
The women agree that this kind of empowerment is especially important now. Mamma Mia! is more than just fun, it has heart and depth. The Dynamos are willing to do anything for each other, and those figures are something that women need right now.
Although this musical has always been something inspiring and uplifting. It first opened on Broadway in October of 2001, right after the 9/11 attacks. The nation was looking for something to make everyone feel good, and Mamma Mia! fit the bill. One of the first reviewers described it as a "Hostess cupcake" for the city.
"There's nothing too, too deep about it," Serber says. "It's just about having fun and loving your friends and loving your family and I think everyone can use a little bit of that right now."
Breckenridge echoed that. "That's the thing about Mamma Mia, is if you don't leave with the biggest smile on your face from ear to ear, you are up in the aisles dancing—and it's totally okay to come to this show and be in the aisles and sing along and dance you know, during the finale—you have to feel good. And if you don't, then go back to bed and start over tomorrow."
With a dynamite cast of ladies who truly support each other – Serber describes them as family, not just friends – an incredible ensemble, and three talented men playing the exes, this show is sure to please audience members.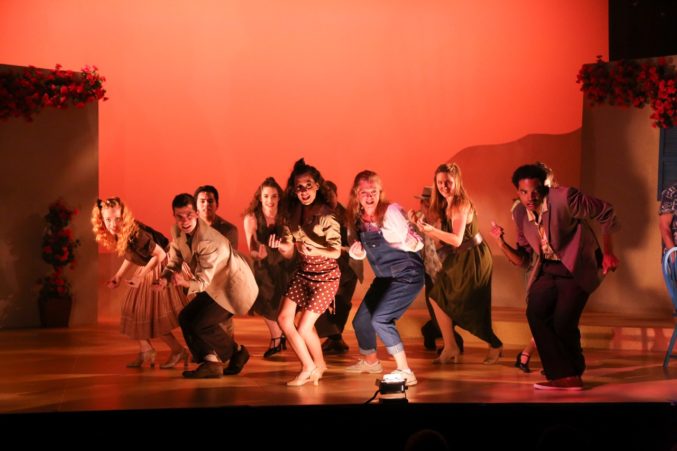 "I just love the times when the three of us are on stage together, because it's so comfortable and so easy, and so any time the three of us get to be on together…those are my favorite," Serber says.
In the days of Netflix, it can be hard to work up the energy to leave your bed. But this vibrant performance of Mamma Mia! is worth it.
"Have fun, and let us take care of you for two-and-a-half hours and let us do our job, which is to make you have a really good night," says Breckenridge.
Mamma Mia is at Brick Road Theatre October 19 – 28. Find tickets here. 
Get the FrontRow Newsletter
Get a front row seat to the best shows, arts, and things to do across North Texas. Never miss a beat.