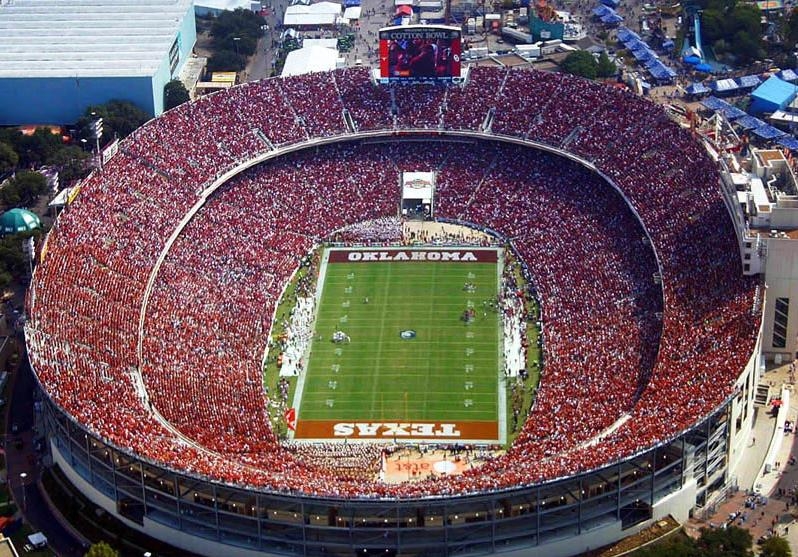 A Survival Guide for the Texas-OU Red River Showdown
Learn from our past mistakes.
On Saturday, October 6, one of college football's oldest and most bitter rivalries comes to a boil when the University of Texas and the University of Oklahoma converge in Dallas to play in the Cotton Bowl for the Red River Showdown. Whether you plan to attend the game, watch the game on TV, or hole yourself up in your house to avoid the mess completely, there are a few things you should know.
If you are going to the game…
Get creative with your transportation to and from the game. Parking spots fill up pretty quickly, Uber can get expensive, and the drop-off spots are often pretty far away. Try to get there as early as possible if you decide to drive. Better yet, take DART to the Fair Park Station along Parry Ave., take a rental scooter, or, if you know a bunch of people going, look into chartering a bus.
Sunscreen is key. Even those of us who like to tell people, "I don't burn, I tan" will fry like the various confections at the fair after one quarter of sitting in direct sunlight. Wear sunscreen, and don't forget to reapply. This is also a great excuse to rock a cowboy hat.
Don't overdo it on the pre-game drinking. While a bottomless mimosa bar might seem like a good idea before an early game, keep in mind that the stadium does not sell alcohol. Take it easy so you don't end up hungover and exhausted by halftime.
If you're not going to the game…
Skip the fair this weekend. Trust me, as someone who has gone to both the game and the fair for the past four years, there is an abundance of rowdy college students who have been drinking since 8 a.m. to prepare for the 11 o'clock game (as well as some over-enthusiastic alumni). No corndog (no matter how delicious) is worth subjecting yourself, or your children, to the elbow-to-elbow foot traffic, or 45-minute line to buy tickets, and then another 45-minute line to buy said corndog.
Consider a weekend getaway. If the traffic bothers you, and the thought of football does nothing to tickle your fancy, consider just leaving the city of Dallas this weekend. There are plenty of cool cities to visit within driving distance (here are a few), and you can even consider lending your place to any family or friends coming from out of town for the game.
General Dallas Reminders…
Brace yourself for traffic. People come in from all over the state (as well as Oklahoma) to watch the game, so expect traffic to be particularly gruesome on Friday afternoon before the game, and all day Saturday, especially coming from the south.
People will be everywhere. On a similar note, if you plan on going to dinner or drinks on Friday night, do so with the mindset that everywhere will be packed. There will be horrifyingly long lines, and it only gets worse after midnight. Plan ahead, make a reservation, and practice patience and deep breathing.