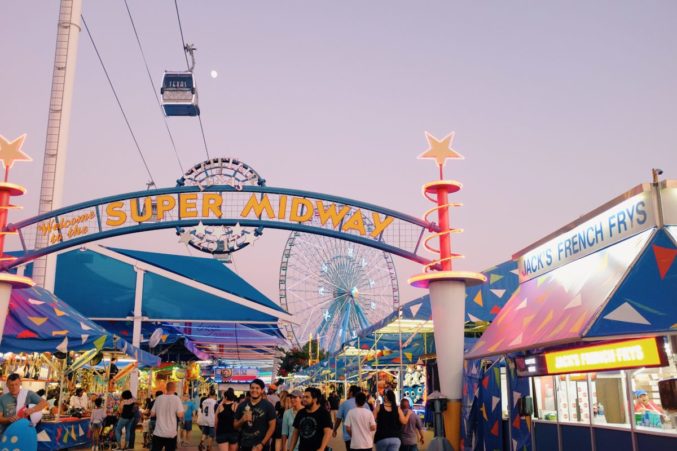 Things To Do in Dallas This Weekend: Sept. 27 – Sept. 30
Whether you're in the mood for corndogs or ballet, there's something here for you.
Thursday (9/27)
Legacy Hall in Plano is celebrating its first ever Oktoberfeast this weekend. The party starts tonight at 7 p.m. Unlawful Assembly Beer will be introducing a new brew (The Barrel-Aged Black Sheep Stout), and Grammy Award-winning polka band Brave Combo goes on at 9 p.m.
Drake's Dallas takeover continues tonight with the second installment of the Aubrey & The Three Migos tour at American Airlines Center. Here is Matt Goodman's take on night one.
Friday (9/28)
The Opening Day Parade heralds the return of the State Fair of Texas tomorrow as it rolls through downtown Dallas at noon. If you can't wait until after work for your fair fix, head to Main Street Garden at lunch for a Taste of the Fair. Downtown Dallas, Inc. organized the event, which will offer corny dogs, kettle corn, and Texas corn (almost all the major corn food groups), as well as lawn games and activities.
If you want to shop local but don't know where to start, Commerce Street Night Market is a great place. There will be an array of vendors and artisans, including Flora & Fauna Soap Works, The Matcha Supply Company, Salt Water Swim, and Ripe Vintage. Shop around while enjoying drinks by Oddfellows, live poetry readings, music by DJ Spinn Kid, and local art. The event is family friendly, dog friendly, and date friendly, so bring the squad. 
Saturday (9/29)
Get your tiny spoons ready: Gelato Festival is coming to Dallas this weekend! The event is part of Gelato Festival World Masters, an insanely elaborate, international ice cream competition that lasts three years and pits five thousand gelato chefs against one another. Go to the Dallas Farmers Market this Saturday and Sunday to sample the treats, vote for your favorite chef, and visit the gelato laboratory. Find tickets here.
Truck Yard is celebrating five years of business with – what else? – a food truck rally. The Lower Greenville spot will host the competition this Saturday, along with live music from noon to 6 p.m., $5 draft beers until 5 p.m., an exotic animal petting zoo, and a dog adoption station (don't confuse the two). Tickets are $25 and include access to every food truck in the yard.
Sunday (9/30)
See the Texas Ballet Theater's mysterious and emotionally-charged drama Cleopatra at Bass Performance Hall. Read our interview with lead dancer Carolyn Judson for a behind-the-scenes look at the production. Showtimes are at 2 p.m. and 7 p.m. on Sunday; tickets are available on the company's website.  
Local artist and DJ Blue, The Misfit says goodbye to Dallas with a final installment of "Just Kanye," a night dedicated to the music of Mr. West, at RBC in Deep Ellum. Doors open at 10 p.m.