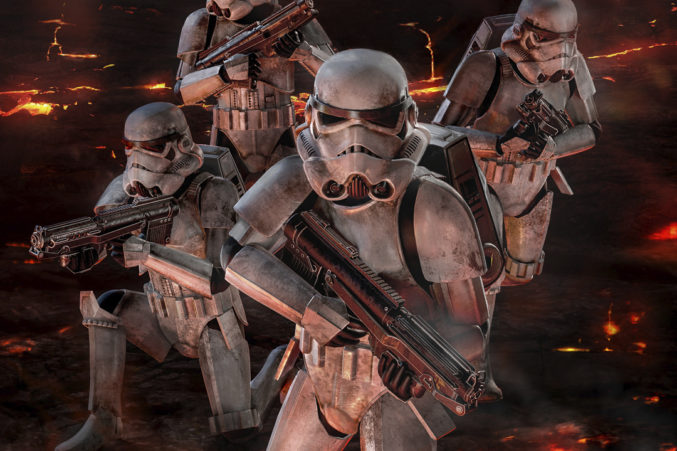 Step Inside the World of Star Wars at Cinemark's New VR Experience
Get ready to become a storm trooper. Sort of.
I'm not really a Star Wars type of gal (judge me), but on Friday I was a storm trooper. Actually, I was a rebel disguised as a storm trooper. But that's beside the point.
Over the weekend, Cinemark West Plano launched a virtual reality experience in partnership with The Void, which describes itself as the "global leader in location-based hyper-reality experiences." The concept launched with Star Wars: Secrets of the Empire, a cinematic game which transports its players to a galaxy far, far away.
I assumed that hyper-reality was another term for VR, but it's not. The Void brings together VR technology with physical stages and sensory effects for an immersive – and slightly overwhelming – experience. You can explore, touch, and even smell the world around you. This is the company's first location in Texas, and an Austin outpost is reportedly in the works.
As a novice to both Star Wars and VR, I had my reservations about testing out the new attraction. My worries were calmed by the welcoming staff, who were incredibly committed to their roles in this Star Wars mini universe.
First things first: waivers need to be signed (you must be 10 or older to play). This concerns me, but not enough to read them. We proceed into The Void.
Near the entrance, Captain Cassian Andor appears on a large screen and assigns our mission. We're going on an undercover adventure on the mysterious planet Mustafar. We suit up in heavy vests and VR helmets, and prepare to enter our "spacecraft." Once the helmet is on, it's easy to become disoriented. I'm slightly alarmed when I glance down at my own arm and see a stormtrooper suit. But there's not really time for this kind of self-reflection. Holographic bad guys are shooting me and I can feel the impact in my vest. I stop gazing around and fight back.
We unlock some kind of portal and end up outside. Mustafar looks a lot like hell, with pools of lava and gigantic bugs. When we walk near the fiery pits, a gust of hot air and smoky aroma hits me. Weirdly, this is my favorite part.
The whole experience takes about half an hour and feels much shorter. I'm surprised to find myself wanting more.
The Void at Cinemark West Plano officially opened to the public on Saturday. Tickets are $29.99 and can be purchased through the Cinemark app or online.