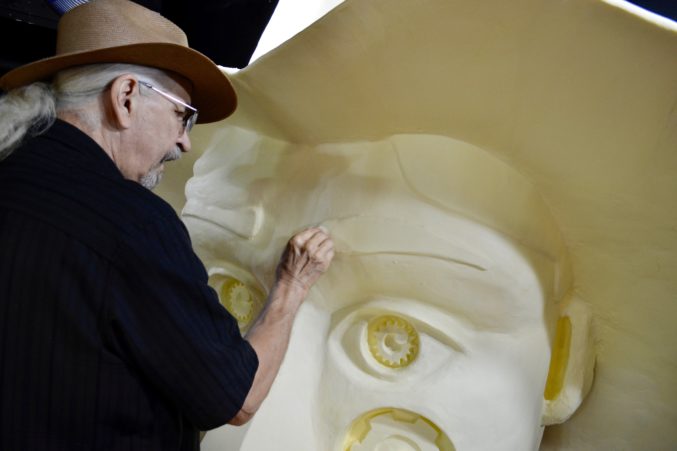 How A Vegan Artist Became The State Fair's Go-To Butter Sculptor
In case you've ever wondered what went into making art out of butter.
Ken Robison is responsible for the State Fair of Texas' larger-than-life butter sculptures. He also happens to be vegan. The irony of the situation is not lost on him.
The Dallas-based artist, master carpenter, and craftsman has been working with the State Fair since 1992. Over the years, he's done everything from hand-painting posters to creating parade floats to leading special carpentry projects.
"What happens is they say to me, 'We've looked at this from two or three directions now, and they say it can't be done, can you do it?' And then I do it," says Robison.
Three years ago, that can-do attitude put him in a most unusual position. The fair's go-to butter artist of fifteen years – a woman from New York who specialized in the edible medium – quit her post, leaving a rich tradition on the line.
Finding a back-up butter sculptor presented a problem. As Kathy Bennett, the State Fair of Texas' director of Creative Arts and Special Events, explains, "there really aren't that many of them."
"So, they ran over to me and said, 'Please, just this one year.' And then they trap me every year," laughs Robison.
Bennett tells it a little differently: "I talked to him and he was really gung ho to try his hand at sculpting butter."
Robison's  first butter sculpture was a grand champion steer. Last year, he created "Mount Muchmore," a perishable version of the national monument with famous Texans replacing the presidents.
Even for a Jack-of-all-trades, sculpting butter is not an easy skill to acquire. It's Robison's third time tackling the fair's dairy sculpture, but he's still getting used to working with the challenging material.
"Butter is an unusual medium. In fact, it's not a sculpting medium, it's something that you have to force. I sculpt some and take some off, put some back on. It's a constant deal, it's back and forth," says Robison. "Every time you touch it, you put a dent in it, so you've got to come back in and fill in a gap. I have to constantly monitor the unit to see if it's freezing. I had to turn it up this morning because it was too warm, and I turned it down yesterday because it was too cold. It's never a single understanding of what's going on."
Unsurprisingly, it's also a very messy job. Rather than carve the sculpture out of one large block, he builds upon the structure bit-by-bit. The artist's (refrigerated) workspace at the Creative Arts building in Fair Park is riddled with butter. It's smudged on the glass display case, it soaks the cardboard path leading to the fridge, it's in the air. And then, in the middle of all this processed cow's milk, is the vegan artist. 
When asked if working with the medium bothers him, Robison simply responds, "I think it's much better to sculpt than to eat."
After further questioning, he opens up about his personal views.
"I became a vegan as a stewardship for the rest of the world, because I believe that animal agriculture is killing the planet. But nobody believes me. We have 10 cattle for every person on earth and only about 30 percent of people on earth eat meat," Robison says. "I guess I didn't need to get into that."
Once complete, the sculpture will have used more than half a ton of unsalted butter, which is provided by the exhibit's sponsor Southwest Dairy Farmers. In past years, some sculptures have required more than twice that quantity. At the end of the fair, any salvageable butter is scraped into 5 gallon containers and stored for next year's display.
"We've had some of this butter for four years," says Bennett.
This year's theme, Celebrating Texas Innovation, inspired a giant bust of Big Tex with machine gear eyes. It's been a work in progress for about three weeks now. Robison was given an image to model the sculpture from, but he always includes a few personal touches. This year, he's going for a deconstructed look.
"What I'm doing is I'm taking pieces and parts and throwing them around, maybe putting them outside of the box, and we're calling it 'Some Assembly Required.'"