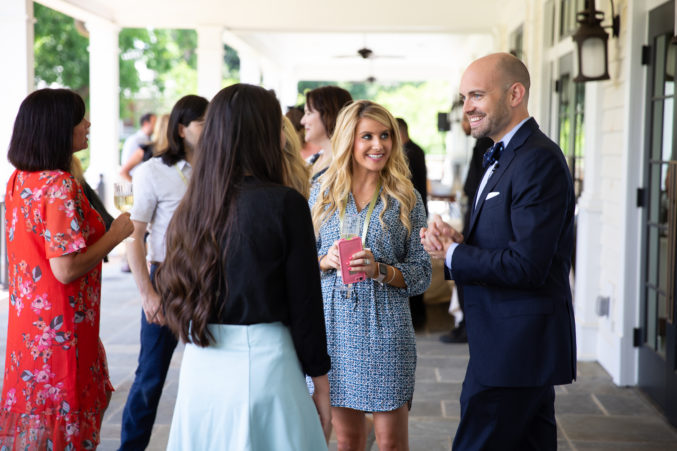 Dapper Dossier No. 1
Networking to Stand Out
We are all placed in new professional networking situations every day. How can you stand out from the crowd? What makes the connection you just made with a possible client or potential connector any different from the person they met before or after you? Here are five tips to grow your professional network in a meaningful and action based way!
No. One:  Early to Rise AND Early to Rest
The phrase the early bird gets the worm is not just a saying. There is a reason almost every book about successful CEO's and Captains of Industry doesn't start out with the story that s/he made the connection that changed their business in the club at midnight. Success takes hard work and by getting up early, spending some time on self-care and then jumping into the day fresh and clear after a good night's rest you will be that much more prepared than your competitor.
No. Two: Remain Curious
Tony Robbins repeats again and again that the quality of a person's life can be measured by the quality of the questions that s/he asks. Is that true of you? The secret sauce to good networking is to make meaningful connections. How do you that? How do you take a two to five-minute interaction and make it impactful?  ASK GOOD QUESTIONS! I challenge you to come up with a new and meaningful question to add into your mix each month that dives a little deeper than a person's business interests or the weather.
No. Three: Send Meaningful Gifts
Now that you have asked the right questions it's time to actually listen to the answers! As humans, the thing we crave most is connection and having someone ask you a question, listen to the answer, and then take action based on that answer is the beginning of a beautiful relationship. Did your subject give you clues about their likes and dislikes? Do they travel, are they getting married, did they just have a baby? Taking this information and then sending an unexpected gift following your interaction will take you a long way in establishing trust and connection.
No. Four: Practice the Platinum Rule
We are all familiar with the Golden Rule; Treat others as you would like to be treated. It's now time to take it to the next level and begin to practice the Platinum Rule; Treat others as THEY would like to be treated. By removing ourselves completely from the equation and focusing completely on another person and their concerns, wants and desires we begin to remove the THREE E'S (e.g. Ego, Excess, and Envy) from our interactions and build more solid relationships.
No. Five: Become Known for Being a Great Connector
And last but never least, don't be afraid of connecting people you know will be a great fit. There is enough business out there for all of us and by positioning yourself as a super connector in your business you elevate your personal brand to one that is not focused on the everyday bottom line but instead is looking towards the future.
To learn more about The Dapper Diplomat and how we can help you stand out from the crowd, visit our website – dapperdiplomat.com