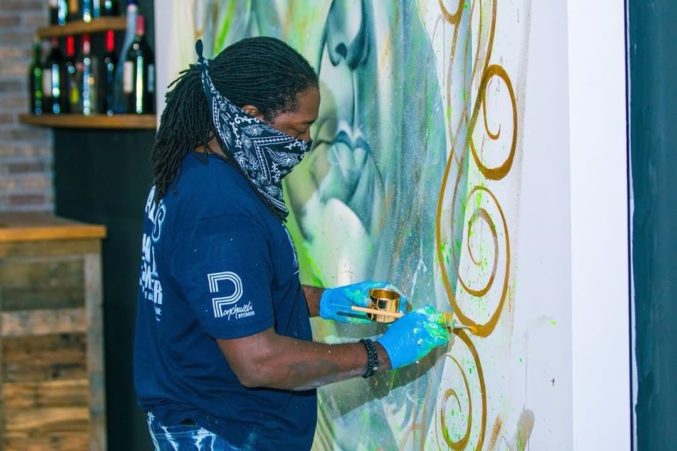 Art Power Respect Is A Survey of How Dallas' Artists Can Make an Impact
This weekend's exhibition at Ponchaveli Gallery includes 17 Dallas creatives.
A diverse group of 17 Dallas artists will come together for a one-night-only art show this weekend. The pop-up exhibition, titled Art Power Respect, is curated by local muralist Theo Ponchaveli as a sort of survey of Dallas' visual arts community. It's the debut show at Ponchaveli Gallery within Richardson co-working space The Drawing Board, where the namesake is a partner and the director of art and design. 
"Art is such a powerful tool," says Ponchaveli. "I use art to create a sense of calm, a sense of relaxation, especially in the chaotic world that we live in now. Just here in Dallas, I think art is bringing the city together despite any political differences and anything else that's going on in the world."
Ponchaveli is self-taught and made a name for himself with public artwork across the city. He's done more than 50 murals around town, including a controversial image of Lee Harvey Oswald in Oak Cliff, and, more recently, a mural of the late Senator John McCain.
It's been about seven years since his last solo exhibition in Dallas, and he thought it was time to show off his work again – this time in a group setting.
"My career has changed dramatically in the last seven years. I wanted to include several artists who have helped inspire my career along the way, as well as artists I felt would benefit from the exposure of this show," says Ponchaveli.
Featured artists will include local favorites Jerod "DTOX" Davies, Desmond Blair, Riley Holloway, and others. Theo chose the group based on people he's worked with, met, or whose careers he's followed over time.
"I think that the roster that we came up with is just a dream team of Dallas," he says.
There will be roughly 100 original artworks on view, not including the catalogue featuring 50 to 60 of Ponchaveli's murals. After the event on Saturday, a limited number of pieces will remain on view and available for purchase in the gallery.
"I think people will see the level of talent that exists in Dallas," says Blair, who Ponchaveli cites as a major inspiration.
"Desmond Blair is one of the most inspirational artists to me. He was born with no hands, but if you look at his art without knowing who did it, you would never imagine this man was born without hands."
It may seem surprising for someone with a limb difference to pursue art, but for Blair, who was born and raised in Dallas, learning the craft was just another one of life's hurdles.
"Basically, the way I approach everything is as a challenge, like trying to solve a math problem or whatever. That's the way I approach art and that's the way I approach life. It comes from having to constantly adapt," Blair says. "If I solve it, maybe I can help someone else."
In addition to creating art, Blair works in IT at Texas Scottish Rite Hospital for Children in Oak Lawn, where he was treated as a child.
"I take it very seriously because I understand the impact it has on the kids. That's one of the only places they'll see someone else like them," he says.
The idea of de-stigmatizing physical differences carries over into his artwork. In the new paintings he made for Art Power Respect, Blair depicted models with altered anatomies. Look closely at the portraits and you'll notice the subjects may be missing a hand or some fingers. 
"When you walk into the room and see someone with a limb difference, it affects the room," he says. "The idea is, what if this was normal?"
Blair isn't the only artist in the group with an extraordinary story. The event's keynote speaker, Fulton Washington, used art to find freedom – literally. The Compton-based artist, known as Mr. Wash, was wrongfully convicted in 1997 and sentenced to life in prison. Art helped him persevere through the 21 years he was behind bars. When President Barack Obama learned about a painting Mr. Wash made in 2016, the president granted him clemency.
"You hear of so many ways art touches lives, but very rarely do you hear somebody use art to actually paint themselves out of a life sentence," says Ponchaveli.
Washington will share his story at Saturday's show, where there will also be live painting by featured artists, spoken word by Akeem Stroupe, and music by DJ Mike B and violinist Richmond Punch. Deep Eddy Vodka and Austin Eastciders are providing the drinks. The event is open to the public from 7 p.m. until 11 p.m.