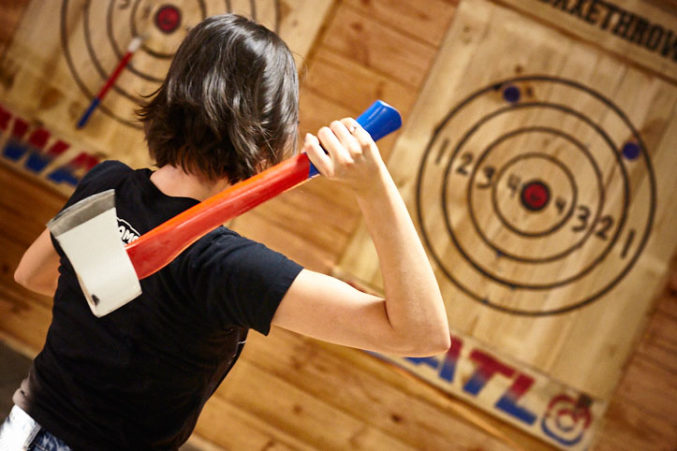 A Friday Evening at Bad Axe Throwing
A few takeaways after hurling sharp objects across a room.
Light bounces off the shiny, sharp blades of a collection of axes, hitting and highlighting the ceiling's exposed pipe beams and the splintered wood scattered on the floor. This scene—not unlike the setting of most horror movies—greets me as I walk into Bad Axe Throwing, which opened its first Texas location in East Dallas this June.
Despite the ominous atmosphere, I was excited. Founded in 2014 in Canada (of course), Bad Axe Throwing is an "urban axe throwing club" where guests, accompanied by coaches, are invited to gather with friends and throw axes at a wooden block hanging on the wall. As someone with very good aim (read: terrible hand-eye coordination) and a penchant for thrill-seeking (read: too curious for her own good), I was the obvious choice to try out the trending sport in the name of journalism. This is how I found myself in a room full of flying axes on a Friday evening.
My friend and I were greeted by a welcoming coach, who, in less than five minutes, refuted every notion I've ever had about axes. Throwing them? Acceptable. Drinking while throwing them? Encouraged—there's even a BYOB policy. Age limits for flinging the sharp objects? Non-existent—sort of. According to marketing and development coordinator Melanie St-Amour, "if [someone] can safely throw the axe, then they can throw – regardless of age!" Also, it feels important to note that, per Bad Axe's website, "[They] have never had anyone hurt or injured in any way." In case you were wondering!
Axes were thrown. Feelings were felt. Here, I attempt to sum up my Bad Axe experience.
The Space: 10 "lanes" are available for booking and equipped with one wooden target, at least three axes, and a chalkboard to keep score. If you have mini lumberjacks who aren't up for the task, there corn hole boards, a life-sized Connect Four, and tables with those giant Jenga sets.
Who Should Book a Lane: Anyone. I can see families, friend groups, and even couples getting something out of Bad Axe. In addition to being an excellent way to take out aggression, axe-throwing doubles as workout utilizing your lats, shoulder muscles, and core. Prices range from $20 per hour for walk-ins and $35 per person for group bookings.
The Session: Before we began, our coach gave us some pointers: keep your feet shoulder-width apart, don't hesitate, and throw when you lower the axe is eye-level. Simple enough. Full of nervous energy, I made my axe selection, took the assumed stance, lifted the axe over and behind my head (what's up, tricep extension), definitely hesitated, and threw my weapon straight to the floor. Seven tosses later and my axe makes contact with the wooden target for all of two deeply satisfying seconds.
In between our failed attempts, our sweet coach doles out helpful strategies and, to his credit, we do seem to get better with each throw. In fact, it's on my ninth try that my axe gracefully slices through the air and onto the wooden target's outer ring. Perchance, if I wasn't drunk with confidence, I would have been able to hone my focus and use the instructor's tips to make more winning shots. Alas, I did not.
But I had an axe to grind (so sorry), so I kept at it and another coach tried his hand at helping us. While our first coach had referenced golf, our second compared the act to throwing a soccer ball over your head, and suddenly everything clicked. Over half of my tosses hit some part of the target, with one landing so close to the bullseye that my friend and I, ever the optimists, awarded it the full six points. We kept throwing until another party's pizza delivery arrives (the space is also bring-your-own-eats-friendly) and we realize we've been flinging axes for an hour.
The Takeaway: Make no mistake, axe throwing is true sport that requires genuine skill and strategy. And while I was lacking in these areas, nothing took away from how exhilarating and downright strong I felt after finally hitting the target. There's definitely something to be said about the catharsis of throwing axes across a room.
SaveSave
SaveSave
SaveSave