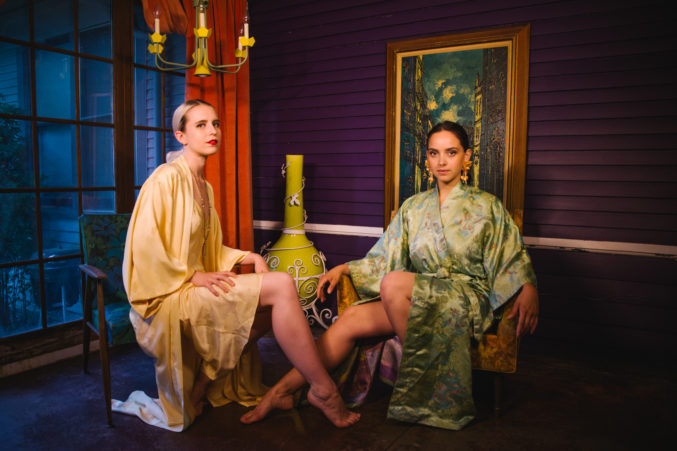 Preview Sudie and Teddy Georgia Waggy's Desert Isolation Team-Up
The pair of Dallas artists holed up for 11 days to christen an artist's residency in New Mexico called Jam Stand.
Last month dream-pop artists Teddy Georgia Waggy, guitarist and vocalist for Midnight Opera, and Sudie packed a two-door Toyota Yaris full of recording equipment and headed West. Their destination: a two-week residency called Jam Stand just outside Albuquerque, created by Ayrton Chapman. Her sister Bailey Chapman plays drums for Denton psych-rock group Pearl Earl, and Ayrton came to know Waggy's music through the same scene. She invited the musician to initiate the program, which operates out of her home and studio.
"She let me bring a collaborator," Waggy says. "Sudie and I had already been working together – we're designing some costumes for her live shows…. She was the first person I thought of for this residency collaboration," the musician and self-taught seamstress explains.
"We were friends before as well, hung out quite often, and played quite a few shows on the same bill," Sudie says.
After spending 11 days in the desert writing songs and tracking in the studio from dawn until well past dusk, the duo came away with three solid tracks. They're holding the work close to their vests for now, but I was allowed to hear the unfinished tracks. They feature operatic qualities, poppy '80s undertones, and hauntingly familiar sounds from the Southwest.
The two road-tested the songs in Albuquerque at the Small Engine Gallery. That audience knows the most about what transpired over those 11 days. And Ayrton, of course, who shot the video below over the course of the residency.
"We were tracking in the studio all week, so we just spent three hours before the [Small Engine Gallery] show prepping," Waggy says. "That's okay— we did a pretty fucking good job. I was really proud of us," Sudie says.  
The fledgling partnership took off in New Mexico, and the duo plans to accelerate it now that they're back in Dallas. There's the costume line Waggy's creating for Sudie's shows, and Sudie will be producing Waggy's solo work and moonlighting on vocals for Midnight Opera's first full-length LP. The band is halfway through tracking at John Congleton's studio in Oak Cliff. (Sudie has also recorded there.)
"Both of us are really great at performing," she continues. "It was really fun to be beside Teddy, feeding off of each other. It didn't hit me until we were up there performing that I've never done that before with people," the solo artist and performer explains. "I didn't realize I was missing a collaborator."
As far as who gets dibs on the work produced at Jam Stand, that's still being considered. Sudie may produce the tracks for Waggy's forthcoming solo project, in which she'll explore the traditional gender divide both aesthetically and in terms of emotional and intellectual conditioning. Or they may release and perform the tracks together as a duo.
Through this process, Sudie realized there's another project where Teddy could lend a hand. She's been working on an album of cover songs for over a year that she's more than ready to finalize.
"It's been the most challenging project I've ever done. At the residency, I realized Teddy was the missing piece. I need her help on this project," Sudie says. "I was like, 'Listen bitch, you better be ready for a life-long commitment.'"
Sudie found a co-pilot for her otherwise solo art practice. Waggy, who's almost always performed with Midnight Opera, touring extensively with her three bandmates, had never branched into solo work with just a producer backing her. And there's that shared love of costuming— it was a killer visual sensibility that brought them together in the first place.
"I had come to one of Sudie's shows straight from my show, so I was still wearing this transparent suit that I'd made," Waggy remembers. Sudie relates, "I was like, 'Damn, bitch, you look so good. I want to work with you. I want to feel and look as good as you do.'"