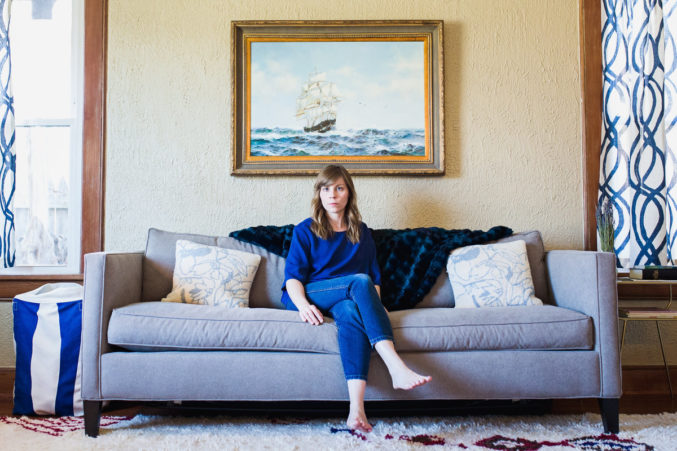 In Bosque Brown's Little Sea, A New Mom Longs For Grace
Fort Worth songwriter and guitarist Mara Lee Miller is back with a record that testifies to a mother's deepest fears and hopes.
Mara Lee Miller apologizes for the mess, which is actually a neat pile of craft catalogs on the dining room table. She's been planning party favors for her daughter Maris' fourth birthday. It comes the first of August— seven days before Mara's.
The EP Bosque Brown quietly released late last month bears Maris' name. Little Sea, Mara calls her daughter, the third in a line of variations on the Latin word for "sea." The last song on the record is as old as Maris, this girl who keeps peeking into the room with sparkly eyes as we talk.
"You" begins like a lost Vashti Bunyan basement tape and levitates slowly. I had a dream that could not be, Mara sings, picking out the hesitant melody on her acoustic guitar. You saw me how I wanted you to see. Loose strumming in the chorus conjures layers of gentle synth and voices that wash in almost indecipherably, until they meet a line that can mean nothing or everything to a song: I love you. Here the phrase comes boldly and strengthens itself over and over. The songs on Little Sea build steadily to this final moment.
"All of them but the very last one I wrote after she was born," Mara says. "When I finished 'You,' I was pregnant and didn't know."
Bosque Brown's periodic silence up to now is tied in part to growing families and the swirl of change, beauty, and complicated loneliness related. Many of the songs whispered that, too. "Gina Anne" on the soundtrack for David Lowery's Pete's Dragon is named for Mara's sister, who'd be the first to have a baby; she played keys with Mara live after that song came out on Bosque Brown Plays Mara Lee Miller in 2005 but phased out as her family grew to 3 and then 4. (Gina's work appears again, though, on Little Sea). An era of the band was punctuated when Fargo Records sent Mara and multi-instrumentalist Jeremy Buller to Europe in 2010. That trip, Mara says, was a disappointment to the label. The pressure she felt to impress onstage augmented a kind of rebellion.
A quality of live presence Mara's fans already appreciated back to Bosque Brown's inception— her fearsome, reverent control, the way she sang in the shadows with her eyes closed— was in part a product of real depression, other illness, and frustration. To me, Mara's performances deeply resonated in Denton bars where men filled the rooms and stages in a surge of folk-oriented bills in the mid-to-late 2000s. She remembers being relieved the clubs she played were dark, that she could make it out before the lights went up.
"I thought, they want me to be pretty, I'll be ugly," Mara says. "Actually, even in my voice sometimes. Like for a while, on Baby — I sang really harshly because at the time I was thinking, no. I'm just going to be angry. I'm not going to sing pretty."
It's likely audiences have the best chance at hearing Mara's voice in public when Lowery's film The Old Man & The Gun comes out in September. Bosque Brown has a song on the soundtrack. She has no plans to play live behind these new ones, though. I ask Mara if it's any catharsis to imagine people listening to the hard-won Little Sea without her having to be there.
"I have struggled a lot as a person," Mara says. "And I think all I've ever wanted is that— when I do write songs, I am an open book about it. And if someone else can hear and say, 'I get it,' or 'I've been through that.' I think that it's all I've ever wanted, just for someone else to understand."
__
At that moment of 2014 when she wrote "You," Mara was having vivid dreams, an early sign of pregnancy. But her doctors thought she couldn't have a baby. Plagued for years by what she knows now to be a hormone imbalance, Mara dealt with constant skin problems and other symptoms so severe she couldn't leave the house. She stalled in all arenas.
"I was trying to fix a lot of things because I knew my body could not have a baby— or at least I was told," Mara says. "My body was falling apart and I would just sit around wishing I was someone else. I started being afraid that I might lose [my husband] Ryan … I wanted to repair things, I wanted to be better."
Mara, who's been open about her struggle with an eating disorder, obsessed over her diet and devoted herself to holistic treatments. She wanted so badly to be healed. One night she dreamt it. All the perfection she'd longed for was there: she saw a perfect marriage, saw herself complete. This dream, and waking from it to find everything was still the same, gave her the song "You." About that time Fargo wanted to put out Bosque Brown's Us overseas, and tentative plans for a tour started to materialize. Mara found out she was pregnant and ended the band's contract.
"Honestly, when I found out I was pregnant it was like a relief to me," she says. "Because it was like, 'You know what? I dont have to be anybody anymore.'"
__
When you fall into the arms of that sure and certain purpose motherhood offers, it can suddenly become all there is. You can become nobody, as Mara longed to be. Then you become everybody to the people in your care. The first four songs of Little Sea exist in that time between having a baby and when that baby learns to speak.
Friends drop off, no fault of their own. Oldest fears— fears of madness, then madness itself— find a home in this void and remember to visit as the child grows. Personal shortcomings and needs claw at the image of the mother you had in your head, that you'd be. It's hard to sleep with the weight of what I can or cannot keep, Mara sings on the title track. Oh, Little Sea, I won't make a peep. And morning comes quickly: If you call me I'll come / into your room / will I be too soon? she asks, already seeking forgiveness in advance. "I was really isolated when I wrote those songs," Mara says. "Ryan would be gone 11 to 12 hours a day, and I would just be at home, thinking." 
In this dining room, Buller recorded Mara's parts for Little Sea in about a day, in January of 2017.  He came down to Fort Worth from Seattle with a suitcase full of gear, and Mara sent Maris to her grandmother's house. I ask Mara if her daughter has seen much of her guitar, in general. She says no, not really. "I'm a very focused person so I've never been very good about being double-minded. I'm 100 percent in on something," Mara says. 
This manifests in the one-take feel of Mara's performances on all her records. Making music is a break from the need to control, she says. Like a stroke of paint on paper, she doesn't want to be able to take it back. The gentle chorus of overdubs and hushed synths on Little Sea seems to back away in awe of her voice and guitar, a restraint that defines Buller's work. It took a year and a half for him to strike that balance as he recorded his parts and produced the EP, meeting her candor with deep care.
__
"The plan, a memory of the future, tries on reality to see if it fits," Laurence Gonzalez wrote on surviving in the wilderness. Author Rebecca Solnit referenced this sentence in a piece in the New Yorker about Virginia Woolf and her skill at dwelling in uncertainty when others would insist on the relief of adhering to an ideal's comforting prescription. Bosque Brown's song "You" deals in both, crystallizing a memory of the future and then transcending its limits to reach toward something real.
Mara's program for herself as a mother and a person has changed. She's been working through that in therapy, she says, and the desire for perfection she articulated in "You" has become less interesting an aspiration.
"I see now that I don't have to have those rules anymore," she says. "I can be beautiful, even if it's not what I see or what I want as beauty, I can just say that I'm not going to listen to that. I used to feel like when everything was fixed I'd be happy, and until then, I'm going to work to attain that. And so now that song has really changed for me. It is more about love."