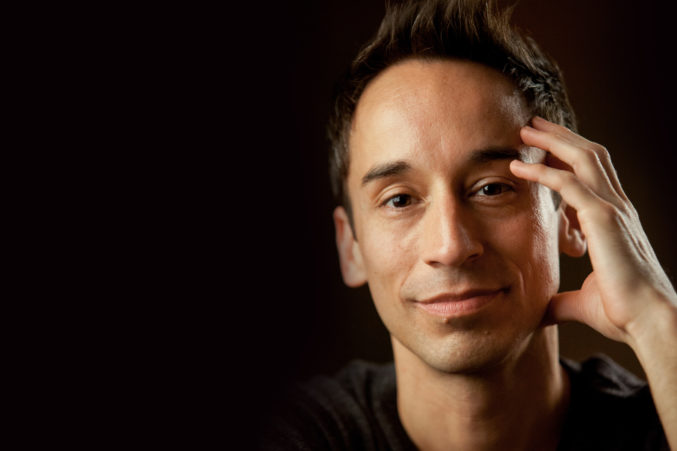 Director Blake Hackler Will Play a Female Lead in Trinity Shakes' Twelfth Night
An injury forced actress Jessica Turner to bow out. So what's the man in charge to do? Step in.
My husband's usual response when I inquire about his day is a congenial yet uninformative, "Fine." You might expect more from an actor. A dramatic retelling or maybe even a complete sentence, but nope. "Fine" it is. Sometimes, "Good." But mostly: "Fine."
This Sunday was different. When my husband, Brandon Murphy, returned from rehearsal for the Trinity Shakespeare Festival's production of Twelfth Night, he brought with him a true bodice-ripping tale:
It was the beginning of Act 4, Scene 2. Brandon, as clown Feste, makes his entrance onstage. Offstage, a noise. The stage manager calls, "Hold." The lights go up. Actress Jessica Turner, who plays countess Olivia, is on the ground. She has trouble walking and takes a seat in the audience, where she plans to call out lines for the remainder. The lights go down. Feste continues his scene. The stage manager calls, "Hold." The lights go up. Turner is feeling faint. Actress Kelsey Milbourn rips open the laces of Turner's corset. An ambulance is called. Rehearsal ends abruptly. Before the cast and crew leave for the evening, director Blake Hackler quips, "Well, if she can't go on, I'll just do it."
Hackler's comment was a small joke at the time; they all assumed Turner twisted an ankle. Yet when it became clear the actress would not be able to continue—the tweaked ankle turned out to be a ruptured Achilles tendon, an extremely painful injury requiring surgery—Hackler and founding artistic director T.J. Walsh had to get serious. Every local actress they thought could handle a major role with two days' prep was otherwise engaged. And the only actress in the show with a smaller role, who could perhaps be bumped up, is a TCU student—it would be unfair to put her in that position. They also thought of shutting down the production, but the loss of revenue, and putting all the cast and crew out of work, was not preferable. "I don't think we have a choice," Walsh said. That was just yesterday afternoon.
"I'm going to give it my best shot," Hackler said on the phone today. He has been furiously learning Olivia's lines over the last 24 hours, and tomorrow he will meet with the costume designer, who will have five hours to completely rework the dress and wig before the preview performance. "This sounds so petty, but I'm worried about looking unattractive, because I'm not an attractive person in drag at all," said Hackler, who once played the mother in The Bad Seed as a student at Yale. "So I'm hoping they can work some magic on me."
Lovely female lead or not, the production's turn of events is a unique one. Sure, it's not the first time an actor has had to step in at the last minute. Brandon Potter took on LBJ in DTC's All the Way without much notice and ended up killing it. And it's also not the first time a male actor has played the part of Olivia. Dudes did it back in Shakespeare's day, and Mark Rylance won a Tony for his Olivia not too long ago. But in both those instances, the entire cast was male. Here, it's just one man acting as damsel.
And Twelfth Night, one of Shakespeare's most beloved comedies, is already a gender bender of a story: shipwrecked aristocrat Viola washes ashore in a foreign land and decides to get by posing as a man. She, dressed as a "he," is pursued by the countess Olivia, who herself is being pursued by a Duke. "Cross-gender casting is certainly very interesting to me," Hackler said. "One of my dream roles is to play Blanche. So I think this can be really interesting and once we get past the weekend, this will be a fun thing to explore."
Gender twists aside, Hackler—on the theater faculties at both SMU and Yale—is one of the best actors in town (many might argue, the best), so I think it's safe to say this production, opening Friday, will be more than just "fine."
A final note: in all the role-switching excitement, I would be remiss not to send well wishes to Jessica Turner, a mother of three and an accomplished actress who recently returned to Dallas by way of Boston. I hope she has swift recovery and look forward to seeing her perform in the future.