If you somehow missed the deluge of Yellow Room pictures on social media during the month of May, the concept is simple enough to catch up quick: a yellow arm chair, yellow shopping cart and a number of other yellow objets d'art were staged upon yellow carpeting in a yellow-walled room. The result drew some visitors to fly in from out of town for professional photo shoots.
Candice Anderson and Rebekah Cluley of Uvea Design dreamt up The Yellow Room. The young, inspired designers did not create the temporary Design District installation as a backdrop for would-be social media stars. It was a way to generate buzz for the fledgling event space iQ Haus. Rich Mendoza, who owns a rather large screen-printing business, had just launched it with his business partner, Rick Gantley who owns an event planning company.
"They contacted me wanting to do something cool to get people to come out and take pictures," Anderson says, detailing how the project took off.  "I wanted to do something crazy. At first they were hesitant when I said the idea, but I told them, 'If you want people to be impressed, you're going to have to take it to the next level.'"
iQ Haus, a 6,000 square-foot space in the Design District, is painted white floor-to-ceiling between installations, envisioned as a blank canvas that can accommodate anything. Mendoza and Gantley put six figures worth of upgrades into the space, including a 50-foot ADA compliant ramp in the alleyway. They cleared many hurdles with the City of Dallas' code compliance office in a process they said was so frustrating they almost quit the project.
The design haven can be rented for just about anything, including corporate parties and wedding receptions. The Yellow Room is closed to the public now, but still available for private shoots until artists rework the space into a new concept. For that project, Anderson said she and her designer comrade drew inspiration from Yayoi Kusama's pumpkin room at the Dallas Museum of Art. All the Eternal Love I Have for the Pumpkins was so popular, the museum extended its run this past spring.
"You know the idea with museums is 'Don't touch, don't take photos.' We wanted this to be very immersive. I really liked the pumpkin exhibit because you can go inside of it, take a cool photo, and experience it — not just look at a flat thing on the wall," Anderson says.
The duo sourced furniture and props from thrift stores that Instagrammers could interact with. ("If we liked it, we bought it," Anderson explains). They doused everything in a vibrant shade of yellow, and voila.
"Between the foot traffic that's come through and the social media connectivity, it's just been blowing up like crazy," says Gantley. "I still get daily calls about it, people asking if they can come take pictures." One of those people who called on a random afternoon was L.A.-based comedian Blame it on Kway who booked a four-hour shoot. He has three million Instagram followers.
iQ Haus' flexible aesthetic is also meant to serve Local Hype events, a series for which each vendor creates their own mini-store within iQ Haus' venue. Charles Smith II, a buzzy Dallas-based fashion designer, is on the Local Hype production team and was one of the participants in the last pop-up event, which coincided with the unveiling of the Yellow Room.
Smith built a rather elaborate pop-up shop for his "Do Not Touch" collection by weaving together caution tape and mounting it on floor-to-ceiling panels. The whole Local Hype team was impressed; getting their approval is part of the deal.
Mendoza and Gantley envisioned the market after the annual ComplexCon in Long Beach, a lifestyle convention sponsored by the media entity Complex. There, artists, fashion designers, musicians, and foodies can tout their wares in concert.
"We're lacking true fashion [in Dallas] and people showing what they can do and make and create," says Mendoza, who used to own a women's clothing boutique along with his screen printing factory.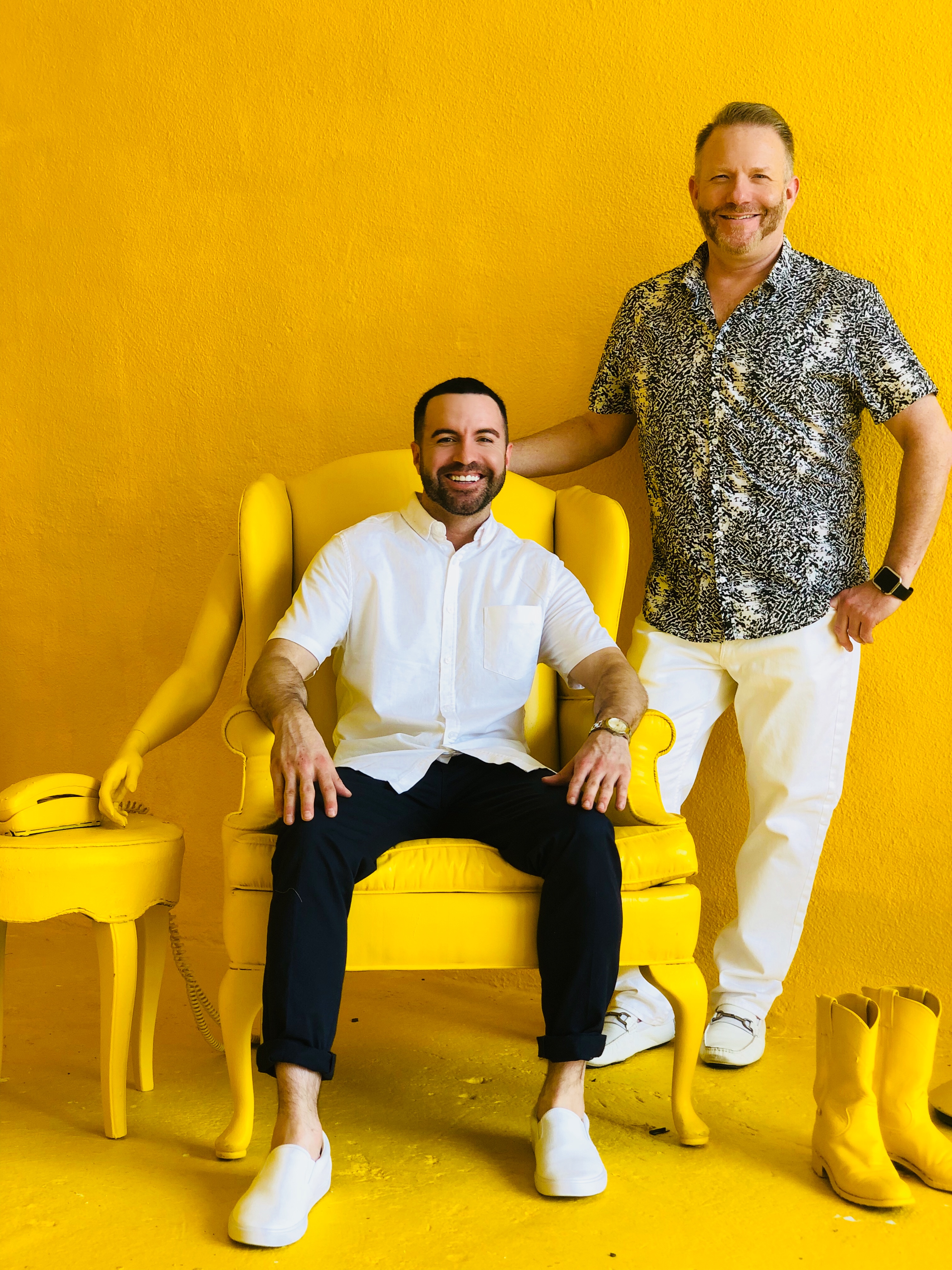 "What I love is that it's showcasing local talent that don't always get those platforms," Gantley adds.
Mendoza and Gantley are selective about the vendors they work with for the quarterly pop-up events. They've imagined Local Hype as an incubator, with the production team guiding the vendors in whatever way they can — whether that's purely with visual presentation or with business development too. In fact, Mendoza offers workshops on building a business from the ground up. He created his screen-printing business from scratch in 2015, and it now services national brands like Nike and Chili's. When he saw one of the vendors struggling with their visuals at the most recent pop-up, he redesigned the logo and printed the signage free-of-charge at his factory down the street, Xpress Custom Print.
The next Local Hype pop-up is yet to be announced. Watch this space, though— and the little outdoor nook at the front of iQ Haus that harbored the Yellow Room, the owners suggest. It'll be made over into a new concept, ripe for Instagram, in the weeks to come.
Get the FrontRow Newsletter
Get a front row seat to the best shows, arts, and things to do across North Texas. Never miss a beat.