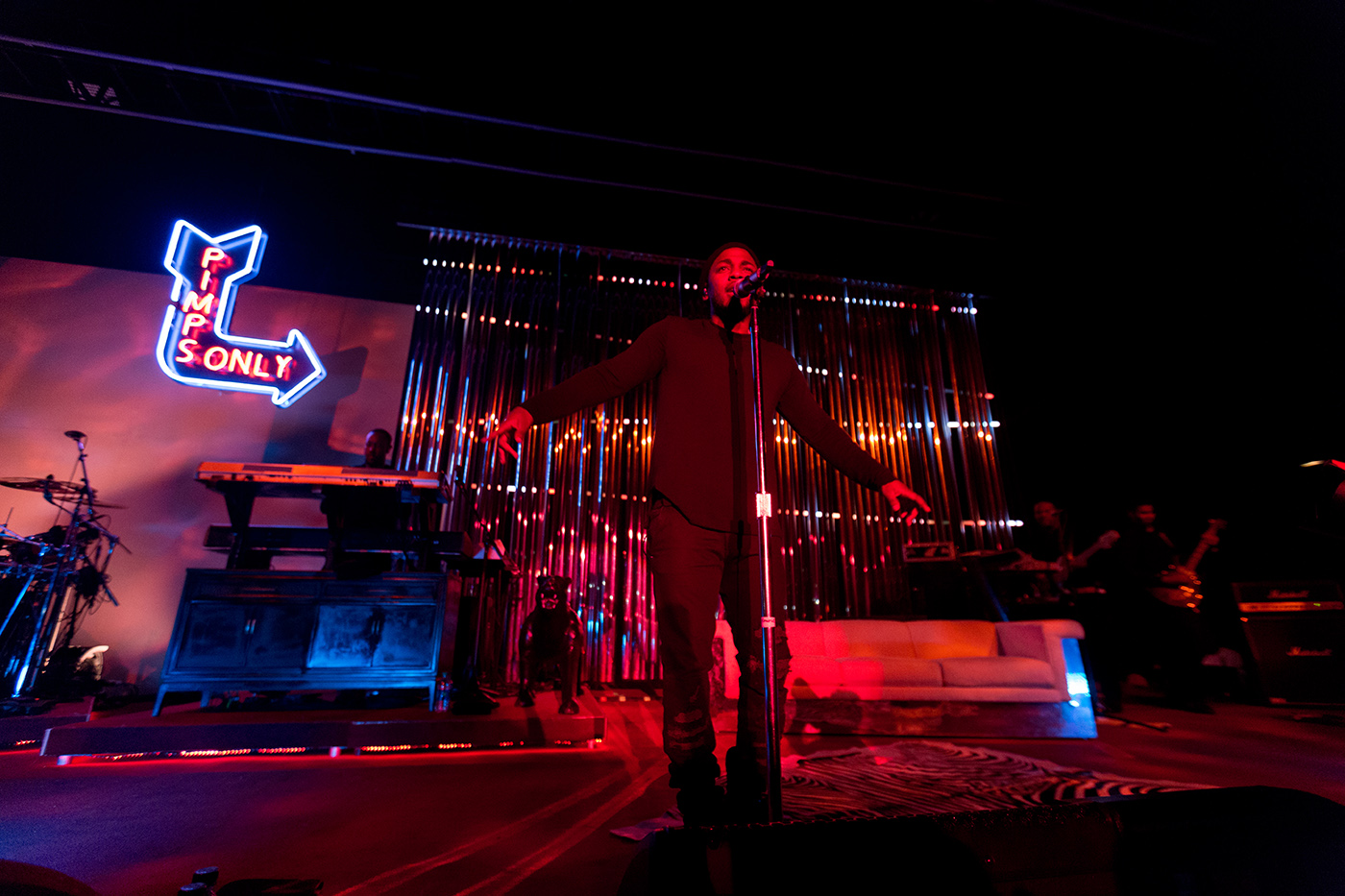 In Dallas, Kendrick Lamar Didn't Speak On His Pulitzer— He Didn't Have To
With SZA and a band of tourmates, the political and the personal resonated at Dos Equis Pavilion.
Less than a year after Kendrick Lamar toured with his DAMN album through Dallas during the summer of 2017, the rap virtuoso returned for an encore. Fresh off of his Pulitzer Prize win, many would consider this a stopover on his world-wide victory lap. Accordingly, Lamar took the stage at the Dos Equis (formerly Starplex) Pavilion in Southeast Dallas fully feeling himself. An entourage of R&B and hip-hop heavy hitters like SZA and Schoolboy Q supported Lamar, backed by standout musicians offset to stage left and right.
Just before 10 p.m. he kicked off the set with "DNA", entering the arena on a massive raised platform that spanned the width of the stage. "Kung Fu Kenny," Lamar's alter-ego throughout DAMN, donned a bright red racecar driver jumpsuit with a Nike logo across the chest, part of his apparel collaboration with the megabrand. As he laid out verse-by-verse his genetic predisposition to achieving this current exalted status, "Pulitzer Kenny" appeared in massive lettering on the LED screen behind him. It set the tone for a powerful show. Throughout the brief but energetic set, which lasted an hour and 15 minutes, Lamar was nothing short of triumphantly self-assured in the sultry Texas air of the outdoor arena.
Lamar is the first musician from a genre other than classical or jazz to win a Pulitzer. Considering the widespread co-opting and fetishization of hip-hop culture paired with its systemic dismissal by the traditionally white-controlled Western musical canon, the fact that he won is downright groundbreaking. Some of the musicians nominated alongside Lamar this year "drew upon hip-hop as a resource" in their classical compositions, according to a New York Times interview with one of the jurors, David Hajdu.
"That led us to put on the table the fact that this sphere of work" — rap and hip-hop — "has value on its own terms and not just as a resource for use in a field that is more broadly recognized by the institutional establishment as serious or legitimate,'" he told the Times.
Praise be, the Pulitzer establishment is finally coming around.
Lamar's presence in Dallas showed just how relevant and critical to the nation his collection of songs is, even pre-DAMN, especially in its context as record of the African American experience.
Songs like 2015's "Alright," which famously became a kind of national anthem with its chorus that repeats the lyrics, "N***a, we gon' be alright," ushered a riotous crowd response in the arena filled with fans representing a range of  skin tones and age groups. It's applicable across demographics and has taken on even more meaning in recent years as violence in this country has reached a fever pitch, whether that's violence against black people by police officers, school shootings, or rampant sexual assault that's come to the forefront of the nation's consciousness.
Lamar ran through most of DAMN, plus older hits like "King Kunta," "Swimming Pools," "Bitch, Don't Kill My Vibe," and "Goosebumps" sans Travis Scott to a crowd that stayed wildly lit throughout the set. He chose to forgo much of the stellar Black Panther album released in late 2017. He did perform several songs that featured collaborators present onstage: "King's Dead" with Jay Rock, "X" with Schoolboy Q, and the chart-topping "All The Stars," with SZA, introducing the song by saying, somewhat surprisingly, "this is my favorite part of the motherfucking show."
SZA glided around the stage, lending her stellar vocals to the poppy track in boxing gear. She's a beautifully soulful yet technical singer, tracked in the studio or live onstage. Prior to Lamar's fiercely intense hour on stage, SZA performed a bubbly 30-minute solo set during which she floated around the boxing ring set like a butterfly, all smiles and bright eyes. (It was an ideal accompaniment to newly minted Pulitzer Kenny, as he stung like a bee.) And SZA's perpetually self-aware songs were a perfect counterpoint to Lamar's broader social critique. She performed less than 10 tracks from 2017's Ctrl, introducing songs like "Normal Girl" by saying she had a "really shitty" high school experience, detailing how she felt awkward in her own body and head space.
She sings: "Wish I was the type of girl you take over to mama. The type of girl I know my daddy, he'd be proud of … I wish I was a normal girl," which resonates with anyone who's struggled with self-identity and self-worth, i.e. most of us.
Then SZA further laid her insecurities bare in "Garden," to the backdrop of a lush, fecund forest on the monitor. The song, with its accompanying music video featuring Donald Glover as her love interest, is perhaps the best on the album.
SZA sings:"Hoping I never find out that you're anyone else, 'cause I love you just how you are. Hope you never find out who I really am, 'cause you'll never love me." The lyrics cut like a knife. Who hasn't felt at times that they needed to hide their less-desirable qualities (read: neurosis) from their partner? Although, sung from the lips of a smiling lyrical goddess, the message felt less an accusation of dysfunctional human behavior and more an honest accounting of personal reality-in-hindsight.  SZA helped close out the set with the handful of other acts on the tour bill, to Lamar's "Humble." He let the audience rap the entirety of the song from the top of the track, to zero backing music. Then started it over again, and performed the hell out of it.
Lamar never mentioned his Pulitzer win, his Grammy snub, or conversed with the crowd about anything, really, opting to let his lyrics, energy, and visuals do the talking. He also skipped the typical artist device of a three-song encore. Instead he stated plainly at the end of the set, "We will be back," before the fluorescent lights popped on in the darkened arena.