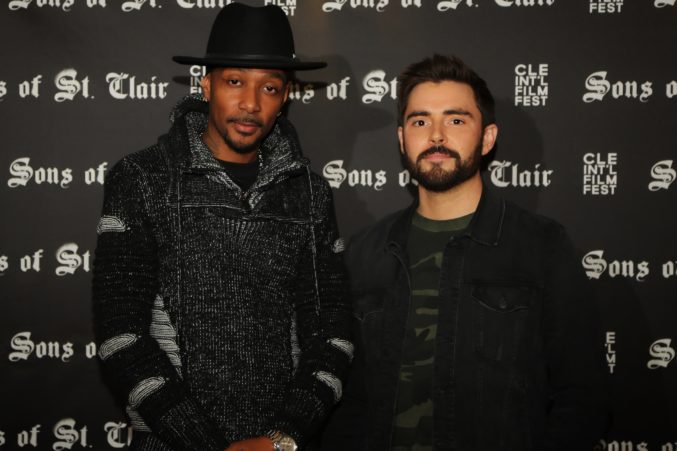 How a Filmmaker from Plano Infiltrated the Cleveland Hip-Hop Scene
Tim Newfang had been a fan of Bone Thugs-n-Harmony for more than 20 years before making a documentary about their unique sound and enduring legacy.
For Tim Newfang, it was all about how Bone Thugs-n-Harmony seamlessly mixed hardcore rap with singsong melodies.
That progressive style spurred the meteoric rise of the Cleveland hip-hop collective in the mid-1990s, and expanded its fan base to include suburban teenagers like Newfang, who lived more than 1,100 miles away in Plano.
"I really loved hip-hop," Newfang said. "When I heard Bone for the first time, it was such a unique, different sound."
More than two decades later, Newfang's appreciation led to Sons of St. Clair, a documentary he directed about the history and enduring influence of Bone Thugs. The film is screening on May 9 and 10 during the Dallas International Film Festival.
"They could rap really fast, and that was an awesome skill that they developed, but they could also sing and harmonize," Newfang said by phone from Los Angeles. "At the time they broke through, there were really defined roles in hip-hop. Either you were a rapper or a singer, but you couldn't really be both. They broke those walls down."
Newfang met with one of the group's former producers and pitched an idea for essentially a straight biographical story about all five group members. But he shifted direction after learning that Krayzie Bone and Bizzy Bone — now in their early 40s — were working on a new project together.
"The hardcore Bone fans had been asking for this collaboration between Krayzie and Bizzy for the last 20 years," Newfang said of New Waves, which was released in June 2017. "When their manager told us that was going to happen, we pivoted. We can remind people of their history and achievements, but also drop people into their world now."
Newfang developed an affinity for filmmaking, and particularly nonfiction storytelling, while he was a student at Plano High School and Texas Tech.
"The day after I graduated, I put my clothes and my dog in my truck and drove out to L.A., and never looked back," he said. "I always wanted to create, and knew that Hollywood was the place to do that."
After starting with odd jobs, Newfang gradually worked his way up in the industry. These days, he's the executive vice president of Silversail Entertainment, a production company with offices in Los Angeles and Austin.
Most of his experience has been in commercials and sports documentaries for television. But a few years ago, he and producer Tanner Beard decided to try a music documentary.
"We started brainstorming about interesting stories that hadn't been told yet. Bone Thugs popped into mind," he said. "I wasn't sure exactly where they left off or what happened to them. People didn't know much about the present or future."
Newfang had never been to Cleveland before production began. On his first trip there, he was staying in a downtown hotel after a long day of filming on the night LeBron James and the Cavaliers won the 2016 NBA title — the first championship in franchise history.
"We fired the cameras back on and ran outside, and caught the moment they won, and all of the fans poured out into the streets. I've never seen a group of sports fans that elated and that proud of their team. To have that be part of the film, it brings to life that passion the people of Cleveland have," he said. "I knew, from listening to [Bone Thugs] music and lyrics, how important the city was to them. I didn't want Cleveland to just be a backdrop. I wanted it to be a character and come to life."
While making Sons of St. Clair, Newfang noted the group's impact on contemporary artists, and was reminded of why he became a fan in the first place.
"They were at the forefront of a movement that spawned the modern-day hip-hop sound," Newfang said. "Their unique sound has this lasting power. They're gonna stick around for the long haul."
Newfang will be in attendance at the Dallas premiere of Sons of St. Clair on May 9 at Landmark's Magnolia Theater, along with producer Tanner Beard, and documentary subjects Krayzie Bone and Bizzy Bone.