I relate to Patty Griffin's music as I relate to food, or water. I could go for a time without it, but eventually I'll be parched. I've been comforted, loved, driven, and inspired by her songwriting almost daily since I was introduced to her more than a decade ago. She saved my life, once. My relationship with her music is a lifelong relationship. There's no other way to look at it.
This was my third time seeing her perform live—first was in Boston, the second at another venue in Dallas. I was looking forward to hearing her voice soar as the sun set behind White Rock Lake Tuesday, but due to rain earlier in the day, the sold-out show was moved indoors to the Arboretum's Rosine Hall. I got there early and joined people in line who'd done the same. I wasn't the only loyal supporter of the 54-year-old Grammy winner.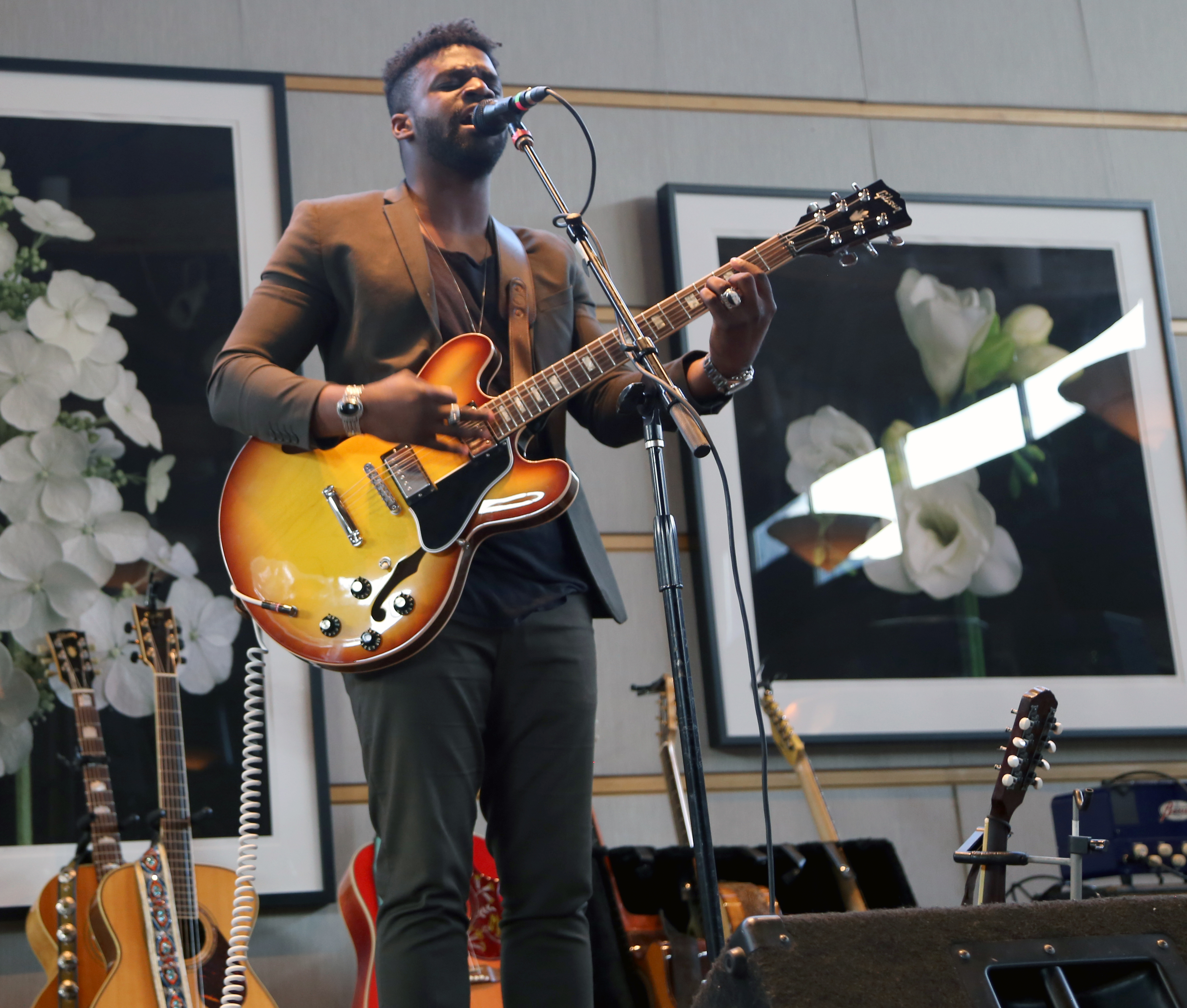 Inside, I snagged a seat near the front before the masses poured in. Some stood in the back. I was no more than 15 feet from the stage, an extension of my imaginary living room. Fort Worth blues singer Abraham Alexander opened, his soulful voice and guitar riffs filling every corner of the space. He sang about his mom and God, and his last number, "America," harkened back to last summer's gun violence in Dallas and the racial tensions that enshroud the country. The up-and-comer, who's been a backup vocalist for Leon Bridges in the studio, did not squeak by Patty Griffin fans unnoticed. He made an entrance. 
Before Griffin came onstage, the anticipation in the air was thick. She walked out to loud cheers, like a bubble had just burst. "I feel like I should either be preaching or giving a lecture on botany," she quipped. Her shoulders were draped in patterns, her flaxen hair a little wild. With her was guitarist and backup singer David Pulkingham, who's been touring with her since 2013. The lighting on the stage was slightly off— she said multiple times that she could see every face in the audience— but the indoor hall had something the lawn would have lacked: good acoustics. 
Griffin picked up her signature red guitar with a teal strap and opened with a song I couldn't place. I've memorized most of her discography, so I was racking my brain to rescue the lyrics. Afterward, she announced that it was a new song and that she's making a new record. If this song was any indication, it's going to be good. 
The nice thing about being inside was that no one in the audience was talking. Every vibrato, rasp, and tone could be heard like she was singing only to you. Her bluesy twang cut through the room, and her voice still has horsepower after decades of storytelling. That's my favorite thing about her songs. Every one of them tells a story, and you can't help but get involved. 
She continued with "Making Pies," from her third album, 1000 Kisses. It's a melancholic tune that she followed up with the more upbeat "Stay on the Ride," from 2007's Children Running Through. This song has high notes, and she hit them. From there, she sang another new song titled "The Wheel," whose chorus was catchy enough to stick in your mind for a long time. Throughout the evening, she played two more new pieces, both of which I imagined myself singing at some later date after the record drops. This will be her 12th album and 10th studio album, and the guinea pig songs proved that she can still write, and write well. 
For Servant of Love's "250,000 Miles," Pulkingham offered backup vocals and broke into a tambourine solo that had everyone tapping their feet. As she sang "Faithful Son" from 2013's American Kid about her dad, a World War II vet, nostalgia permeated her words. But Patty Griffin has a self-effacing sense of humor, too. When she started one song with her second guitar out of tune, she quickly adjusted the strings and joked that it was "close enough for folk music." And before she crooned Impossible Dream's gospel number "Standing," she said she's "not sure if it officially qualifies as gospel because I wrote it." 
With each melody she sang, her body language mimicked the words. Stomping her foot, throwing her head back, pulling the microphone close. It's evident that she still feels and believes in every ballad. The best way to describe her music is "timeless." That's why I was a little disappointed that she didn't play any songs from her first album—and my favorite album—Living With Ghosts, but she did close out the evening with two tunes I know quite well, also from Children Running Through. 
"Heavenly Day" and "Up to the Mountain" were stripped down, slow, and glorious. Many of Griffin's lyrics are mournful, but these two pieces are hopeful, even exuberant. "Heavenly Day" was the first love song she ever wrote; it was for her dog. "Up to the Mountain" is based on Martin Luther King Jr.'s final speech, and is powerful enough to bring listeners to tears:
The peaceful valley/Few come to know/I may never get there/Ever in this lifetime/But sooner or later/It's there I will go. 
Preach, Patty. 
Get the FrontRow Newsletter
Get a front row seat to the best shows, arts, and things to do across North Texas. Never miss a beat.