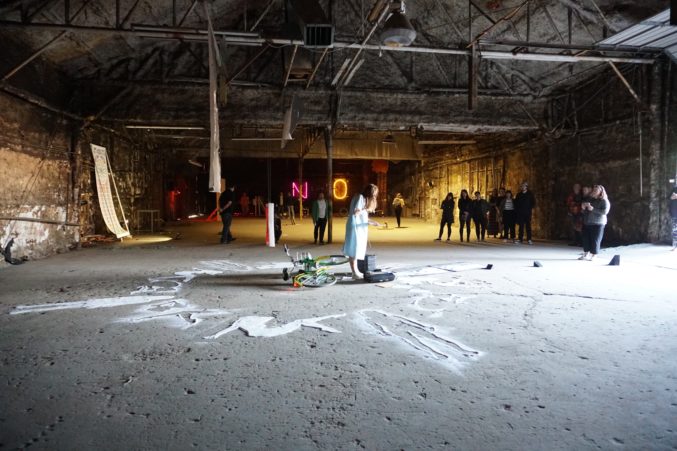 To Measure Rape Culture's Parameters, This Dallas Artist Hopped On A LimeBike
A performance art piece in Trinity Groves employed black metal, Law and Order, a salt circle and a cheap mode of transportation.
Jessamyn Plotts isn't afraid of much. I believe her when she tells me this. She's an alcoholic in recovery at SMU, an interesting enough place to study as a radical feminist artist nourished by Proust and unflinching Julia Kristeva texts. Plotts occasionally dips out of her studio on campus to perform opposition, confusion, and outrage with fellow SMU artist Ashlyn Lee, amid regular spectacles like the 2,000-plus crosses Mustangs For Life put in the ground to memorialize aborted fetuses.
That's where Plotts was last week—on the ground, careful not to pull up any of the markers, reading aloud from some auto-fiction she wrote about "total horrors of the female experience." Words about sex and shame, mostly, from a character that emerged first in her drawings, based on Chris Kraus' rendering of the "Dumb C*nt."
"I like that idea," Plotts says of developing the character as an image on paper first. "There's this safe cerebral space that's maybe also like a space at the abject, where everyone just ignores you so you can work."
The artist played this hysterical character—hysterical, Plotts says, in the lens of patriarchy—  at a Trinity Groves warehouse Friday, as part of the Temporary Collectives Exhibition. It's an annual collaboration between art programs at Texas colleges and universities that shuffle their students randomly into groups charged to install site-responsive work.
Plotts did not begin at the warehouse, though. Wearing a hospital gown with sunglasses hiding broad streaks of mascara, she sprinted from a building off Parkland's main campus, grabbed a LimeBike, and pedaled about 3 miles to the site of the show. Lee followed her to document. A police officer asked if everything was okay, stalled by what he read correctly as the impression of a patient escaping. But that was about it, as far as audience interaction on the first leg.
"People just like pretty much straight up ignored me. To me that's kind of shocking," Plotts says. "Maybe it was the sunglasses."
Plotts and Lee managed to cross I-35 another LimeBike later. They arrived to Plotts' group's assigned space at the warehouse. Chalk-like salt outlines of typified female victims arranged in a medallion with a space in the center provided an ideal patch of concrete floor where Plotts could read some more auto-fiction into a karaoke machine's microphone. The outlines were noted oil painting prodigy Amanda Dunbar's doing. 
Plotts' text for this performance wove together language from Law and Order: Special Victims Unit Episode 5, Season 18, titled "Rape Interrupted," as experienced from the perspective of a psych ward escapee being treated for psychosis after rape, and the Dumb C*nt character's similar backstory as an undercover prostitute who is gang-raped by fellow police officers and loses her mind trying to talk about it. Plotts also integrated descriptions of her group members' works against music by bands like Cradle of Filth, who became famous for their "Jesus is a C*nt" t-shirt.
"Treated for post rape psychosis, locked up, confined for her own protection, the escapee contemplates as she travels across the city via LimeBike," Plotts explains in an artist's statement. "She speaks with candid irony of the horrors done to her, undermining the sacred myth of rape, which teaches that women must respectfully address the use of their bodies in euphemistic whispers or abstracted, symbolic terms."
The idea was that audience members might move closer to Plotts' character, unsettling the boundary— the images of the typified victims— by messing up the salt outlines as the artist read aloud. But no one came close, Plotts says, except a guy who jumped in for a selfie with her, and a mother of one of the featured artists. Plotts says the woman squatted a foot away from the artist and told her the performance was disrespectful, that she'd trashed her peers' work.
"I was mocking the way that hysteria is perceived," Plotts says. "I'm definitely not mocking the experiences that I may or may not share with those who've tried to kill themselves, or who have been raped or sexually abused. I'm mocking this constant iteration of it, that has become ridiculously consumable."
At the Temporary Collectives Exhibition, more than 40 artists were grouped randomly and, in some cases, guided by faculty at each institution. But the event was largely student-led. The prompt was to install work inspired by the space: a vast, difficult, at-first-filthy warehouse near a hub of artist studios. Some brought work they'd already finished, and called it a day. Other groups created dialogue between their pieces.
Plotts' Game Day or Rape Interrupted was part of the most powerful, cohesive statement that was her group's installation.
SMU visiting lecturer Lauren Woods was assigned to Plotts' group, which also included Daniella Colombo-Dougovito, Lauren Fiebert, Sierra Forrester, and Keeley McLain. Each artist initially brought ideas about female anxiety.
"How is it that each of you are going through the same thing?" Woods asked them, pushing the group to think about how female pain is presented from within a system of patriarchy. She challenged each artist to collect refuse from the studio of the artist before them after a piece was finished, and incorporate that refuse into their own work for the exhibition. Plotts decided to reference each group member's piece in the text she read aloud from the center of Dunbar's salt circle.
An excerpt of the reading communicates the salacious formula and absurdity of scrubbed language used around rape:
Moving over piles of salt or pool sand shaped like painted women, past formless unmoving capes, tied and molded and bent into humanoid postures, bee-lining for the Warehouse, whatever Singleton. She could never remember the address. She'd only been once before, during that sting operation years back, when Olivia had been kidnapped, taken to that beach house by the serial killer in New York…
"If we cant start discussing these things in very different terms— we're going to be saying things that people say on Law and Order, forever," Plotts says.
The artist was not aware of events last week that put language about rape and sexual abuse through the local news cycle. These themes are relevant any time, she offers. Still, it's the job of the artist to feel what's in the air, and Plotts did her job.
Though the experience within an art context at Temporary Collectives Exhibition was more alienating than Plotts thought it would be, she'll draw upon the microcosm going forward.
"That's the interesting thing about abjection to me – my past of truly feeling like a non-human, it just created this nest of protection in spaces of abjection for me now," Plotts says. "If it's already that bad, then how much worse could it possibly get?"