Remembering Erik Schuessler, An Artist Who Encouraged Dallas Toward 'Maximum Fun'
Ahead of placemaking, flash mobs, and Dallas' current art-party culture, Erik brought a sense of surprise and creative generosity to circles of influence.
Artist, technologist, and influential creative whisperer Erik Schuessler died Monday after battling a rare form of cancer for more than a year. An original conspirator for Dallas' annual Disturbathon party, the designer helped create the visual identity by which the Dallas Biennial, Better Block, and other mainstay art and city-minded efforts are known. He's being remembered warmly for what people saw of his influence, and what they sometimes didn't: a consistent and often uncredited presence of generosity that helped prop Dallas' art and tech communities up through the dot-com bubble and its bust, with a distinctly playful perspective and sense of humor.
While students at Booker T. Washington High School for the Visual and Performing Arts, Erik and his brother Ean published a 'zine called Brainfood; they in 1991 turned the venture into a web design and development studio using the same name. Erik and Ean landed national accounts like PepsiCo and helped develop the original business concept for Broadcast.com.
The robot scientist David Hanson, who created the world's first robot capable of forming relationships, introduced Forrest Jackson to his longtime friend Erik when they were all in high school. Jackson keeps a souvenir from that era, a painting that was hard to acquire.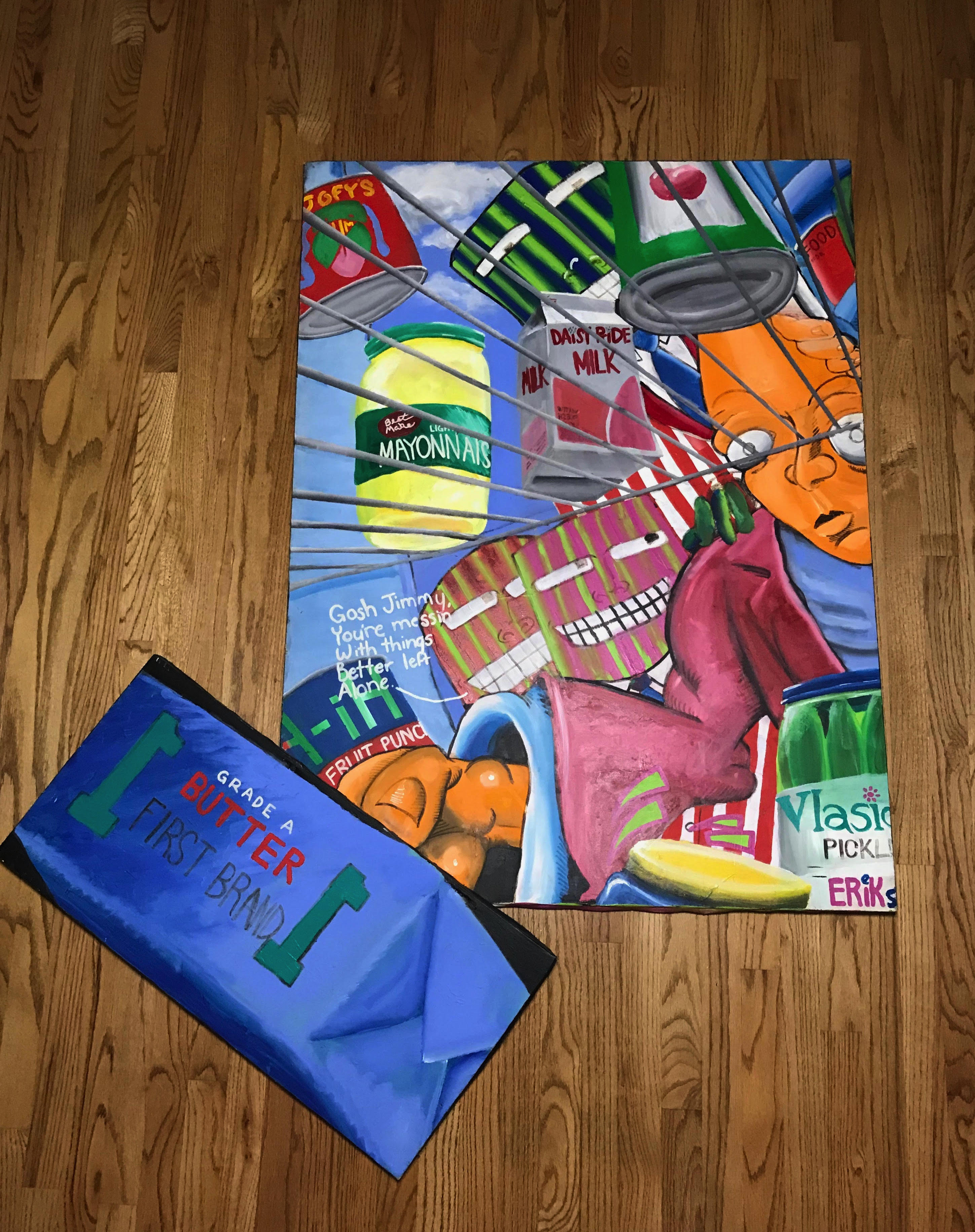 "I remember at the time he wouldn't sell it to me, but I kept after him. I guess he was a freshman in college. He asked me to proofread an essay I wrote, and I struck a deal with him, so I could thoroughly proofread his paper. His thoughts were all there— it was mostly grammar," Jackson remembers.
As a self-deemed "antiquarian bookseller," Jackson went on to consult Erik through their long friendship. It wasn't always a mutual exchange, he laughs, conceding that he often let the talented art director and designer help him with projects in lieu of renting a firm.
"He's a pretty humble guy but his influence is all over the city," says Reid Robinson, a good friend of Erik's who, as DJ Woodtronic, hosts Sonic Assembly, the longtime KNON show that now finds its home on KUZU 92.9. Erik was often a guest.
"He was a great catalyst for so many wonderful things," Robinson says.
With fellow artist Jeremy Johnson, Erik founded The Children of Artemis- Sketch Cult, a group which met bi-weekly at UTD's now-closed CentralTrak to draw with other local artists. The goal was to promote social engagement amongst the sketchers, which Erik was constantly doing with his own work, donating pieces to raise funds for Planned Parenthood and other orgs.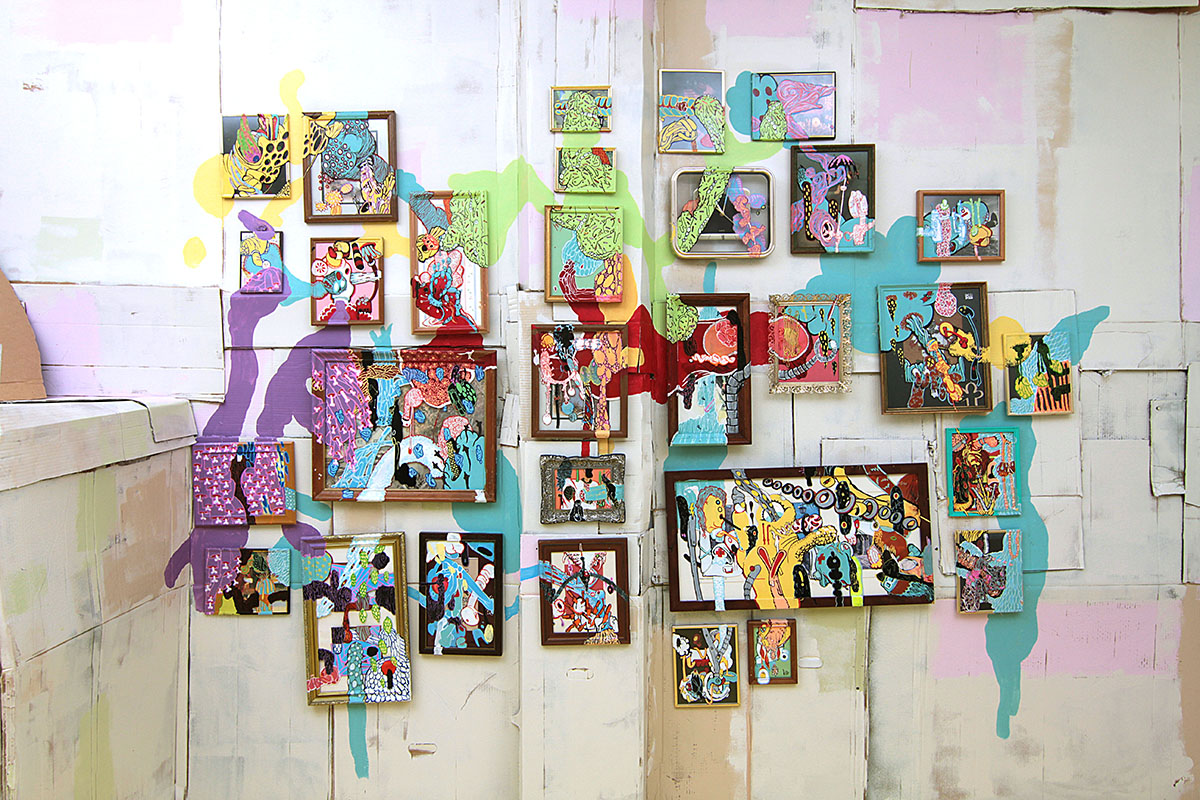 For an interactive kiosk at the Dallas Firefighters' Museum, Erik dreamed up the 3D character Safety Squirt, based on a turn of the century fire engine in Dallas called 'Ol Tigue.'  Visitors can go there now and learn about household safety tips through Erik's work.
Dina Light-McNeely was privy to Erik's art in process as a friend and the owner of a studio he used near Fair Park. She sees some of it every day in her outdoor kitchen.
"For my 40th birthday he came to my house and painted an eight by eight-foot mural in two hours using house paint and spray paint," she says.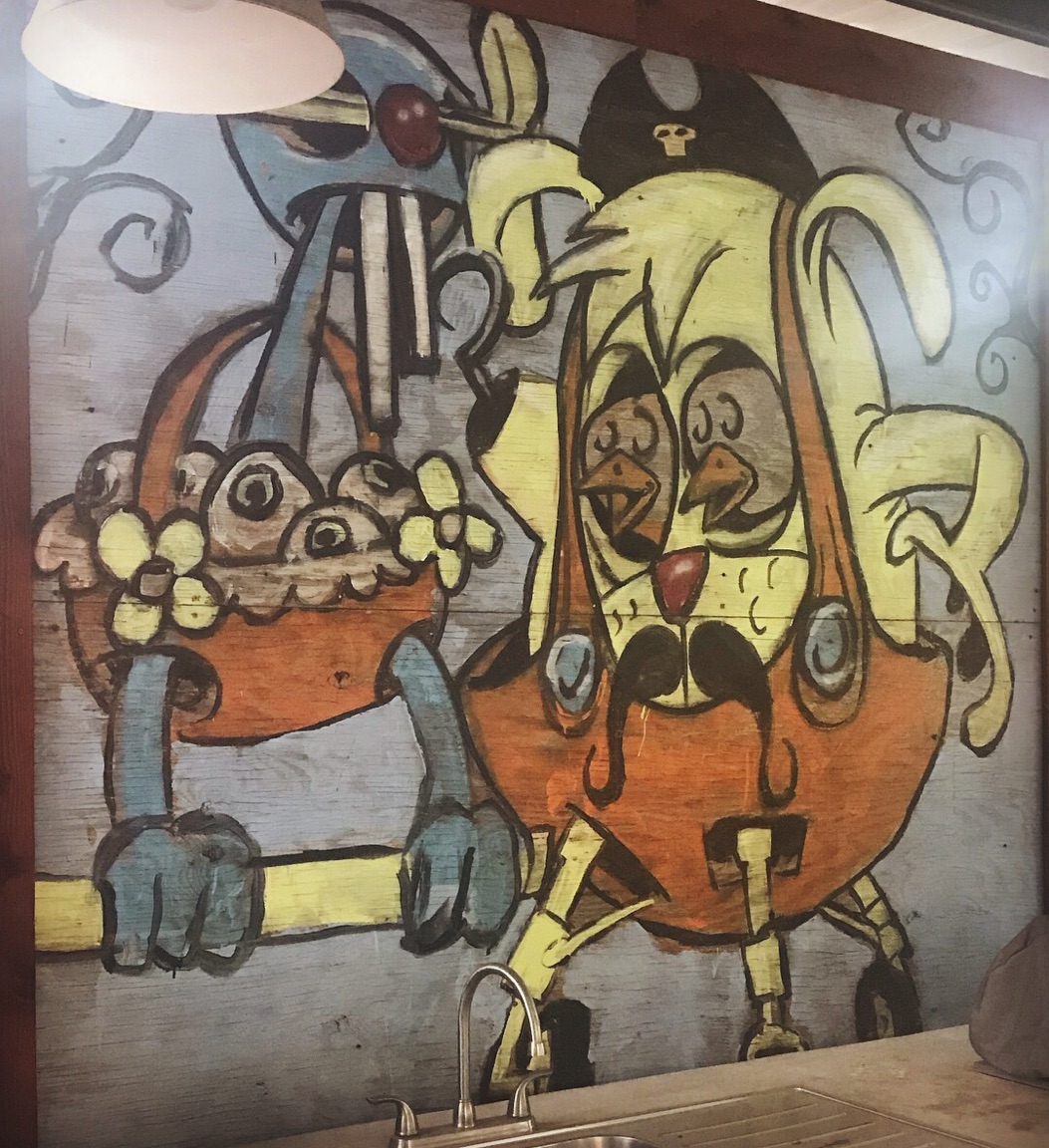 Light-McNeely moved to Dallas from New York in 1995. She worked in tech, and loved art, so of course she soon found Erik and Ean.
"They introduced me to this whole world of weirdos I didn't know existed in Dallas," she says.
One of those weirdos was Jason Cohen, who ran a shop near Fair Park called Forbidden Books where they all hung out in the early-to-mid mid-90s. The group that formed became known as the Diabolocrats, a term to describe the intersection of their subversive intellectual interests and party prowess.
"To me it was almost like a utopian type of society, Cohen says. "We were all trying to do something that would be thought-provoking yet also would cause whoever was involved to create the maximum reaction."
That took the form of magazines, performance art commenting on such oddities as the JFK conspiracy theories that thrived moreso in the '90s, and, certainly, underground parties. Cohen says Erik was interested in pushing others to their capacity of "maximum fun" in the everyday.
"We could get together and within five minutes we would of on this roll where we could make each other laugh until we fall over on our sides," Cohen says. "There's not many people we can do that with."
Cohen and Erik's artistic friendship recently took shape as Art Fungus, a local collective whose crowning show was at Shotgun gallery in the Cedars— a "super-hyper-immersive" installation, Cohen says, that covered the walls and the ceiling.
Over and over, friends and collaborators shared stories of Erik's generosity and humor. He wasn't ceremonial about it. Giving was just the way he existed, always at the ready with input on projects from design to fundraising to prank-leaning performance art. The architecture nerd offered his many striking houses over the years to friends as locations for their films, their weddings, and their parties. Erik was indispensable within the community that revived the Texas Theatre, says Jason Reimer, who led that charge. On paper, Erik was a member of the Oak Cliff Foundation's board— the neighborhood group behind the theater's restoration. He was present, though, a way that was deeply felt.
"The first few years when I was at the theatre nonstop, he was one of those five to ten people there," Reimer says.
From the background, Reimer says, Erik helped nurture the film scene in a creative capacity as enthusiasts collected around the theatre's resurgence.
"He was an incredibly resourceful artistic director— you couldn't ask for better input," Reimer, also a filmmaker,  says.
Light-McNeely got married in the yard Erik shared with a neighbor in 2005. It was a Tudor house, then, a simple wedding that shone because of the garden Erik kept of roses and perennials. She was there when Erik married his wife, Hillary, in October 2016 at the Filter Building on White Rock Lake.
"She made him smile like I've never seen him smile," McNeely says. "He had a smile that was already really real, but there was a special spark, and a sparkle, that wasn't there before."
"He was a magical person. I called him my brother from another mother," she says. "The fact that he and Ean got to go to work together every single day, that was really special."
Erik's life will be celebrated Saturday at Texas Theatre from 3-6pm. An official memorial service happens from 4-5 p.m and will be livestreamed on Facebook for any who can't make it.